The Eachine trashcan HD was a perfectible product for at least two reasons: the presence of vibrations/jellos… and the most dramatic, the weakness of the ESC burning very fast even from 3S. Here is the new deluxe cinewhoop HD machine from Eachine:
https://www.banggood.com/Eachine-Cinecan-85mm-4K-Cinewhoop-3-4S-FPV-Racing-Drone-BNFPNP-Crazybee-F4-PRO-V3_0-Caddx-Tarsier-Cam-DVR-p-1507266.html
Now the 1080p@60 caddx turble V2 FPV-cam combo has been replaced with the new tarsier model. More important we have the V3 of the crazybee F4 based FC!!. This one upgrades ESC from 6A to some 10A (w/ peak @12A). I feel more confident about their durability in 3S…. but in 4S, I can't guaranty 100% that's they won't burn. Anyway, we have a classic whoop structure full TBS/nylon based. The duct system offers some branch division to maximize durability for crashes.
The caddx tarsier can be uptilted from the photos. With a nominal weight of 66g… we are close to be twice lighter than the lightspeed model for example. In 3S setup, the total weight is about 91g…. not so so bad for a 85mm machine. Of course, it's more an outdoors flyer than an indoors. Three BNF versions are proposed: two with some builtin SPI receiver (FrSky non-EU & flysky AFHDS-2A) and with an external TBS crossfire nano receiver for long range FPV). If vibrations are completly removed…. this machine is very interesting. Wait & See of course.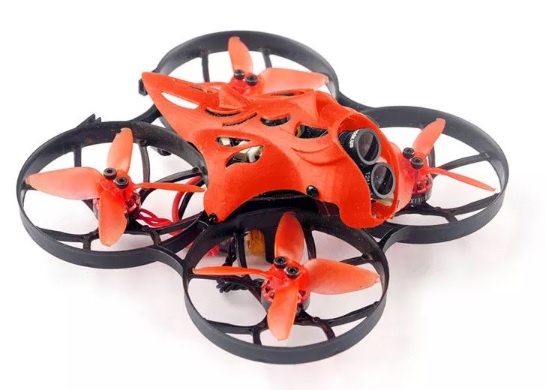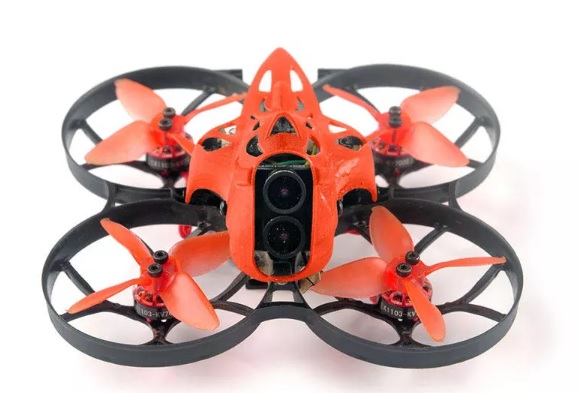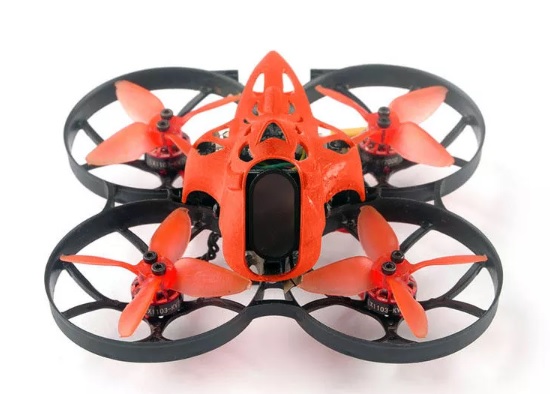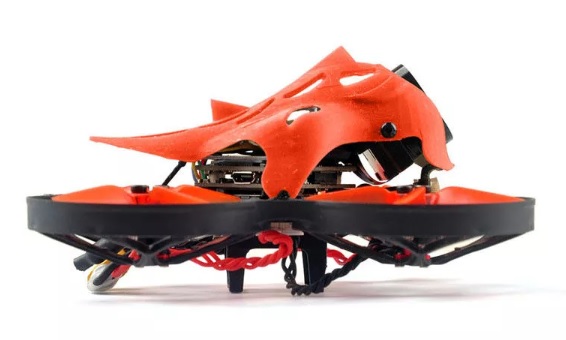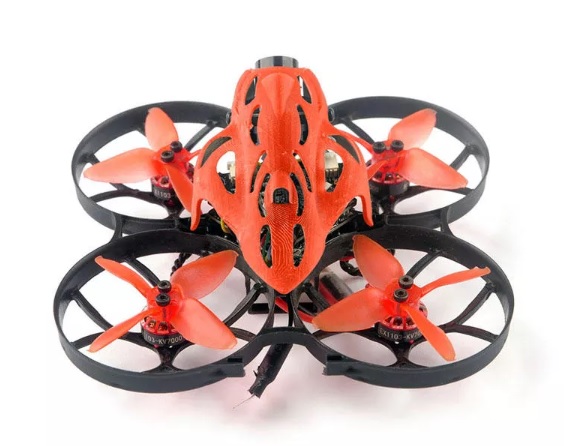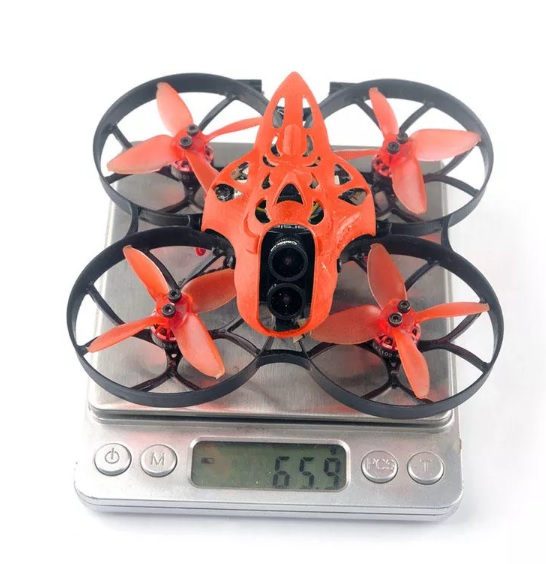 N.B. As you noticed…. I slowed down the update of drone-maniac…. one of the reason is main sponsors have mostly stopped to send product to review…. According to them…
I am too negative in my reviews. I am honored with such critic :)….. and be sure that I won't change anything in my attitude.
Specifications:
Brand Name: Eachine
Item Name: Cinecan 85mm 4K Cinewhoop
Wheelbase: 85mm
Size: 115mm*115mm*55mm
Weight: 66g(without battery)
Weight:91g(with Original 3s 300mah Lipo battery)
Spare parts specifications:
Motor Mode: EX1103 KV7000
Configu-ration:9N12P
Stator Diamter:11mm
Stator Length:3mm
Shaft Diameter:Φ1.5mm
Motor Dimension(Dia.*Len):Φ13.5mm*15.5mm
Weight(g):3.7g
No.of Cells(Lipo):2S-4S
Flight controller (Frsky version) CRAZYBEE F4FR PRO V3.0 Firmware target: CrazybeeF4FR
(Flysky version) CRAZYBEE F4FS PRO V3.0 Firmware target: CrazybeeF4FS
(No RX version) CRAZYBEE F4 PRO V3.0 Firmware target: CrazybeeF4DX
MCU:STM32F411CEU6 (100MHZ, 512K FLASH)
Sensor: MPU-6000(SPI connection)
Board size: 28.5 * 28.5MM
Power supply: 2-4S battery input (DC 7-17V)
Built-in 10A(each) Blheli_S 4in1 ESC Dshot600 ready
Frsky version Built-in SPI Frsky receiver with telemetry(D8/D16 switchable)
Flysky version Built-in SPI Flysky receiver with telemetry(AFHDS/AFHDS2A switchable)
No RX version need to add external Receiver
Built-in Betaflight OSD(SPI Control)
Built-in Current meter Max 70A
Current meter scale set to 470
Built-in 5V 1A BEC
Built-in voltage detection
Onboard 4in1 ESC MCU upgraded to EFM8BB21
Power supply: 2-4S LiPo/LiPo HV (7v/17v)
Current: 10A continuous peak 12A (5 seconds)
Support BLHeliSuite programmable
Factory firmware: F_H_40_REV16_5.HEX
Default protocol: DSHOT600
Frsky NON-EU receiver Version SPI BUS receiver
Frsky D8/D16 switchable
Compatible Non EU transmitter both D8 and D16 mode
Channels: 8ch or 16ch
Failsafe support
No ground interference ( Transmitter and receiver 1 m from the ground): 300m
Flysky receiver Version SPI BUS receiver
Protocol: AFHDS and AFHDS-2A Switchable
Channels: 8ch(AFHDS) or 14ch(AFHDS-2A)
No ground interference ( Transmitter and receiver 1 m from the ground): 300m
Failsafe support
TBS Crossfire version CRSF Protocol , Official TBS transmitter compatible
PNP No RX version No RX version support external serial-bus receiver like xm+, crossfire, S-FHSS etc.
VTX Output power: 25~200mw switchable
Frequency: 40CH
Input voltage: 3.3V 5.5V
Current consumption: 300mA(type)
Antenna: RG178 antenna
Frequency: 5.8GHz 5bands 40 channels
With Race band
Smartaudio ready
Weight: 3g
CADDX Tarsier Image sensor: Sony sensor 12M, 1/1.8inch, 1/2.9inch
Horizontal: 1200TVL
TV system: NTSC/PAL changeable
Video Resolution: 4K/30FPS 16:9
2.7K/60FPS 4:3
1440P/60FPS,30FPS 4:3
1080P/90FPS,60FPS,30FPS 16:9
720P/120FPS 16:9
Power Input: DC 5-12V
FOV: 4K F2.8, 150°(16:9) 165°(4:3)
Weight:18g
Dimension: Camera 19x20mm / DVR 29x29mm
Lens: Dual Lens F2.8/12Mega
Audio: Dual Digital MIC
CPU: DUAL Core dual system
Lipo Battery Capacity:300mAh
Voltage:11.4v
Continuous Discharge Rate: 30C
Instantaneous discharge rate: 60C
Size: 65mmx18mmx11mm
Weight: 25gConnector: XT30
Features:
New Crazybee F4 PRO V3.0 AIO Flight controller 2-4s Lipo Compatible
Powerful and smoothly
Caddx Tarsier 4K Camera & DVR ready
Betaflight OSD support ,easy to get RSSI, Voltage ,current from your goggles
Camera Angle adjustable
VTX power switchable 25mw~200mw
Smartaudio ready , change VTX bands, powers, channels via OSD
Frsky Non-EU version support NON-EU Frsky transmitter D8/D16 compatible
Flysky version support both AFHDS and AFHDS-2A protocol transmitter
No RX version support external serial-bus receiver like xm+, crossfire, S-FHSS etc..
Compatible both for 3s-4s Lipo/LIHV
Package Included:
1 x Cinecan 85mm Frame
1 x Option1: Crazybee F4FR V3.0 PRO FC built-in Frsky NON-EU RX
Option2: Crazybee F4FS V3.0 PRO FC built-in Flysky RX
Option3: Crazybee F4 V3.0 with external TBS Crossfire Nano RX
Option4: Crazybee F4 V3.0 PRO FC no RX verion
4 x 1103 7000KV Motor
1 x 2 Inch propeller(4cw+4ccw)
1 x Caddx Tarsier 4K Camera
1 x 5.8G 40ch 25mw~200mw VTX
1 x 3S 11.4v 300mah 30C/60C Battery
1 x Propeller disassemble tool
1 x Screwdriver
1 x Bag