Ok was pretictable… but now we have the avalanche of compact whoop styled machine with the new 4K caddx tarsier camera FPV combo: Here is the 100mm fullspeed model up to 4S:
https://www.banggood.com/FullSpeed-4K-TurboWhoop-FSD428-F411-100mm-1200TVL-4K-PNP-BNF-FPV-Racing-RC-Drone-p-1509172.html
The main structure is full 3K carbon based except the nylon whooped prop guard surrounding the 1935 props. 2mmm thickness is announced for the main structure… Will be enoght ? … With a standalone weight of 110g… expect a total weight around 160g in 4S… It should be ok at least for the carbon part. For the electronic, A F4 with strong 28A BLheli_S 4-in-1 ESC… No BLheli_32. Motors are 1104/5500Kv. I guess with 1935 short props, the machine will be noisy. The tarsier can be uptiled and the associated VTX can deliver up to 600Mw. All FPV settings can be tweak by IRC tramp. The structure for me should be able to remove most vibrations for the tarsier shooting….Now first feedbacks of the tarsier didn't impressed me…. the 4K@30fps is not perfectly smooth… color rendition can be better. Of course the firmware is probably not yet enough mature… Anyway…. this machine represents an exellent cinewhoop candidate.
With a 4S LiPo don't expect much more than 4-5min of flight time. The fullspeed is proposed in 4 BNF configurations (crossfire nano, Flysky AFHDS-2A, FrSKy XM+, Spektrum DSM2/X) and also in PNP.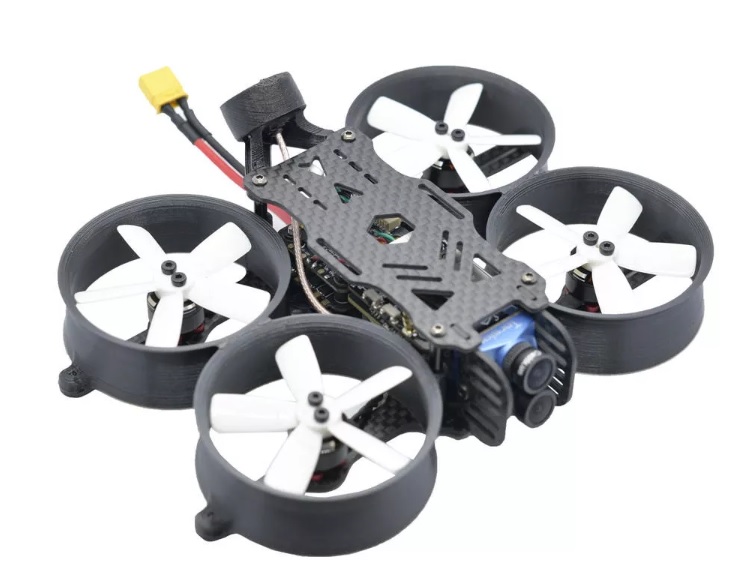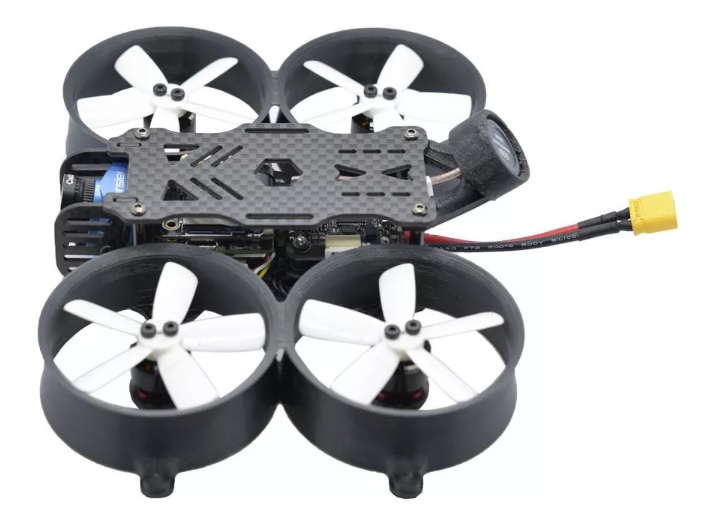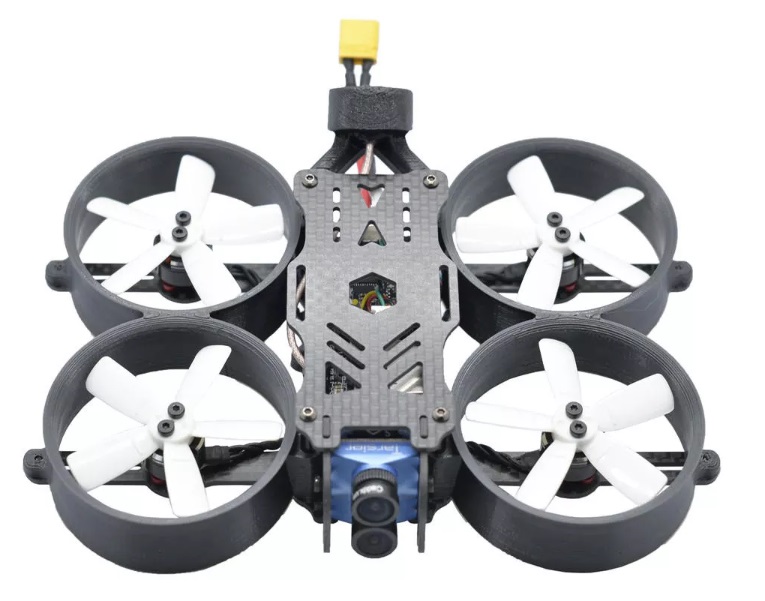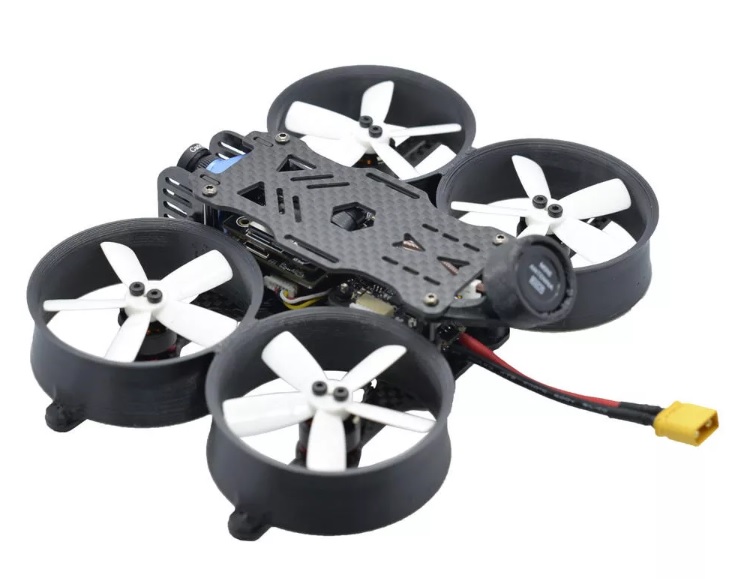 Specification:
Brand Name: FullSpeed
Item Name: 4K TurboWhoopFrame Wheelbase: 100mm
Thickness of bottom plate: 2mm
Thickness of side plate: 1.5mm
Weight:110g(without battery)
Flight controller: FSD428 F411 Flight controller built-in OSD
ESC: FSD428 28A ESC BLHELI_S 2-4S 4in1 ESC Dshot600
Motor: 1104 5500kv
Propeller: 1935 5-blade propeller
Camera: Caddx.us Tarsier 4K 1200TVL Dual Lens
VTX: FSD TX600 Pit/25/100/200/400/600 switchable VTX(support IRC Tramp)
FullSpeed FSD428 F411 Flight controller
Size: 27.5mm * 27.5mm * 5mm
Mounting hole: 20mm * 20mm
MCU: STM32 F411
Firmware: FULLSPEEDF411 Betaflight
BEC: 5V/3A
Input Voltage: 2-4S
Built-in Betaflight OSD
FullSpeed FSD482 28A BLHELI_S 4in1 ESC
Size: 27mm * 27mm * 5mm
Mounting hole: 20mm * 20mm
Firmware: BLHELI_S
Input voltage: 2-4S
Continuous current: 28A
BEC Ouput: NO
FullSpeed FSD TX600 25mW-600mW VTX FPV Transmitter
Output power: PIT/25mW/100mW/200mW/400mW/600mW switchable
Control mode:BFOSD control(support IRC Tramp)/button
Video system: NTSC/PAL
Antenna: IPEX
BAT: 5V Recommended
Frequency: 5.8GHz 6 bands 48 channels, with Raceband: 5362-5945 MHZ
(TX600's factory set up is on lock mode(5733-5866MHZ unlock). Please follow your local laws and regulations
if you need to unlock the frequency.)
Size: 26*26mm(L*W),Hole:20*20mm
Weight: 2.3g
Package Include(BNF include receiver)
1 x 4K TurboWhoop frame kit
1 x FSD428 2-4S 28A Flight tower
4 x 1104-5500KV brushless motor
2 x 1935 5-blade propeller(CW)
2 x 1935 5-blade propeller(CCW)
1 x Caddx.us Tarsier 4K 1200TVL Dual Lens
1 x FSD TX600 25mW-600mW VTX FPV Transmitter