Remember the C-fly obtain, a clone of the DJI Mavic ?. A complete desaster in most points: poor fligh time, poor gimbal stabilization, poor camera performances, poor software…
Today, they present a clone of the DJI Spark with the C-fly dream: https://www.banggood.com/C-Fly-DREAM-GPS-WIFI-FPV-With-2-Axis-Gimbal-1080P-HD-Camera-Optical-Flow-RC-Drone-Quadcotper-RTF-p-1321873.html
A 250g machine with a 2-axis stabilization system like the spark… but no mention (and it's probably not the case) about a potential Electronic stabilization for the yaw direction like the spark. The flight time is announced about 15min, probably 12 maximum in practice. Another important remark… Like the Obtain, videos are shooted in 1080p resolution but no frame rate mentioned. I bet it uses the same sensor with a maximum of 24-25fps!!!! so clearly very choppy recordings in practice. The control is done in the 5.8G band so probably incompatible with some europeans android devices if no channel selection can be done. Ok it's twice cheaper than a spark but IMHO, it's urgent to wait first feedbacks about this machine. I am afraid, it will be another DJI wanabee failure…. Wait & See.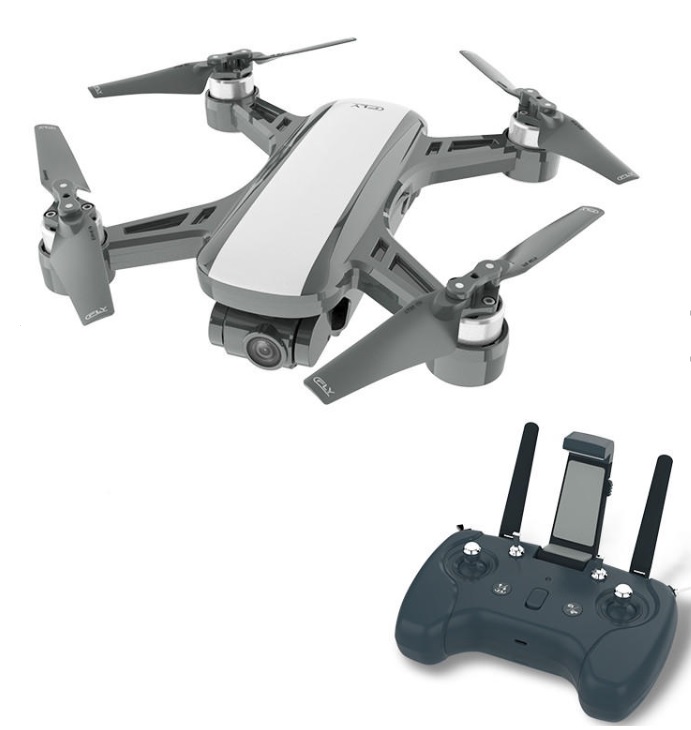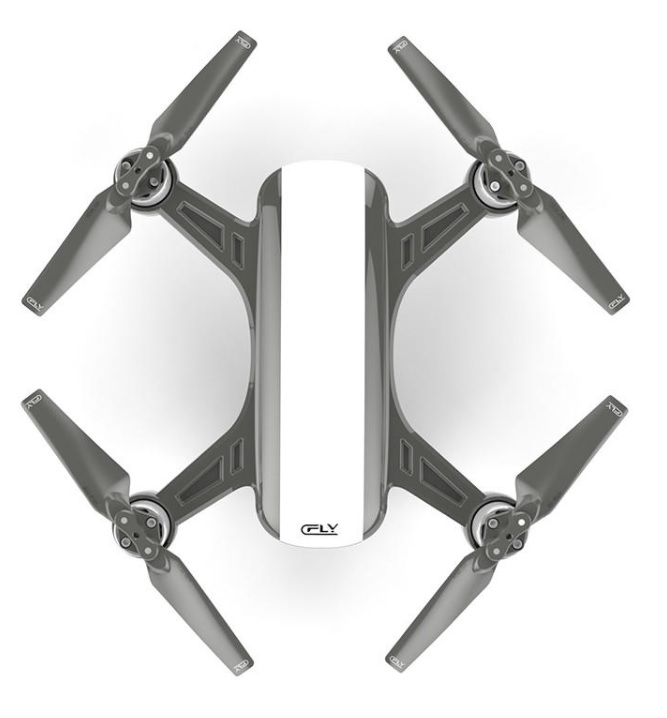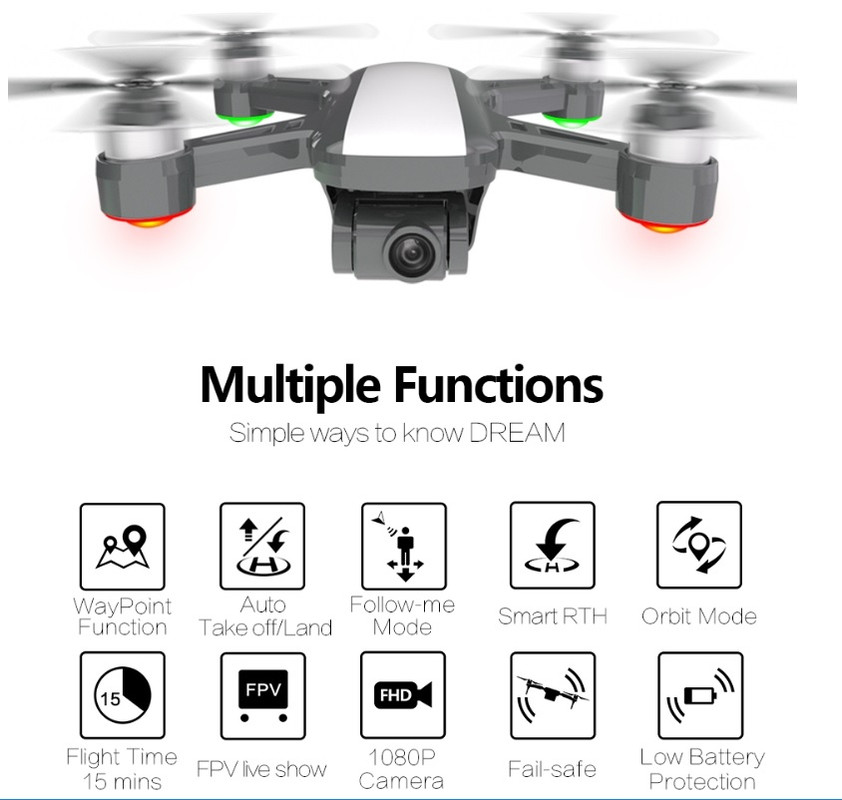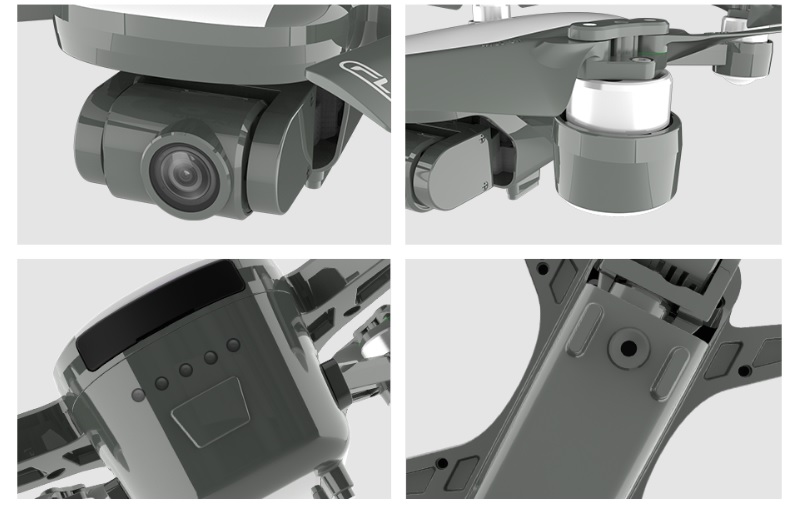 Specifications:
Aircraft
Size 148 X 145 X 60 mm (L x W x H)
Wheelbase 175mm
Weight (Battery & Propellers Included) 248g
Motor 18*12mm 1900KV
Max Ascent Speed 2m/s
Max Descent Speed 1.5m/s
Max Speed 20km/h
Max Service Ceiling Above Sea Level 3000m
Max Flight Time 15mins
Max Total Travel Distance 3km
Operating Temperature Range 0~40°
Satellite Positioning Systems GPS/GLONASS
Hover Accuracy Range Vertical: +/- 0.5 m
Horizontal: +/- 0.5 m
(when Optical flow is active): +/- 1.0m
Operating Frequency FCC: 5.150-5.250GHZ
CE: 5.150-5.250GHz
Transmitter Power (EIRP) 5.2GHz FCC:<=23dBm Optical flow system Optical Flow System yes Operating Environment Surface with clear pattern and adequate lighting (lux >15)
Velocity Range ≤1.5 m/s at 6.6 ft (2 m) above ground
Altitude Range 0.5~5m
Gimbal
Controllable Range Pitch: -90°~0°
Stabilization 2-axis (pitch, roll)
Camera
Sensor 1/2.7″CMOS
Lens FOV 110° 42 mm (35 mm format equivalent)
ISO Range Video: 100 – 3200
Photo: 100 – 1600
Image Size 2560*1440
Video Recording Resolution FHD: 1920*1080
Supported File Systems FAT32 (<=32GB)
Photo JPEG
Video MP4
Supported SD Cards Micro SD Max capacity: 32GB.
Class 10 or UHS-1 rating required
Operating Temperature Range 0~40°
Live View
Mobile App C-Fly
Live View Quality 720p
FPV Transmission Distance 800m
Required Operating Systems iOS 9.0 or later Android 4.4 or later
WiFi
Operating Frequency 5G
Max Transmission Distance Horizontal: 200m
Vertical: 150m
Max Speed 20 km/h
Max Ascent Speed 2 m/s
Max Descent Speed 1 m/s
Battery
Capacity 1000 mAh
Voltage 11.4V
Battery Type LiPo 3S
Energy 10.83 Wh
Net Weight about 72g
Charging Temperature Range 5~40°
Max Power 15W
Charger
Voltage 12.6V
Rated Power 18W
Remote Controller (RTF)
Operating Frequency 5GHz
Max Transmission Distance 800m
Operating Temperature Range 0~40°
Transmitter Power (EIRP) FCC: <=26dBm
CE: <=20dBm
SRRC: <=20dBm
Operating Current/Voltage 1.5A@3.7V
Supported Mobile Device Size Thickness Supported: 6.5-8.5mm
Max length: 80mm
Port Types Micro USB
Charge USB port
Max Charging Power 5w
Battery of Remote Controller (RTF)
Capacity 2600mAh
Voltage 3.7V
Battery Type LiPo 18650 1S
Energy 9.62Wh
Net Weight about 60g
Operating Temperature Range 5~40°
Features:
– Small total weight is 248g, with a new vision 2-axis gimbal, easy to carry, easy to shoot.
– Precision hover, bulit-in GPS+Glonass system,make the drone stable.
– With advanced Optical flow system, it has better adaptability to all kinds of ground textures.
– With 2-axis gimbal, pitch angle 0°-90°,720P FPV, 1080P high quality video.guarantee a perspective and unique image.
– One key take off/landing. Humanized design,more intelligent flight.
– One key return, will return automatically, make everything simple.
– Dream can fly 15mins, control distance is about 800m.
– Waypoints function, Follow me mode, Fly around mode.
– Low battery protection, flight control fail-safe.
Package Included:
1 x C-Fly Dream Quadcopter
1 x 1080P Camera
1 x 2-Axis Gimbal
1 x Transmitter (BNF Version Not Included)
1 x 11.4V 1000mAh Lipo Battery
2 x Propeller
1 x Charger
1 x Tranmitter Battery (BNF Version Not Included)
1 x Tranmitter USB Charging Cable
1 x Manual