Just few weeks after their first Runcam Split Mini competitor, Caddx is already their Turtle FPV-HD cam ultralight combo with a V2: https://www.banggood.com/Caddx-Turtle-V2-1080p-60fps-FOV-145-Degree-Super-WDR-Mini-HD-FPV-Camera-OSD-Mic-for-RC-Drone-p-1360782.html
We still have a 1080@60fps builtin HD recorder coupled with a 800TVL CVBS FPV sensor. It's still super light (~12g) but they improved some details:
– Now the mounting holes are more standard for 20mmx20mm support
– A mic is added
– A new lens (FPV about 170 degrees)
– New settings improving the general video quality.
With the Runcam split mini 2 recently introduced as well, seems there is a new war for 2-in-1 ultra light FPV-HD cam combo. The main question is about the associated latency. With the original Turtle, the latency was about 50-70ms… so almost twice more than the runcam split mini. I guess probably relatively soon a cheap FPV racer will be introduced with this combo pre-installed. Wait & See.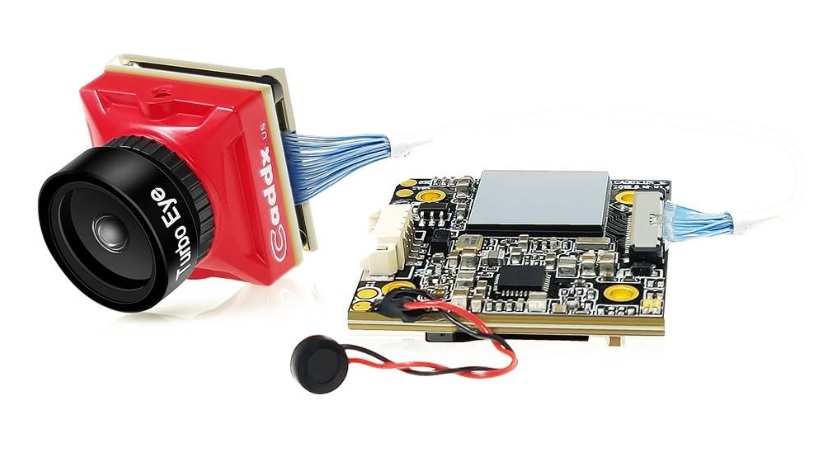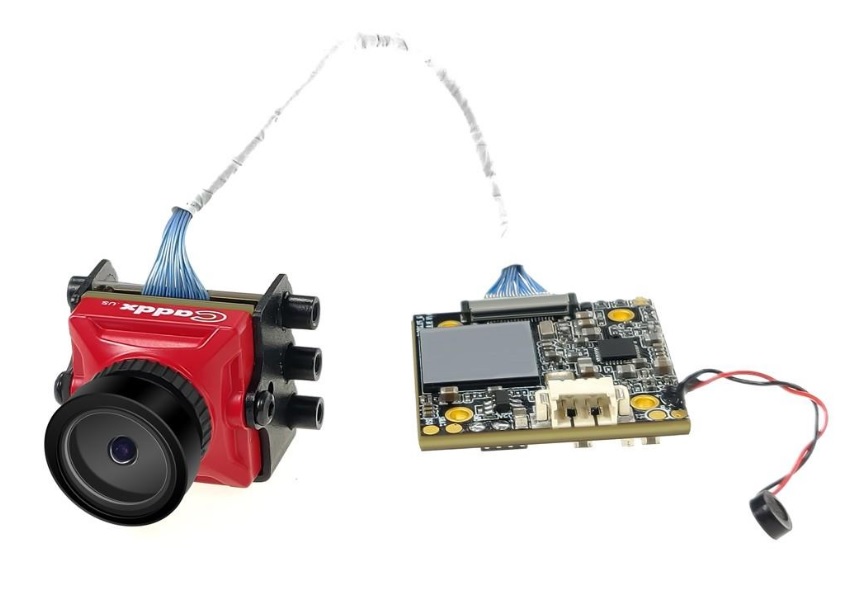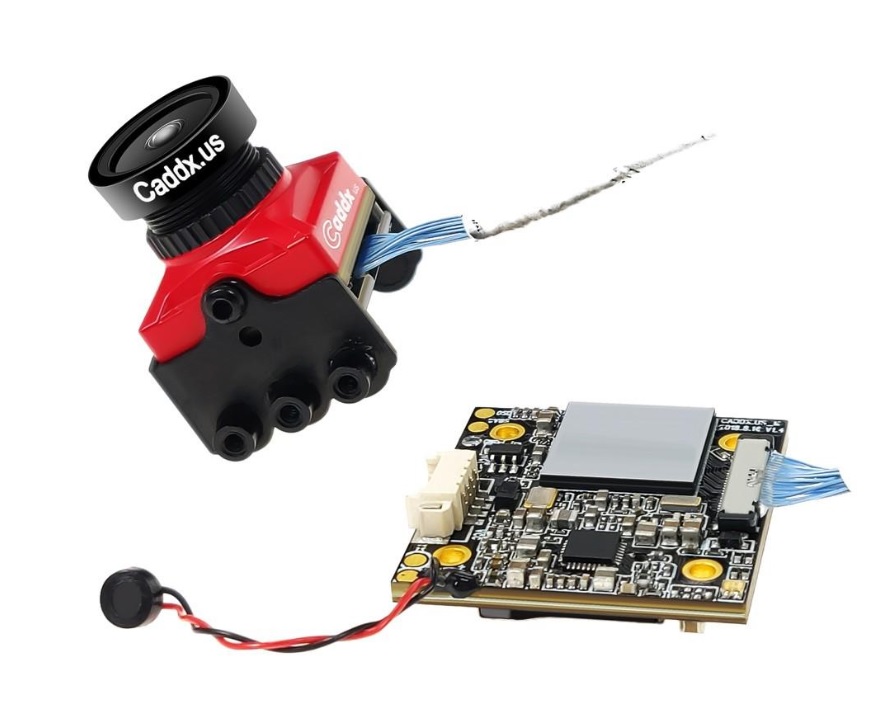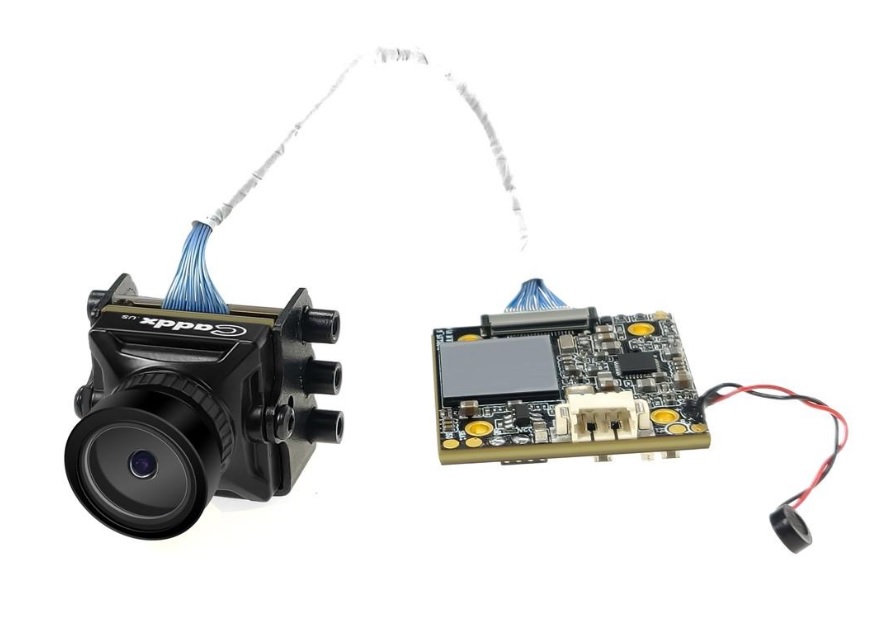 The Caddx Turtle allows both a live FPV feed and an HD DVR, without the weight of a heavy HD action camera. The Turtle V2 brings many improvements over the original, including a new lens, audio, better mounting options, and a better image. Caddx has introduced a new competitor in the HD FPV camera category. The Caddx Turtle is a 1080p 60fps capable mini fpv camera split into two parts, the FPV camera and an HD DVR board. Users who are constantly deciding whether or not to use an HD action camera may find this option perfect for their needs, especially those interested in shedding the weight of a heavy action camera but still want HD recording.
Specification:
Image sensor: 1/2.7″ CMOS sensor
Horizontal: 800TVL
TV system: NTSC/PAL,changeable
Video Resolution: 1080P@60fps / 1080P@30fps / 720@60fps
Power Input: DC 4.5-20V
FPV FOV: 155°
Recording FOV: 170°
Mini Illumination: 0.01lux
Image Resolution: 2 Megapixels
Lens: 1.8mm Turbo Eye Lens
Working Current: 380mA@5V/160mA@12V (low consumption)
OSD Menu: Yes (Support Voltage Display)
Video Files: MP4
Audio: Support
Electronic Shutter : PAL : 1/50-100,000 NTSC : 1/60-100,100
S/N Ratio: >60dB (AGC OFF)
Video Output: CVBS
Max Micro SD Card Supported: 8-64GB(need Class 10 or above, recommend Class 10/UHS-I/UHS-II)
Net weight: 12g(more or less)
Color: Red/Black
Features:
-New Turbo Eye lens
-More rational PCB layout and 20x20mm mounting holes – no offset hole!
-Microphone
-Wrapped cable
-Default image setting improvements
Quick operation guide:
1. RIGHT BUTTON: Press the RIGHT button for 3s-5s to activate video recording, in the meanwhile the light on the lower right corner will flicker.
2. LEFT BUTTON: Press the LEFT button for 3s-5s to stop video recording.
3. DOWN BUTTON: Press the DOWN button for 3s-5s to switch the resolution, 720P with Blue LED on, 1080P with Red LED on, the default mode is 1080P.
4. MIDDLE BUTTON: The MIDDLE button is the menu button.
Notice: The camera need at least 8G Class 10 SD card.
Notes: If the power is cut accidentally when video recording, please power on again, then the camera will automatically restore the memory,
and the video records before power cut will be still saved in TF card.
Package included:
1 x Caddx Turtle V2 Camera
1 x 5D-OSD Menu Board
1 x Bracket for camera
1 x 30x30mm mounting bracket
1 x 4pin FPV Silicon Cable (extend into a 2pin joint for OSD board and a 3pin joint for FPV)
1 x Internal hexagonal wrench
1 x Manual
1 x Warranty card
Note: Full-size metal bracket shown in some photos is not included at this time.