As you already probably know, the new fashion in the micro-drones market are Cinewhoop machines, i.e. a 65-85mm prop-guarded/whooped FPV brushless quadcopter with a HD-FPV combo camera able to broadcast your favorite FPV link with low latency while recording in HD format the flight session and of course the most jellofree as possible. Here is a new competitor with the iFlight CineBee 75HD: https://www.banggood.com/IFlight-CineBee-75HD-2S-Whoop-RC-FPV-Racing-Drone-W-SucceX-mirco-F4-12A-200mW-Turtle-V2-HD-PNP-BNF-p-1433255.html
Dislike most of last Tinyhood HD (Modula 7HD, TinyLeader HD, BetaFPV, etc…), here most of the structure is carbon based with an H design to be prop occlusion free. What I like also in the design, the microSD port looks easy to access. What about the access to start/stop record button ? no information yet. In the feature, it's mentioned that the cam can be controlled as well by the OSD… It's surprizing since as far I know until now, the Caddx turtle V2 product is not supported by Betaflight to control the triggering via a switch. So maybe they did it and if it's true, it's a fantastic news. For the HD-FPV part, we have the Caddx Turtle V2 model known to be first relatively insisible to vibrations (thanks to its M12 lens). The Cinebee uses some 12A BLheliS ESC coupled with strong 1103 motors (stronger than 1102 motors as in the Modula7 HD). The price is a weight estimated about 64.4g without battery (so around 18g more heavier than the Modula 7 HD). With a 450mah 2S LiPo, the machine will turn around 85-90g… No doubt this machine is also 3S compatible. But with 40mm props… in 2S, the machine should be already powerfull enought
Don't forget this type of machines are not really some acro-trainer ones but more low-riding cruizers to offer stable and jellofree HD video footages. For the FPV part, the VTX can output up to 200mW should be enought for 500-600m of FPV link. The Cinebee 75HD is proposed in PNP or in three BNF versions ( FlySky ADHDS-2A, FrSky D16 and DSM2/X). My priors are relatively good on this machine…. I will try to grab one for review… I am not sure I will, but good news, I will review the final version of the Modula 7 HD. Wait & See….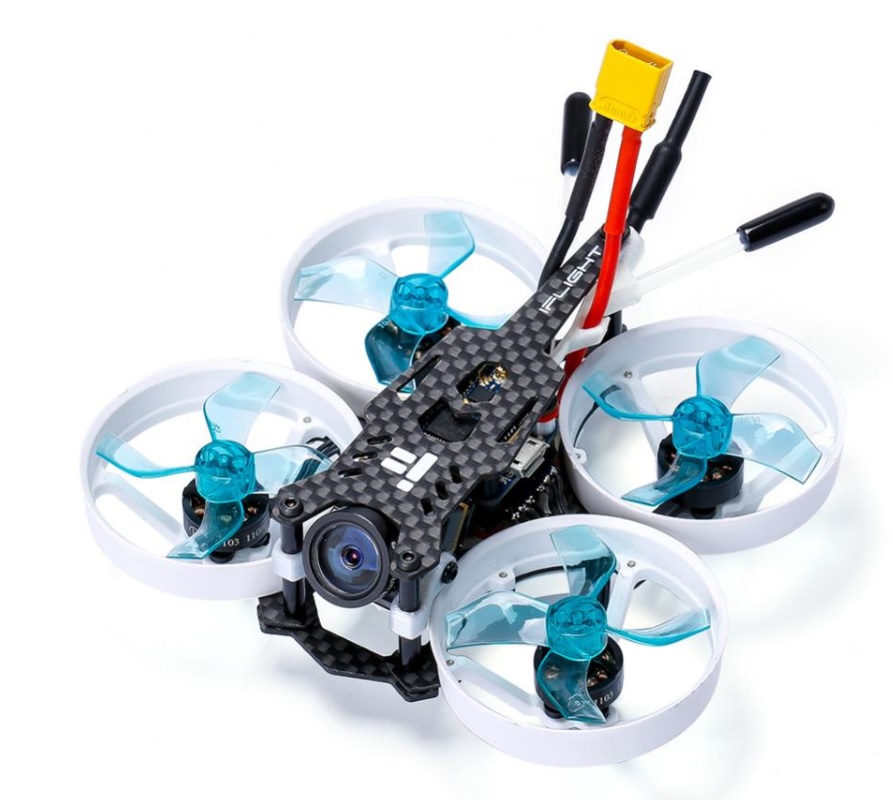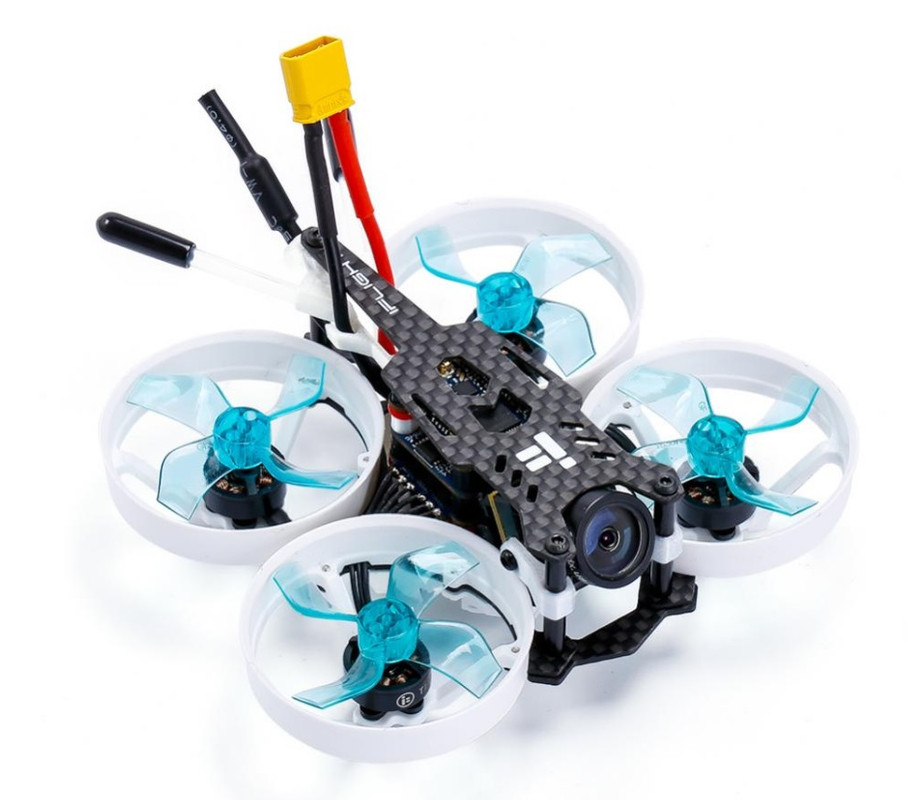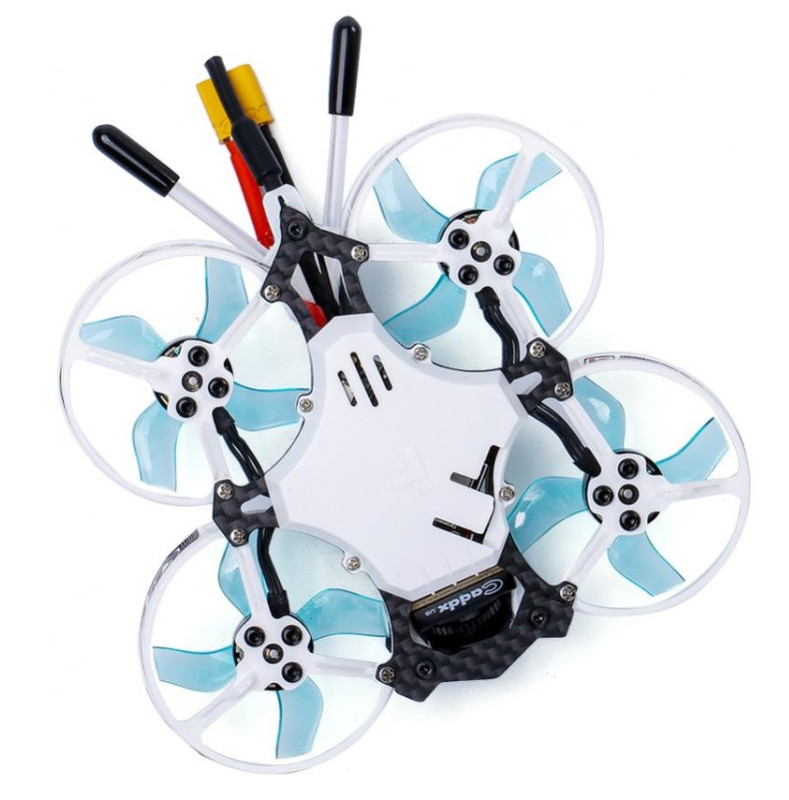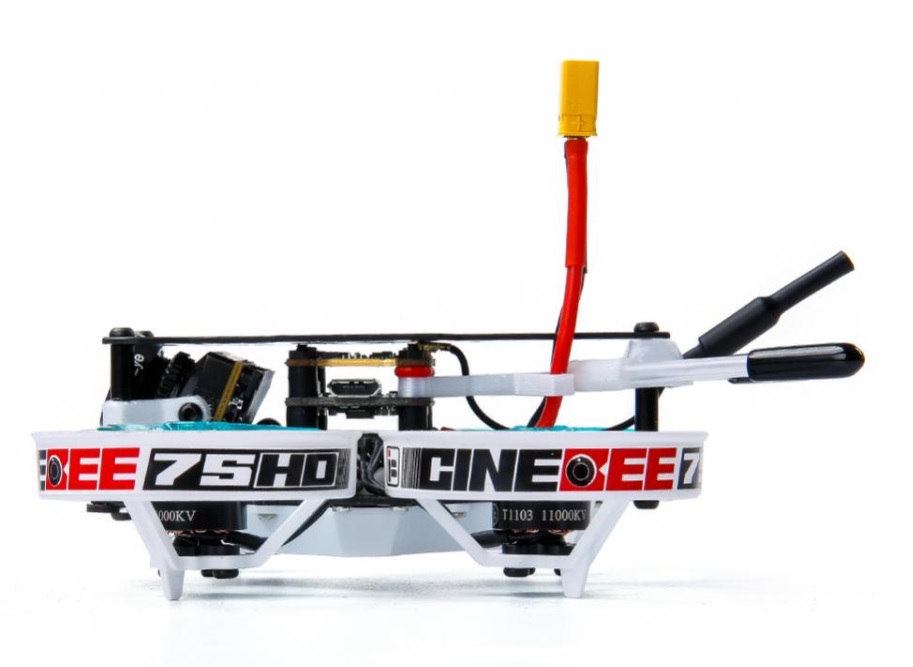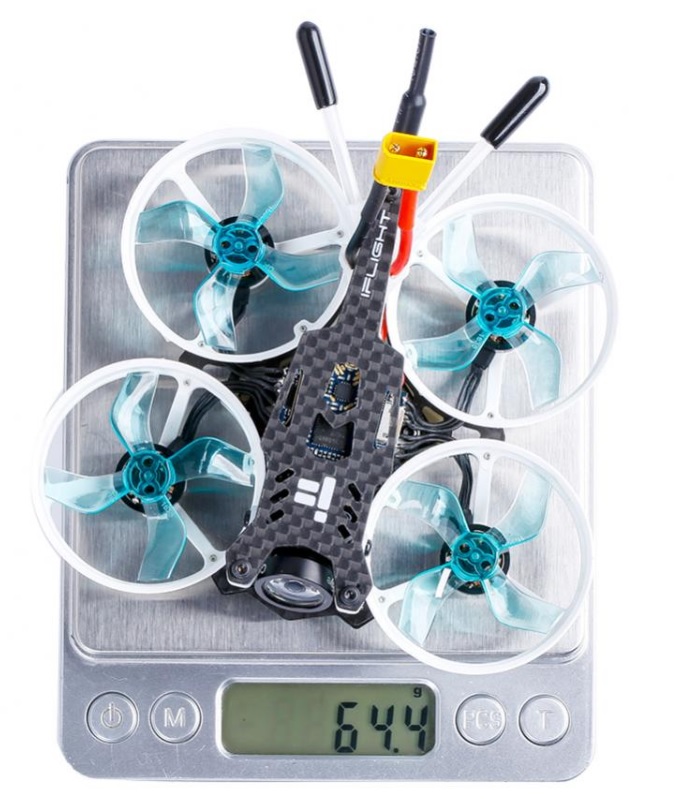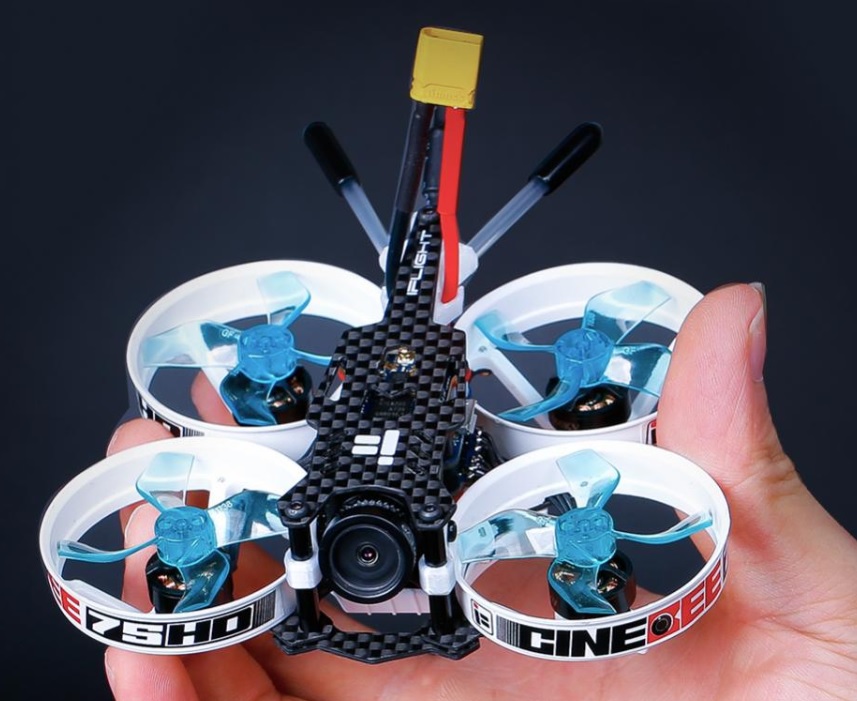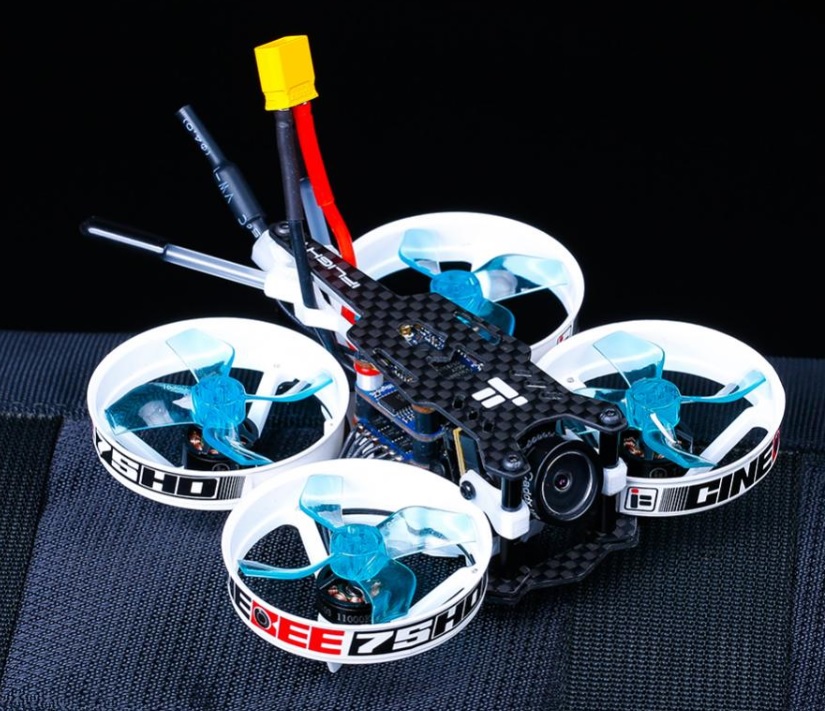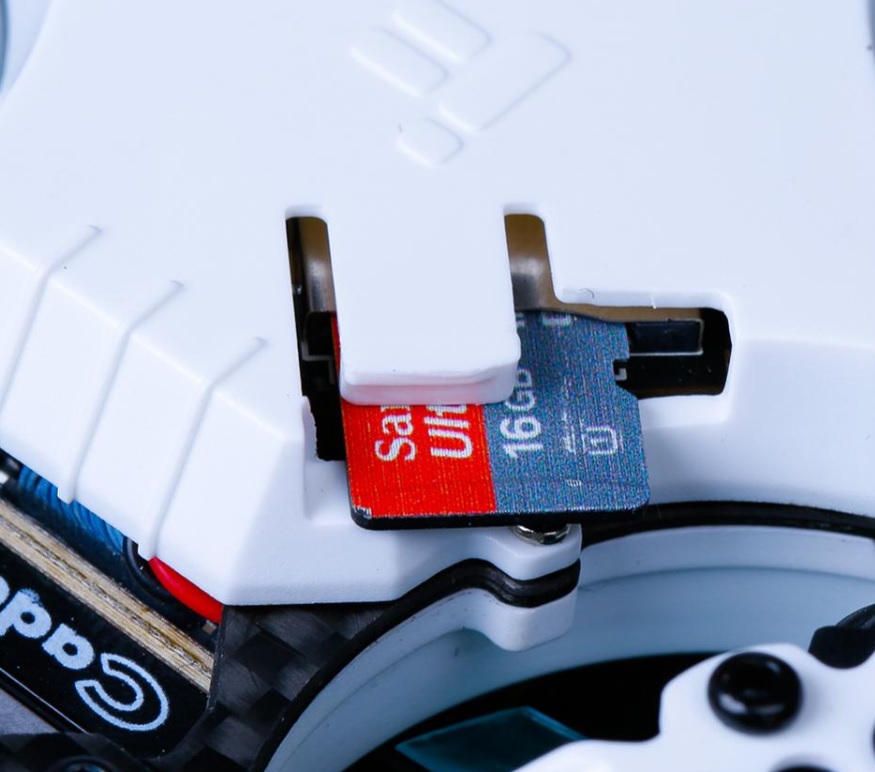 Specification:
Item name: iFlight CineBee 75HD 2S whoop
Total Dimensions: 110x93x30mm
Frame Wheelbase: 75mm
Bottom & Top Plate Thickness: 1mm
Standoff height: 22mm
Build Weight: 64.4g (without battery, receiver)
Connector: XT30
Support Battery: 2S
Flying Time: over 3mins (battery recommend: 2S 420 mAh)
SucceX Micro 16×16 F4 Flight Control
SucceX Micro 12A 4in1 BlheliS ESC
SucceX Micro 200mW switchable VTX
iFlight 1103 11000KV 2S motors (1.5mm shaft)
Caddx.us Turtle v2 HD FPV Cam
Receiver: Without Receiver/ FS-A8S V2/ Frsky XM+/ Frsky R-XSR/ DSM2 DSMX Receiver (option)
Gemfan 1635 40mm 3-blade 1.5mm props
iFlight Prop Guards 40mm
Features:
– ultra-light but high performance
– JELLOFREE durable carbon/plastic construction
– no props or prop guards in view
– upgradeable, versatile, futureproof
SD card insert and ejection:
-The HD cam PCB is conveniently placed under the frame, protected by a cover.
-To insert or eject the SD card, please push in the SD card and gently slide beside the security plastic guard.
Cam- and VTX control implementation:
-Both Cam and VTX can be conveniently setup on your radio and in your OSD.
Package included:
1x iFlight CineBee 75HD Frame Kit
1x SucceX Micro 16×16 F4 Flight Control
1x SucceX Micro 12A 4in1 BlheliS ESC
1x SucceX Micro 200mW switchable VTX
4x iFlight 1103 11000KV 2S motors
1x Caddx.us Turtle v2 HD FPV Cam
1x Without Receiver/ FS-A8S V2/ Frsky XM+/ Frsky R-XSR/ DSM2 DSMX Receiver (option)
4x Gemfan 1635 40mm 3-blade 1.5mm Props
4x iFlight Prop Guards 40mm white
2x iFlight 10*100mm magic battery straps black
1x set of accessories