You just read the review of the SPCMaker SPC-K1, the first 95mm FPV racer including a runcam split mini 2 ?. Here is a new model, the iFlight iH2: https://www.banggood.com/IFlight-iH2-95mm-FPV-Racing-Drone-PNPBNF-SucceX-F4-FC-35A-BLHeli_32-ESC-RunCam-TX200-2-6S-p-1372753.html
It's also a 95mm machine but with a total weight of 71.4g instead of 86g for the SPC-K1. More we have a ESC board with new FET supporting up to 35A !!!! so 6S compatible (if and only if motors could handle such voltage). More there now BLheli_32 firmware compatible !!!! so with DSHOT1200 compatible for faster corrections and controls. Motors are "only" 1104 @ 9500Kv. Clearly too fast for being 4S compatible. The iH2 will be limited to 3S setup. In this case with a 300mAh 3S LiPo you can expect a full 1080p@60fps flying machine under 100g … Impressive. For the VTX part, we have also Runcam VTX module so potentially IRC Tramp compatible. In term of frame structure, lower arms looks very thin… about 2mm max… so clearly the durability of this frame will be the main opened question. The iH2 is proposed with three type of receiver: FrSky D16, Flysky AFHDS-2A and Spektrum DSM2. I really hope a jello free situation will be here … and also no occlusion in the Field of View. I will ask to review this one.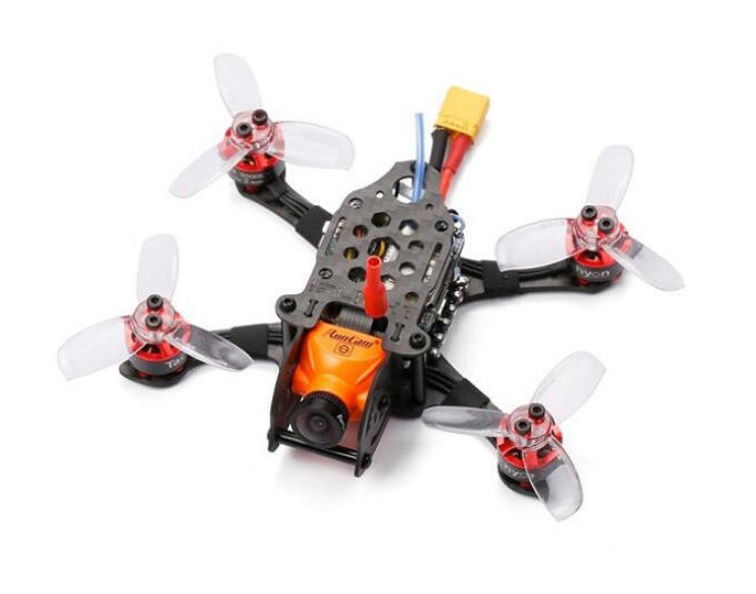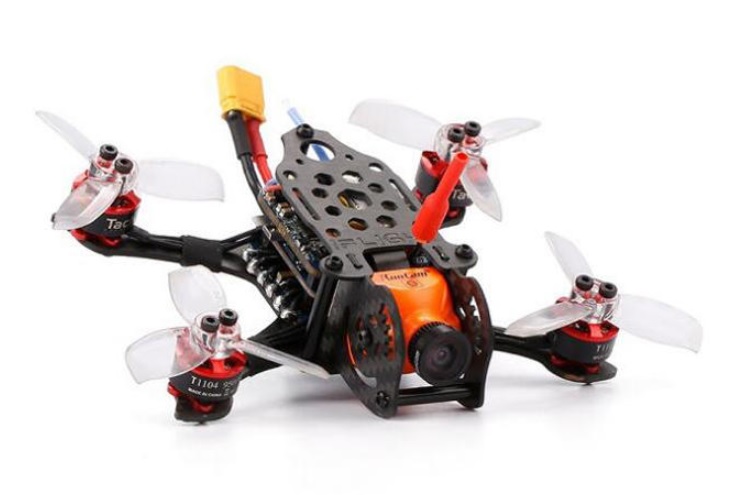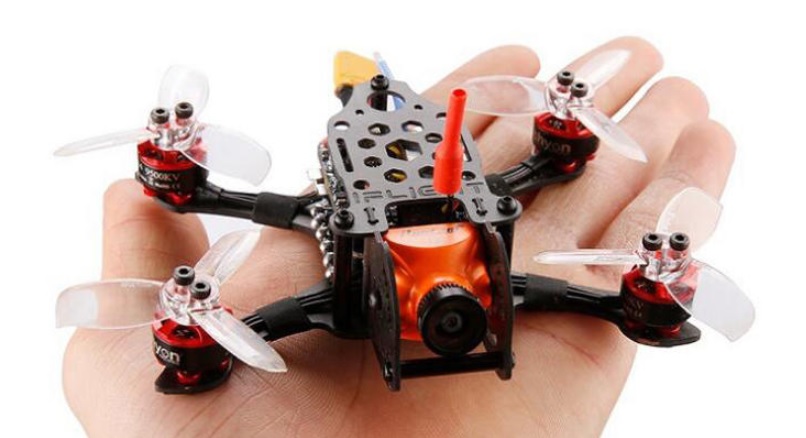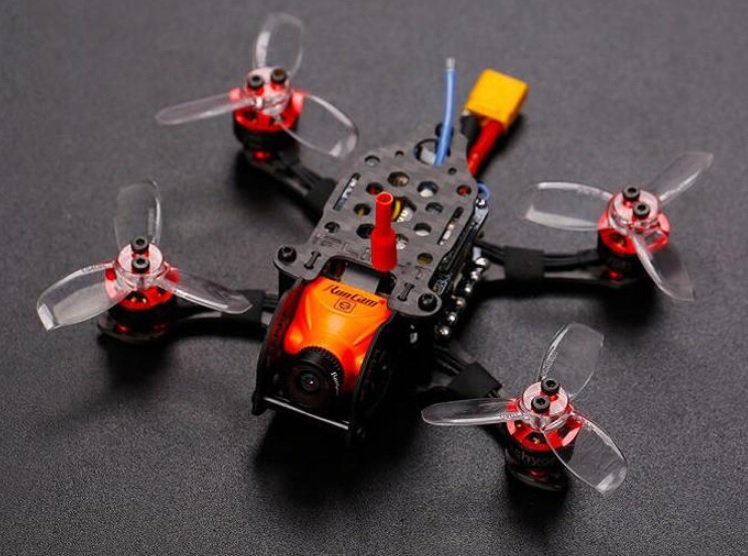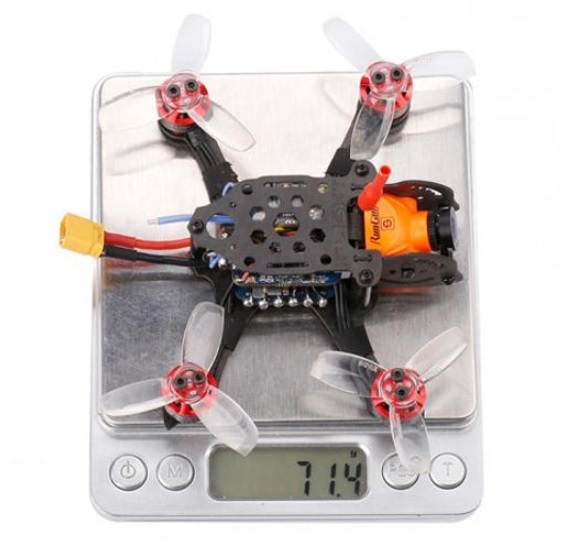 iFlight iH2 95mm FPV Racing Drone PNP/BNF SucceX F4 FC 35A BLHeli_32 ESC RunCam TX200 2-6S
iFlight iH2 is a new FPV tiny-whoop designed for the indoor HD aerial filming based on iH3. It has all the fun and advantages of IH3, but now in a smaller size and comes with the latest released electronics.
iFlight has made many attempts to improve the configuration of iH2, ensuring both the feasibility of carrying HD video equipment and the extraordinary flight experience. The main problem of previous micro indoor drone for HD aerial filming is the drone body weight. To overcome this obstacle, we have carried out weight control strictly. On the basis of ensuring the strength, the proportion of the frame has been greatly reduced. The brain of the iH2 is iFlight's new Succex 6S Mini all in one F4 FC stack with 35A ESC. Equipped with RunCam SPLIT-MINI 2 and RunCam TX200, the iH2 comes pre-tuned to bring you unprecedented flight experience!
Specification:
Brand name: iFlight
Item name: iH2 95mm FPV Racing Drone
Wheelbase: 95mm
Drone size: 125*102mm
Drone weight: 71.4g(without battery)
Flight controller: SucceX F4 mini
ESC: SucceX Mini 35A 2-6S BLHeli_32
Firmware: betaflight 3.5.0(can upgrade)
Motor: Tachyon 1104 9500KV
Propeller: GEMFAN 1940 3-blade
Camera: Runcam split mini 2
VTX: RunCam TX200
Receiver: FS-A8S /Frsky XM+ / DSM2 (Optional)
Recommend battery: Fullsend 350mAh 7.4V 2S 45C (Not included)
Feature:
– Ultra-light body
– Lens protected by vertical side plates effectively
– no propeller in view
Package Included:
PNP Version
1 x iFlight iH2 frame kit
1 x iFlight SucceX F4 mini 2-6S flight controller
1 x iFlight SucceX Mini 35A 2-6S BLHeli_32 4 in 1 ESC
1 x RunCam TX200 VTX
4 X iFlight Tachyon T1104 9500KV motor
4 x CW GEMFAN 1940 3-blade propeller
4 x CCW GEMFAN 1940 3-blade propeller
1 x RunCam SPLIT-MINI2 camera
1 x iFlight 10*130mm red strap
1 x Battery strap 15*150 red
1 x 3M Adhesive Mushroom Buckle 10cm
1 x XT30 male with wire 2mm side #18 Silicone wire red black 70mm long
1 x 90° Hexagon screwdriver1.5
1 x 90° Hexagon screwdriver 2.0
BNF Version
1 x iFlight iH2 frame kit
1 x FS-A8S /Frsky XM+ / DSM2 receiver (Optional)
1 x iFlight SucceX F4 mini 2-6S flight controller
1 x iFlight SucceX Mini 35A 2-6S BLHeli_32 4 in 1 ESC
1 x RunCam TX200 VTX
4 X iFlight Tachyon T1104 9500KV motor
4 x CW GEMFAN 1940 3-blade propeller
4 x CCW GEMFAN 1940 3-blade propeller
1 x RunCam SPLIT-MINI2 camera
1 x iFlight 10*130mm red strap
1 x Battery strap 15*150 red
1 x 3M Adhesive Mushroom Buckle 10cm
1 x XT30 male with wire 2mm side #18 Silicone wire red black 70mm long
1 x 90° Hexagon screwdriver 1.5
1 x 90° Hexagon screwdriver 2.0