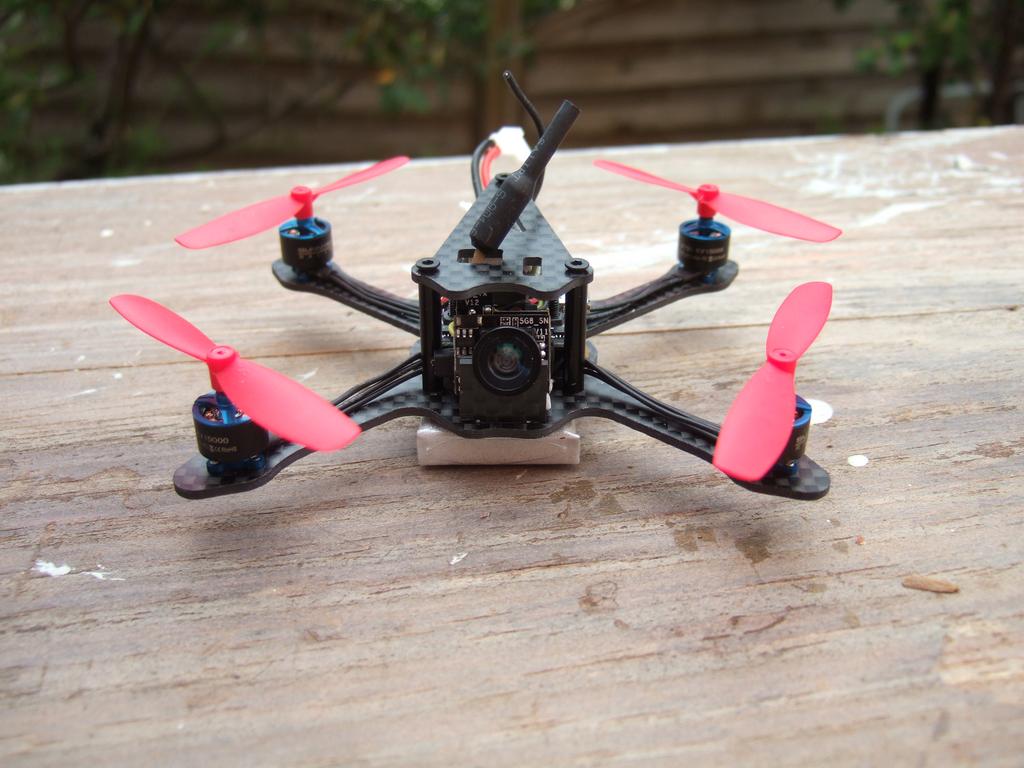 INTRODUCTION
The AuroraRC A100 is a new 1S brushless FPV machine based on 0705/15000Kv. It's a direct competitor of the SPCMaker 95EP. They share most of technical caracteristics: same type of F3 Omnibus FC with a builtin BetaflightOSD, 5A 4-in-1 ESC builtin board BLheli_S/Dshot600 ready, a 600TVL 1/4″ CMOS camera sensor w/ a 48CH 25mW 5.8G VTX. The carbon structure also is very similar with a 1.25mm main load plate. The 0703/0705 are knows to introduce a lot of vibrations into the structure and 6-axis stabilized flight modes with such motors present in a couple of second massive drift effect due to the high level of noise for acceloremoters. We will see if the AuroraRC got the same syndrome. Let's discover this bundle.
BOX CONTENT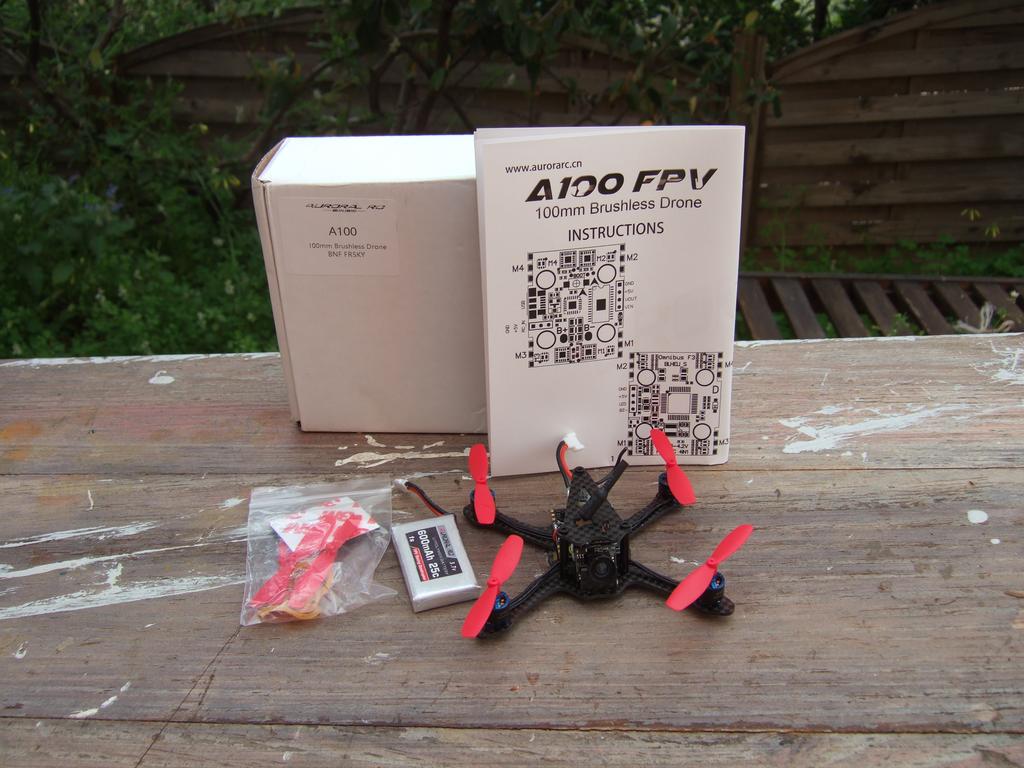 + 1 x AuroraRC A100
+ 1 x 600mAh 1S/25C LiPo with microLOSI/MCPX connector
+ 6 x Rubber bands
+ 1 x 3M rubber grip band
+ 4 x Spare props (2 CW, 2 CCW)
+ 1 x Instruction manual (English)
Dislike the SPCMaker product, here we have four "ladybird" 55mm spare props.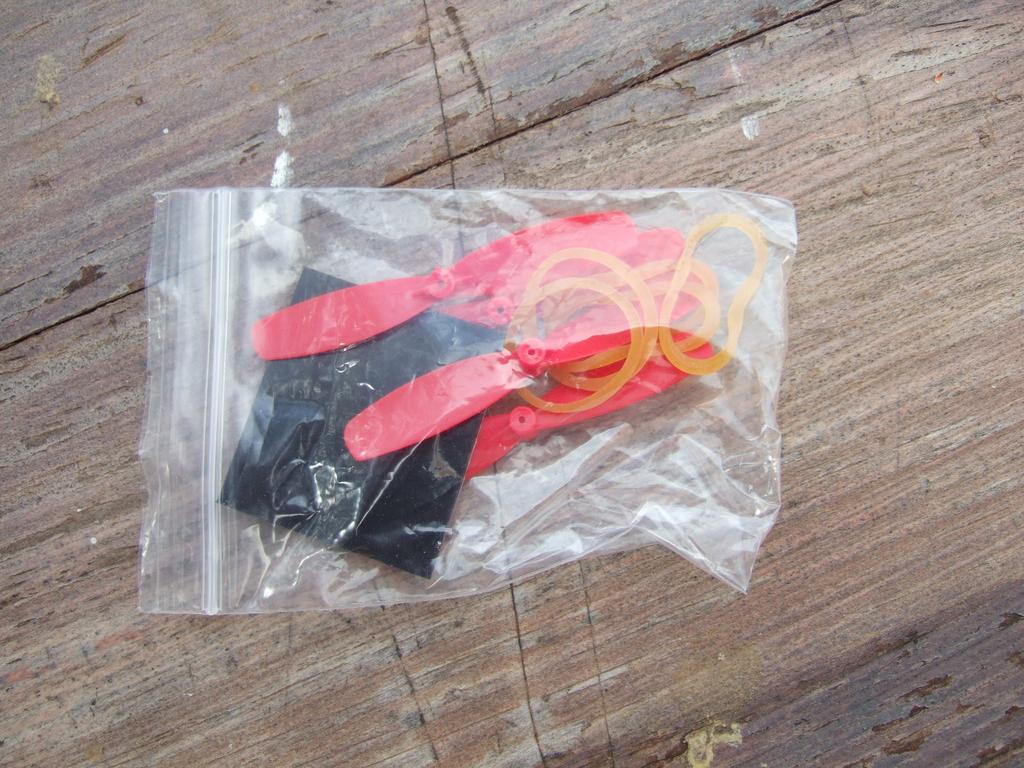 OVERVIEW
Very similar also in term of structure, is A100 is just slightly more longer. Both got the fixed AIO module installed with around 25 degrees approximatively.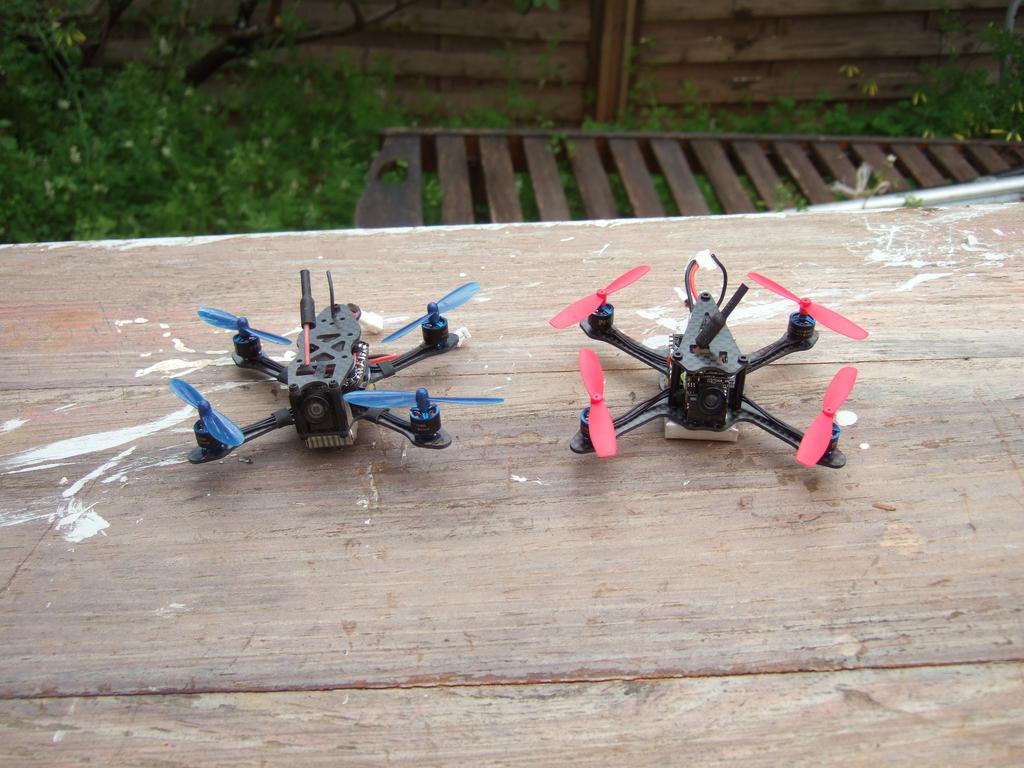 55mm ladybird props should be more efficient for the A100 versus the 95EP variant.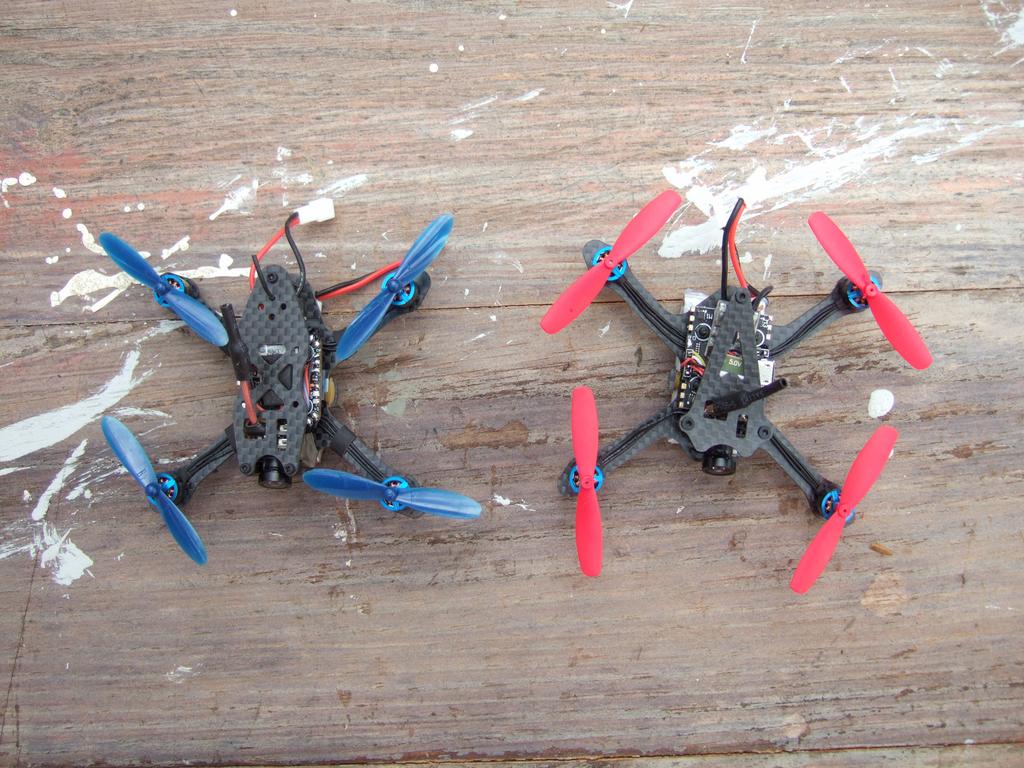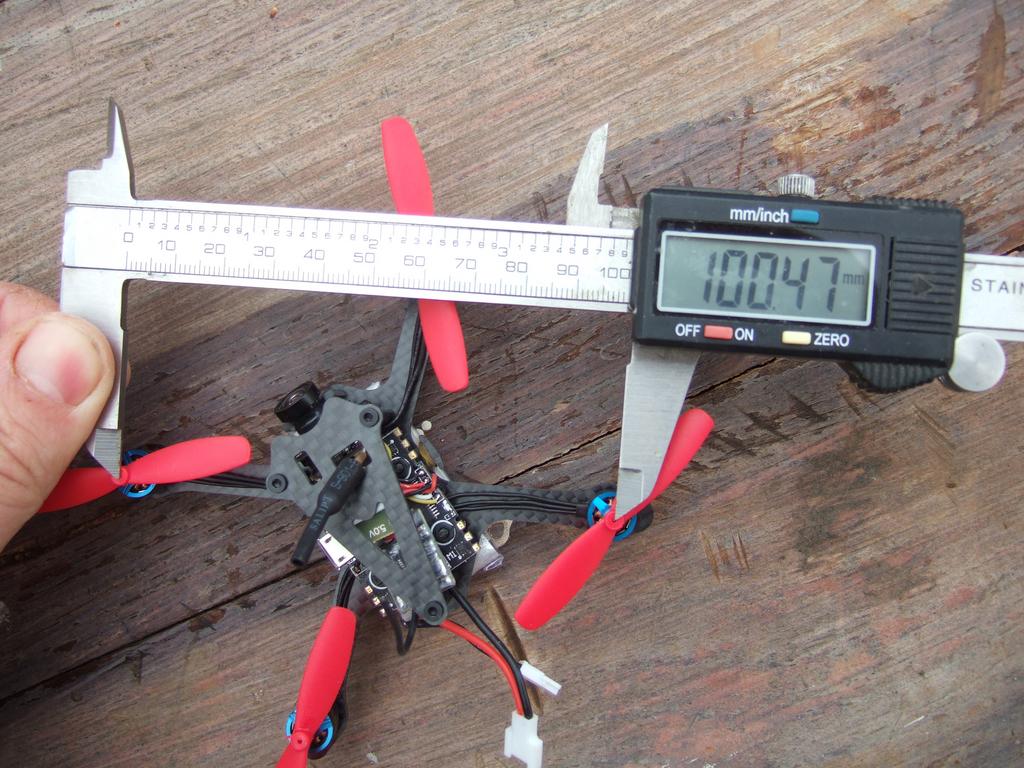 with the same 1.25mm main plate thicness. It will be ok to absorb crash on soft surfaces… No miracle on hard concrete at full speed.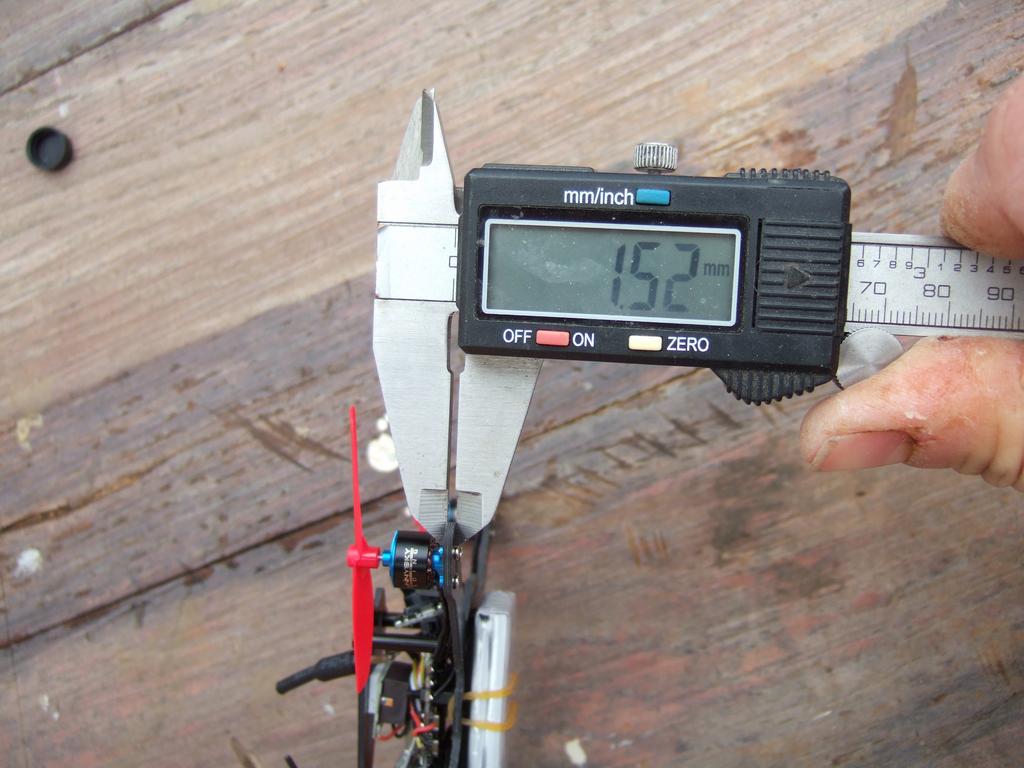 -FRONT VIEW
The top stucture is little bit more lighter and generally with some little optimization, the A100 is slightly more lighter.
The 5.8G linear antenna is pre-bent and no real risk to break it.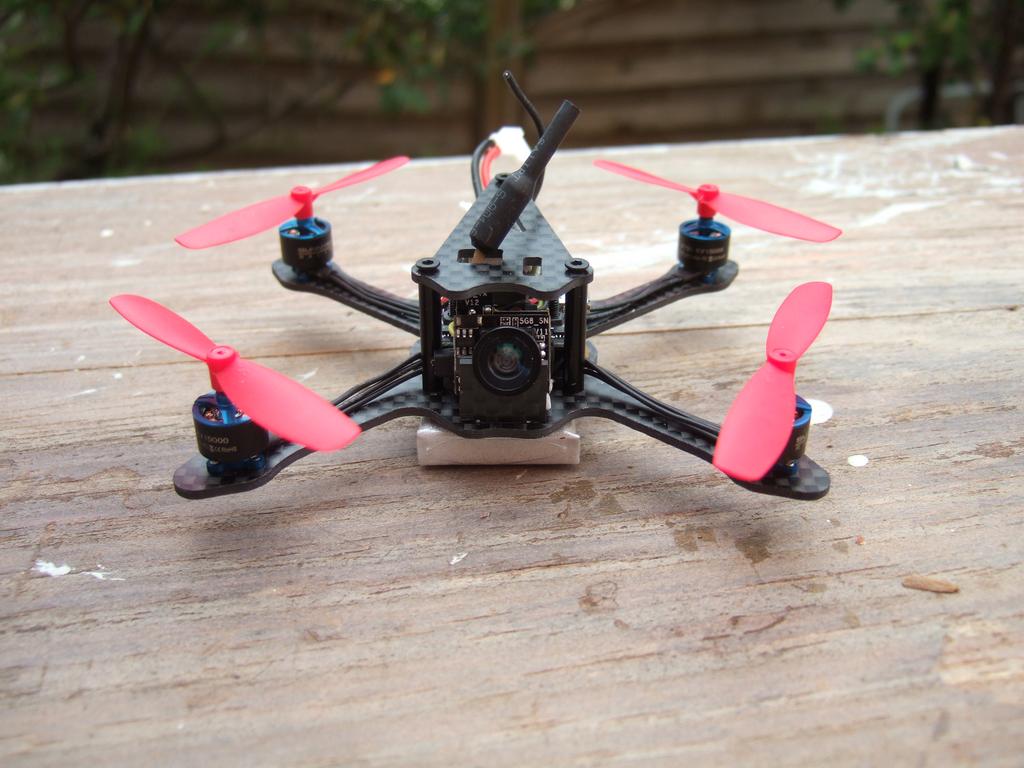 -SIDE VIEW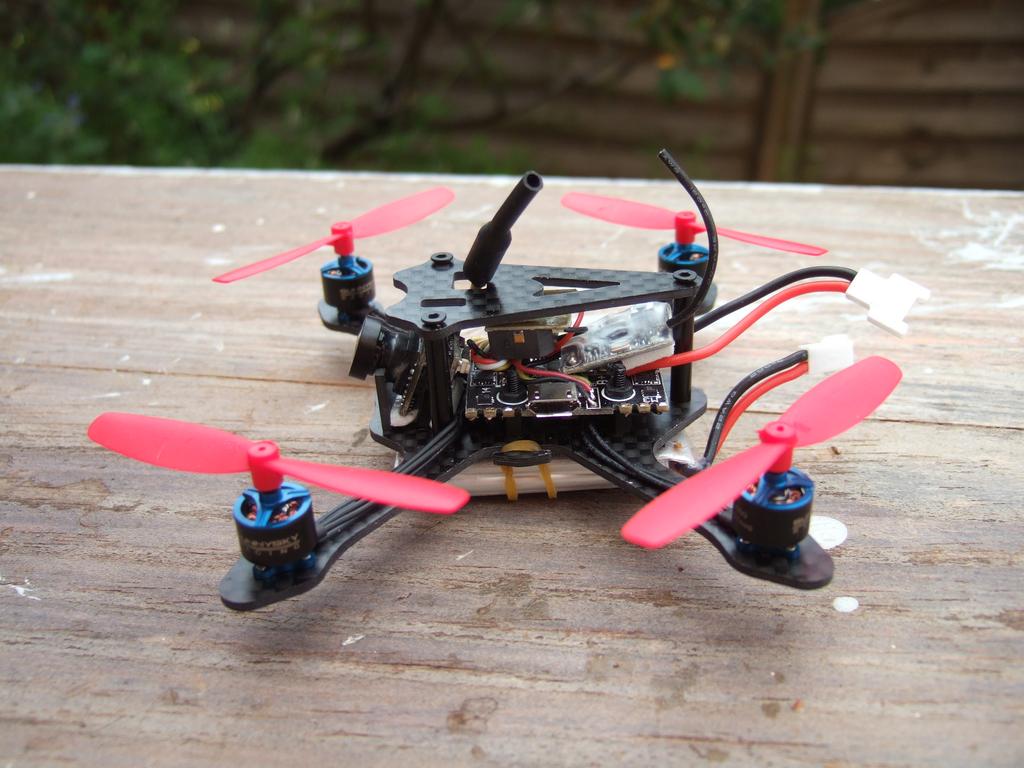 The microUSB port can be found on the left side. A minor detail for mine, the USB connector was partially broken… I need to press on it to have a full connexion. There is also a lound buzzer…. 🙂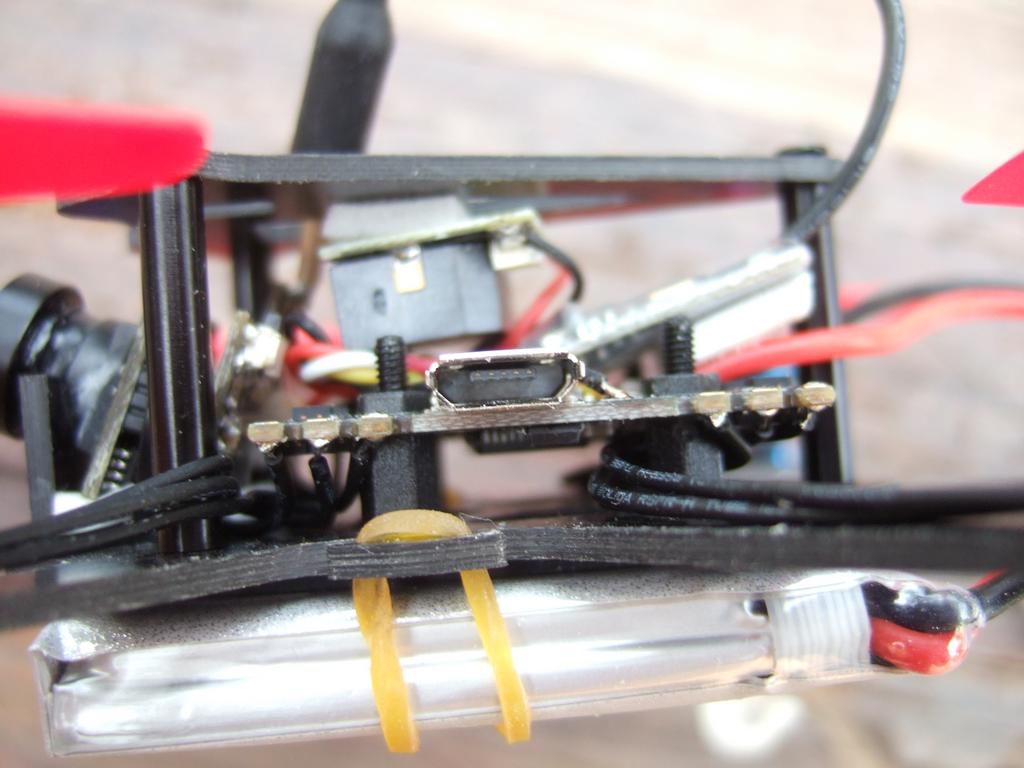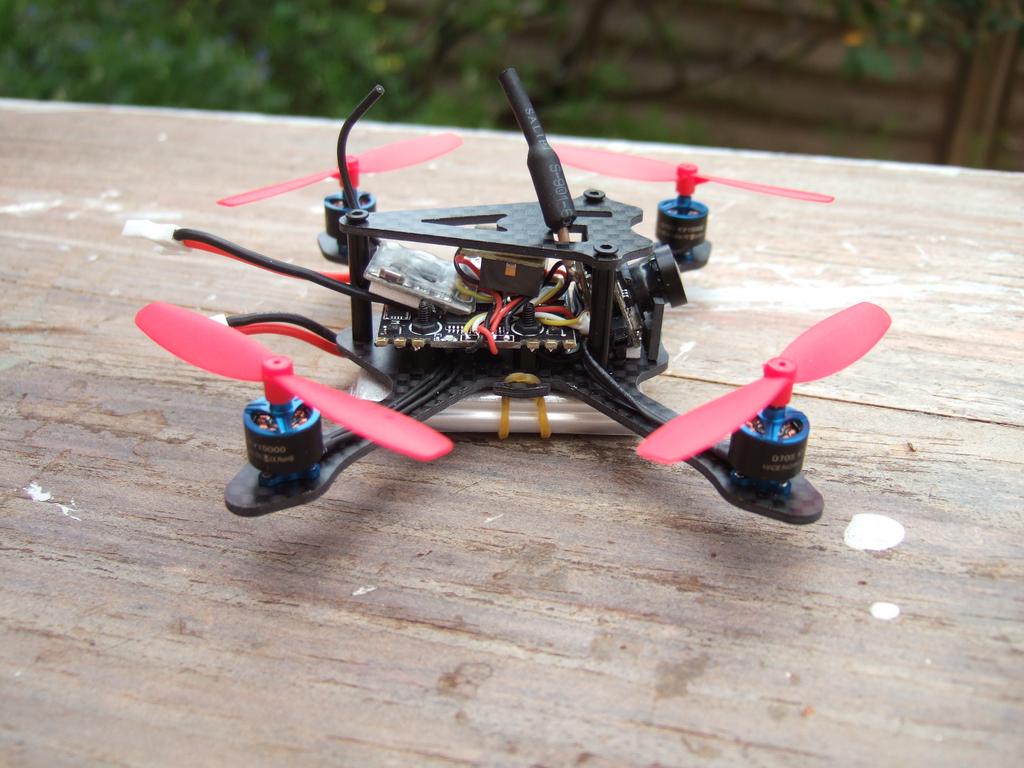 The FrSky D8 receiver is installed rear. The bind button is easy to access. Unfortunatly as for the 95EP model, no sign of RSSI as well as for the OSD or for the telemetry.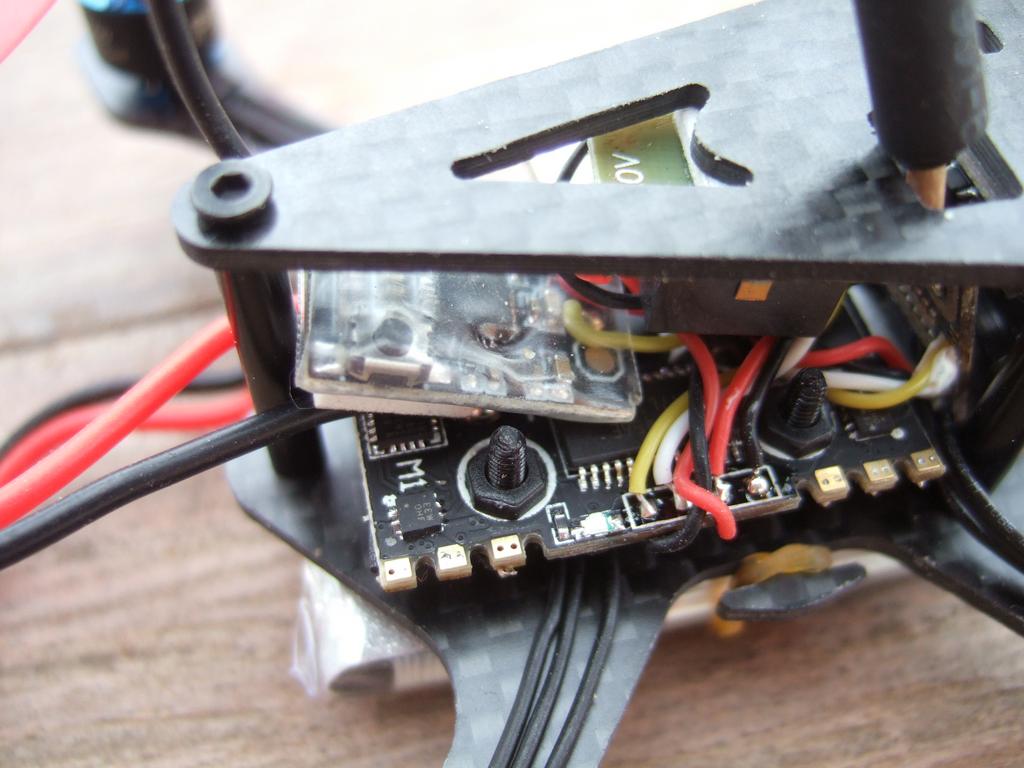 -REAR VIEW
No rear lights… every gram matters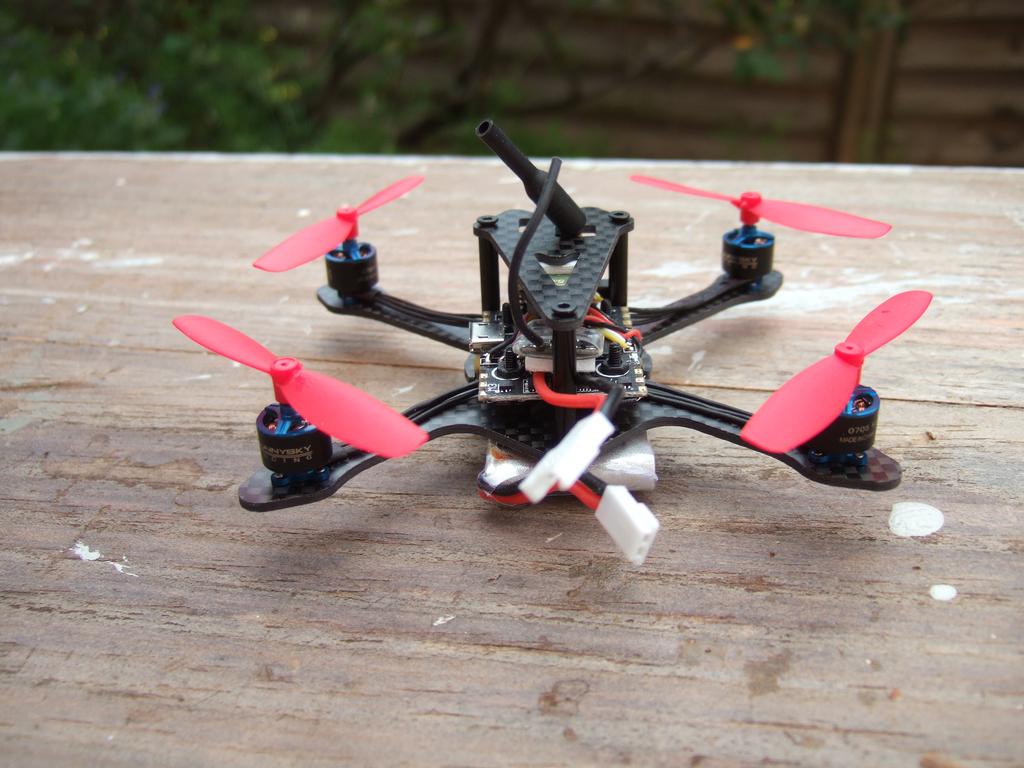 -UPPER VIEW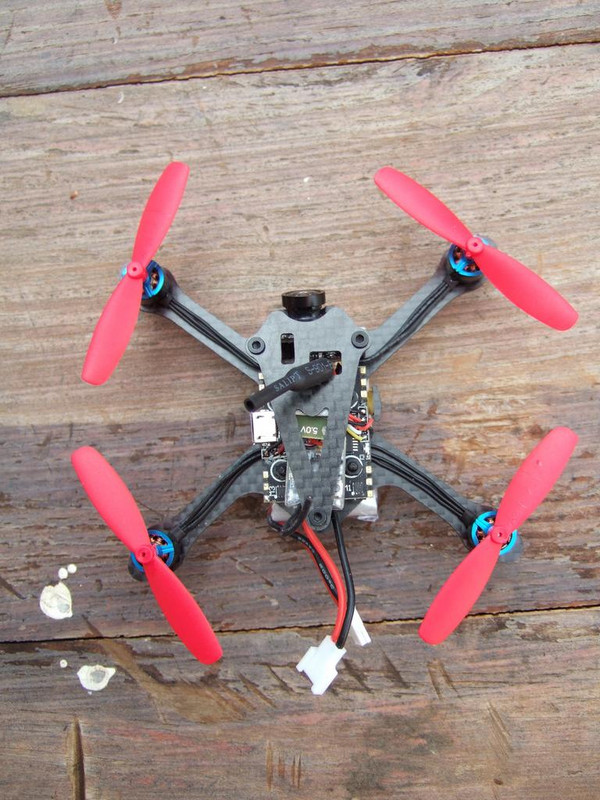 -BOTTOM VIEW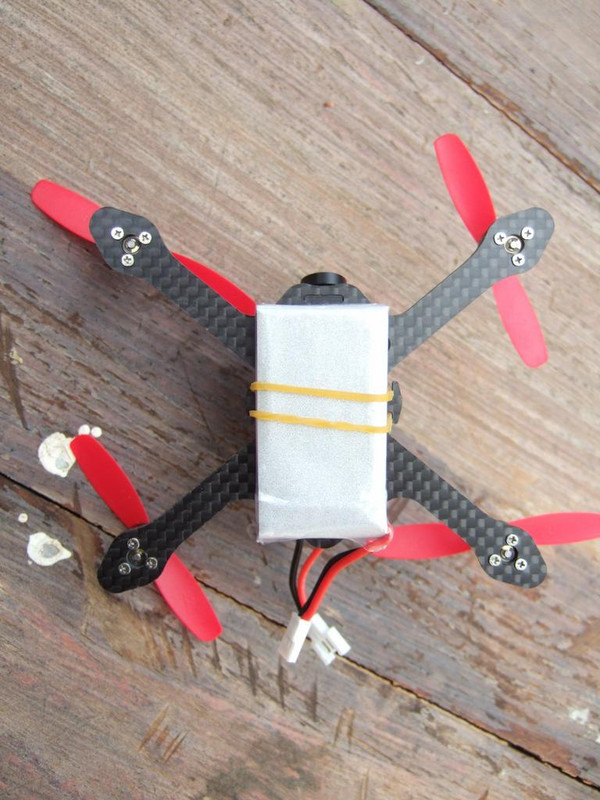 -WEIGHT
Without battery, the machine is close to be 2g lighter than the SPCMaker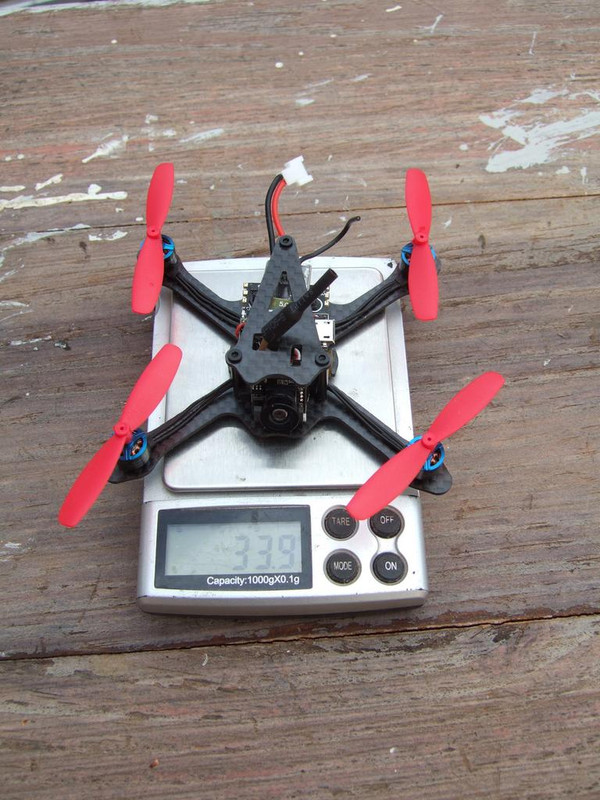 and almost the same weight with a 600mAh LiPo vs a 500mAh for the 95EP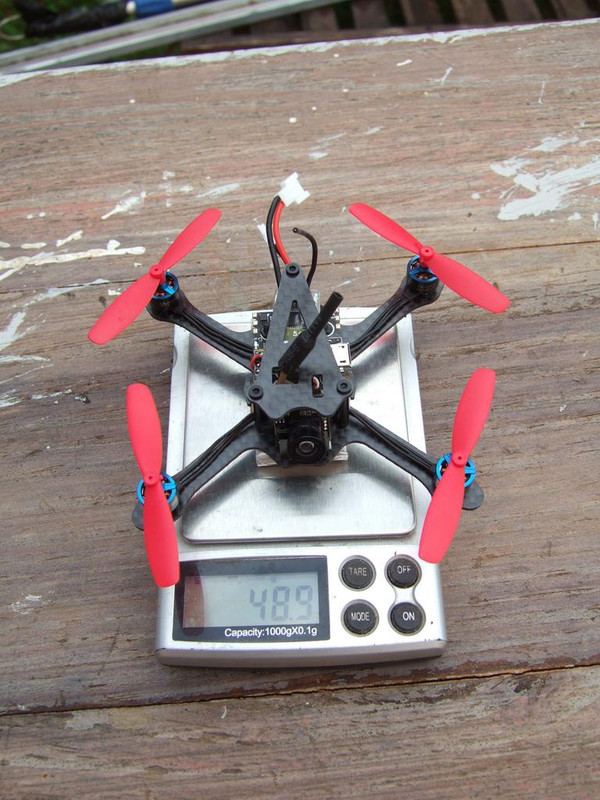 Motors
Exactly the same blue 0705/15000Kv motors. They are 1S compatible only …. and the main problems with such motors is the vibrations due to bad bearings/bushings making accelerometers crazy.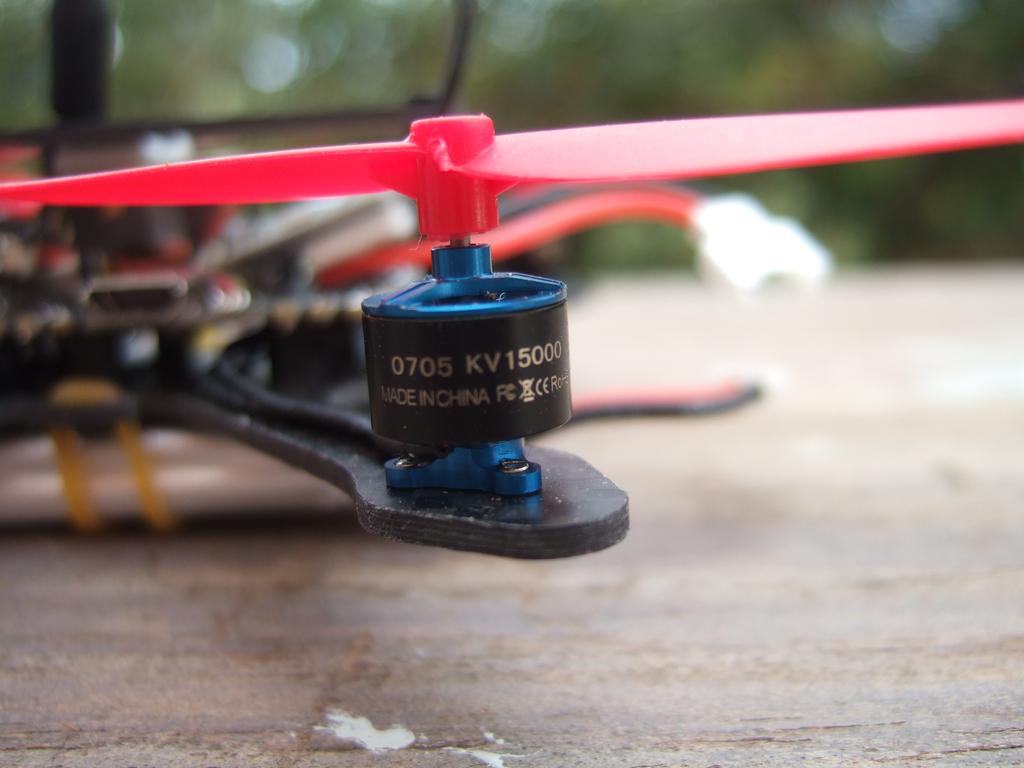 Same 1mm shaft section so compatible with most brushed props model. Here the efficient 55mm "Ladybird" model has been choosen. They offer more thrust than the SPCMaker model.
LiPo
A 600mAh LiPo announced to be 25C… As for the 95EP, 0705 motors requires a lot… and battery need to be super strong to have early buzzing.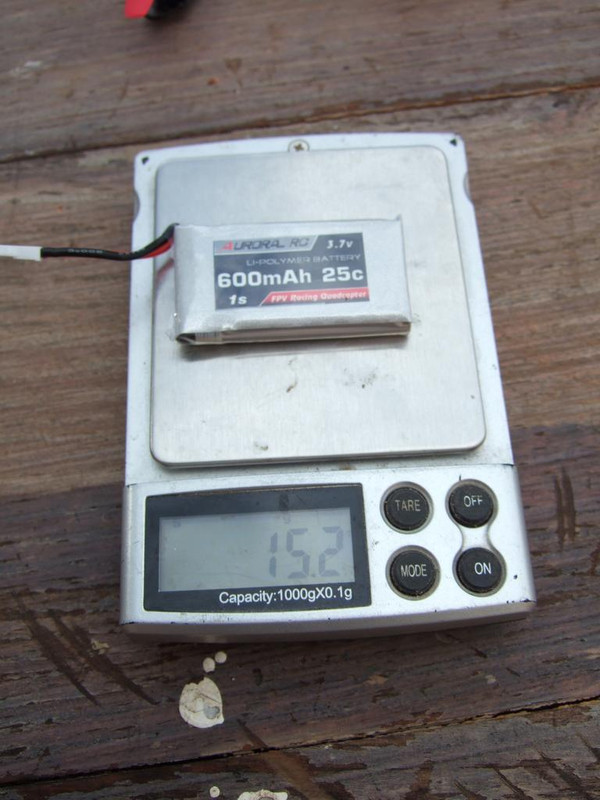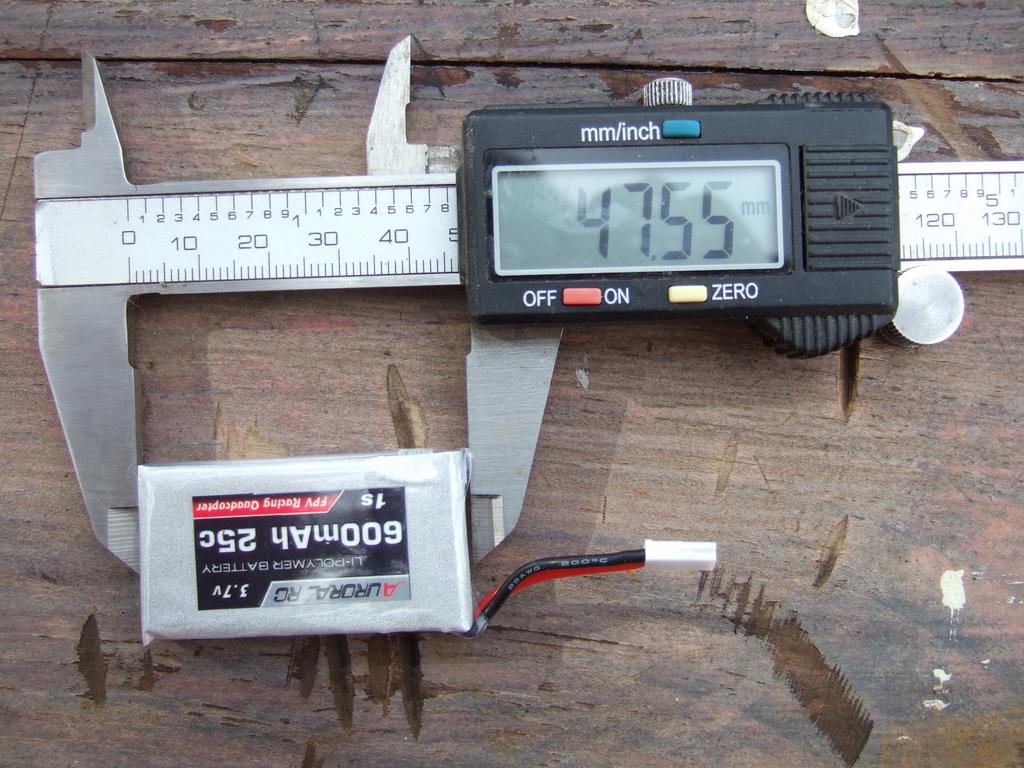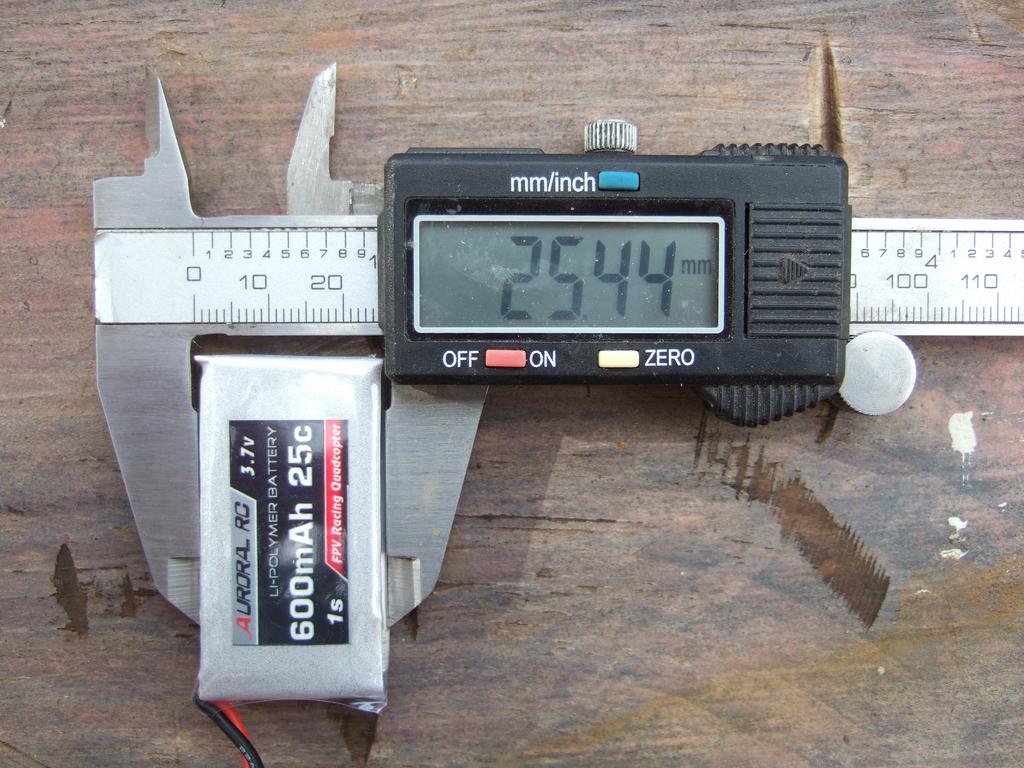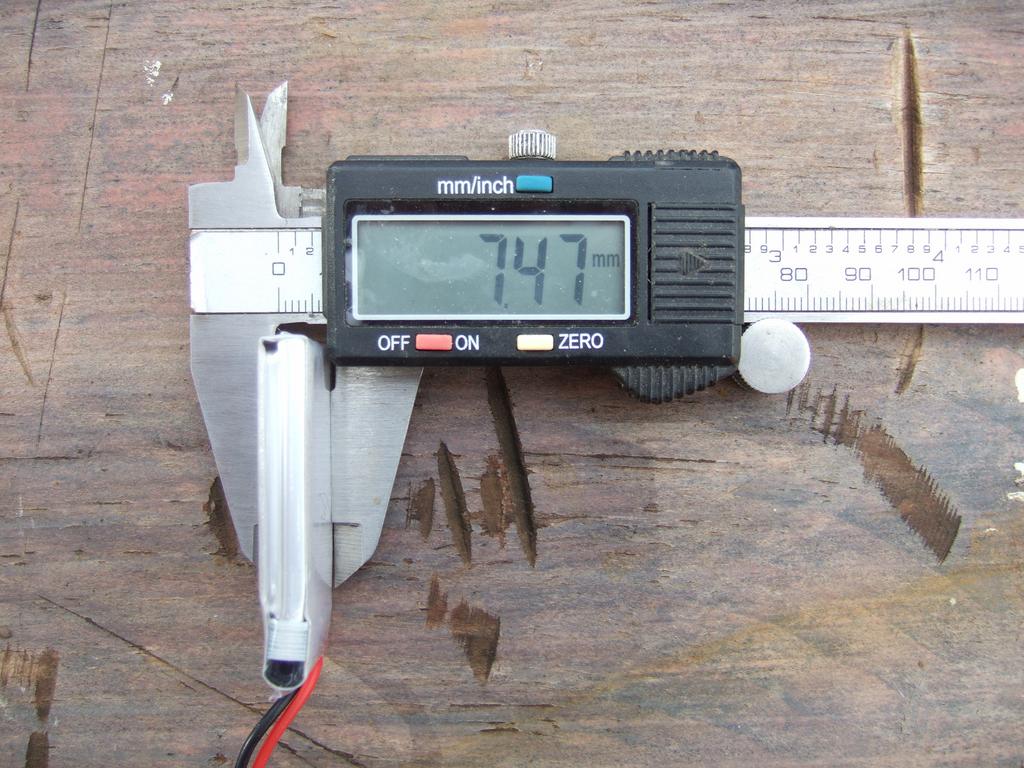 Camera module
A basic NTSC only AIO module, 600TVL 1/4″ sensor. 48CH associated with the 25mW VTX.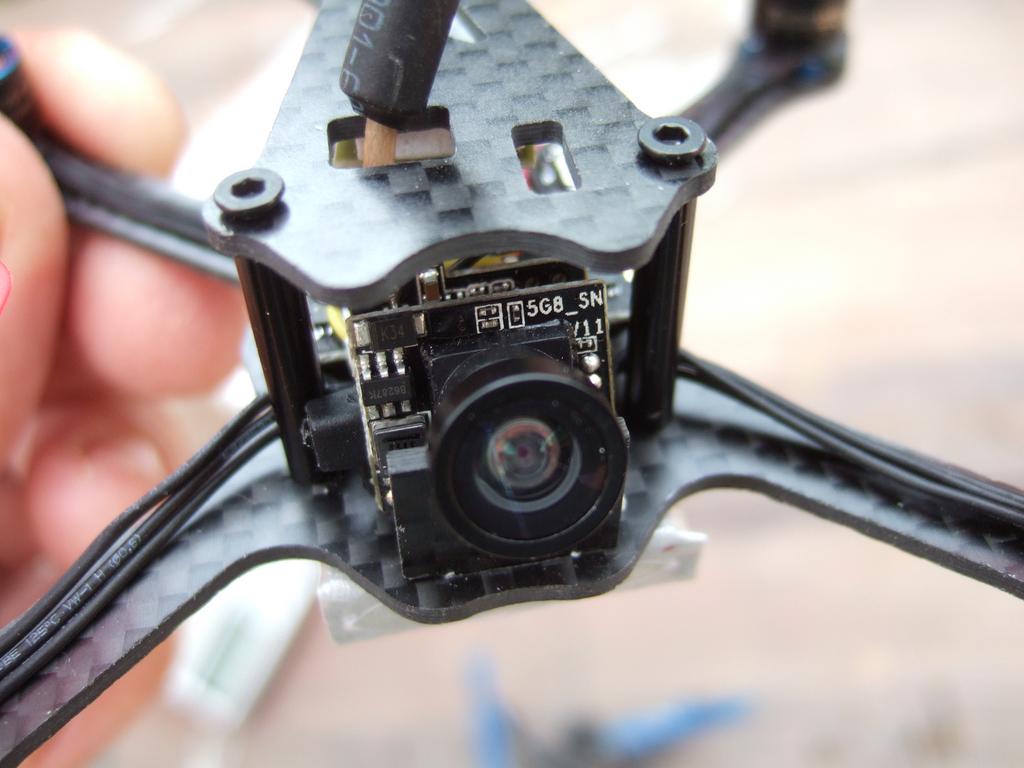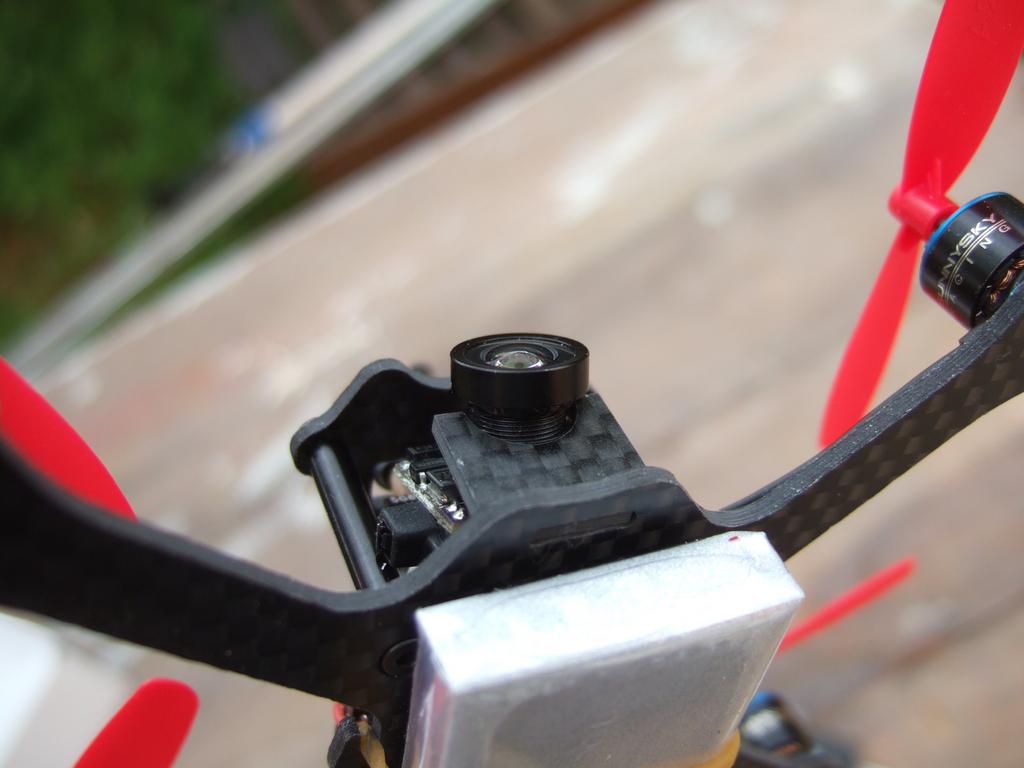 Two raws of light can be clearly see as well as the main control button. Short press on it, then you will cycle between the eight Vfreq inside the current selected Vband. For the Vband selection, it's a bit different than usual. You need to long press 3s. Then the blue light will flash. Short press to cycle between the desired Vband… then long press again 3s to validate the selection.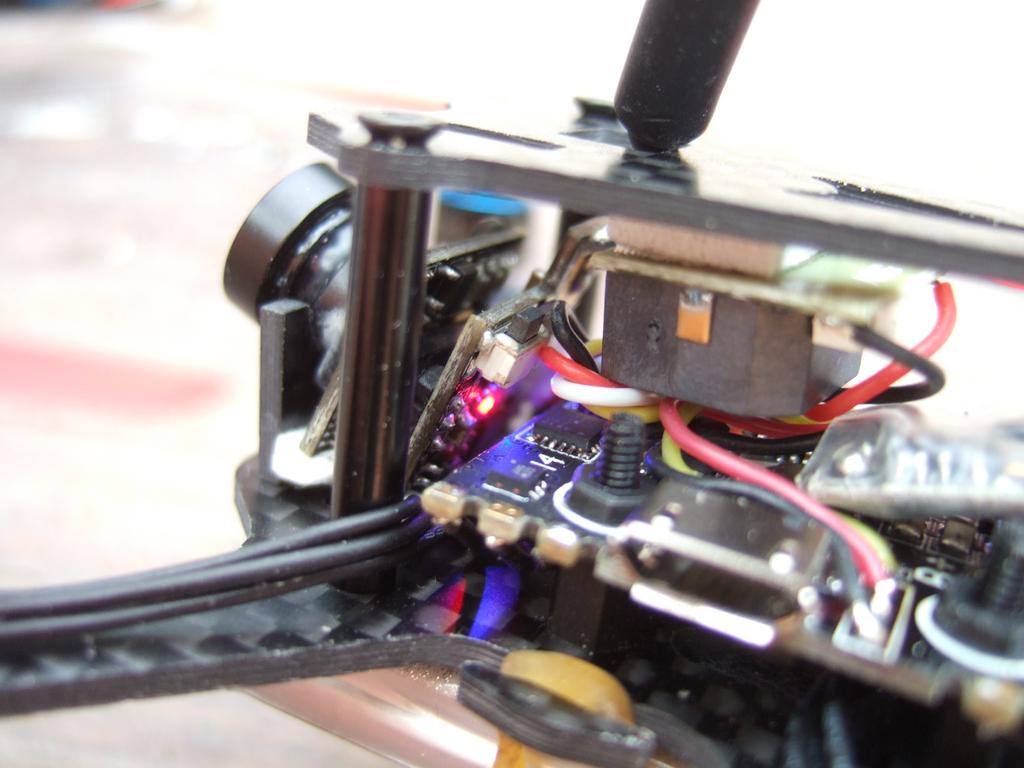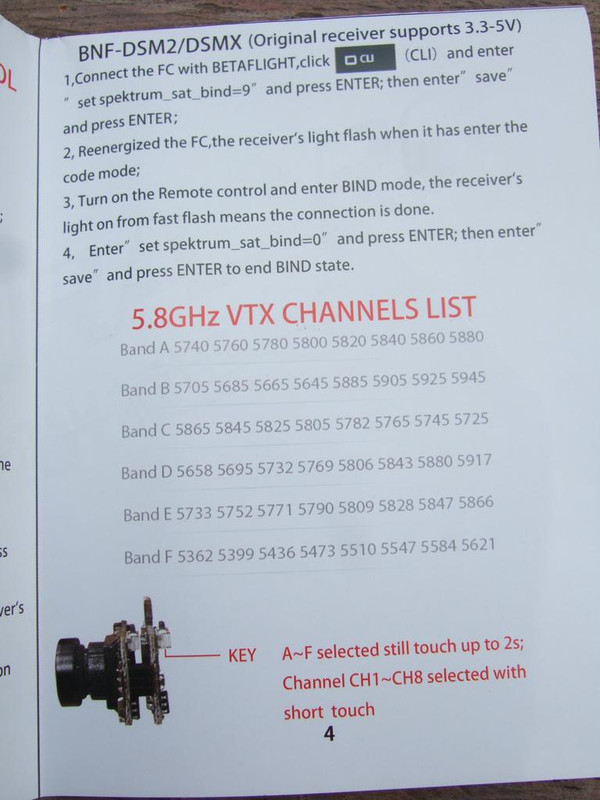 UNBOXING, ANALYSIS, BINDING AND DEMO FLIGHT
The machine comes with Betaflight 3.2.0 where mostly the receiver settings was done. PIDS are the default ones and the OSD display all possible information available… so clearly need to be optimized. At least the port configuration setup was correctly done dislike for the 95EP.
When you arm the machine, with these 0705 motors, the machine is very noisy…..You start to hover from 50%.. Seems to be a bit more powerfull than the SPCMaker model …..Good news no slow rates bug as reported out of the box for the 95EP. Anyway, like the SPCmaker, just after a couple of seconds, the machine to drift massively. For my machine more in the front left direction. The vibrating noise introduced make the accelero completly crazy. This machine can be flew only in acro mode… so if you are a beginner who want to fly this machine first in LOS conditions, forget this idea with the AuroraRC A100. Whatever the presence of a more "professional" 1S LiPo, after 30s, the machine starts to display "low battery"…. 25C is not enought and voltage drop > 1V under load can be observed so… clearly you are fast under the threshold 3.3V betaflight value. Well puchouts for a 1S are good, better than any brushed models even with dark edition motors. It's so ok to flight acro, to flip and rolls and why not powerloop with a minimum altitude. The AIO module performances are relatively poor in term of light sensitivity (probably a 1Lux model) and range (<100m). It's flyable don't worry but far from best CMOS I was able to fly with. In acro the machie is fast, bank well..... some little bounce back can be observed and some little PID optimization need to be done probably by increasing P values. As expected flight durations are short about 3min-3min30s.....
CONCLUSIONS
Due to presence of a lot of vibrations, this machine can be flew only in acro mode so clearly not recommended for beginners. The A100 is light, relatively powerfull and for a 50g machine is acro compatible. Thanks to the presence of a buzzer this machine is fun for outdoors applications. For indoors, you will probably kill fast the frame on hard surfaces. Between the SPCMaker and this model, I prefer this one… Less work out of the box and you have some spare props.
PROS
+ F3 Omnibus w/OSD
+ 0705/15000Kv
+ Powerfull enought for acro flight
+ Buzzer
+ Cheaper than the SPCMaker 95EP
CONS
– Huge drits w/ 6-axis stabilized flight modes
– Important battery voltage drop under load
– Noisy
– No RSSI w/FrSKy D8 RX
– Poor light sensitivity of the AIO module
This quadcopter have been courtesy provided by Banggood in order to make a fair and not biased review. I would like to thank them for this attitude.
You can find it actually for 97.4 USD at https://www.banggood.com/AuroraRC-A100-1S-Micro-Brushless-FPV-Racing-Drone-w-F3-OSD-BLHeli_S-5A-48CH-25mw-VTX-600TVL-PNP-BNF-p-1225243.html