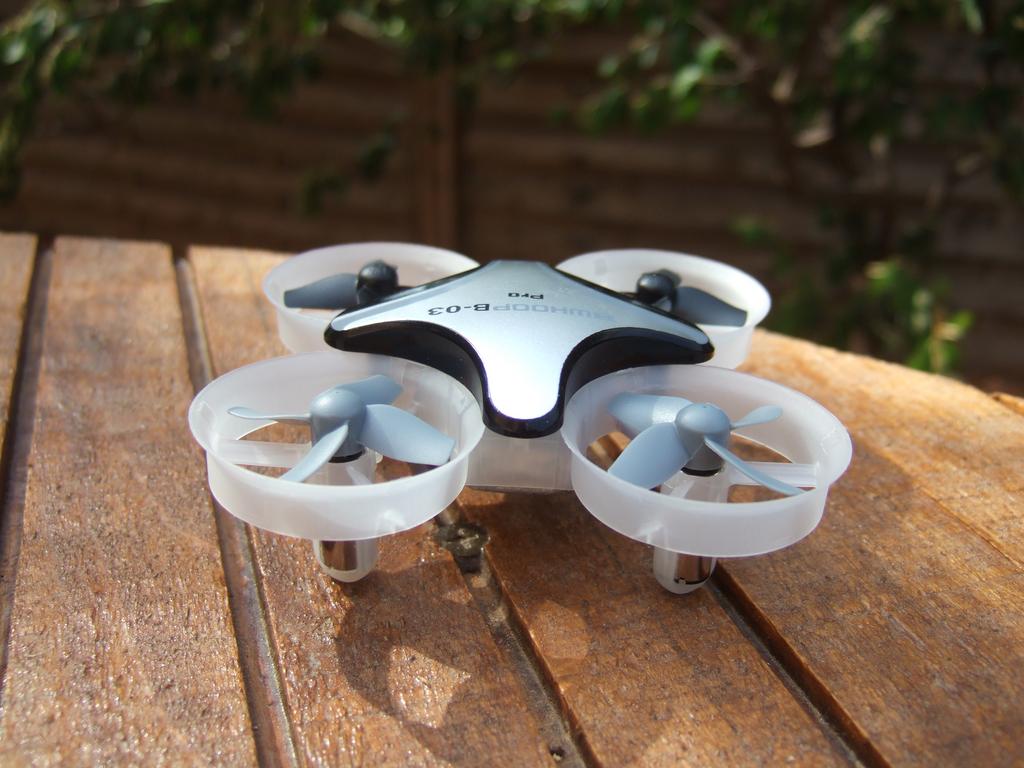 INTRODUCTION
In the valse of the TinyWhoop models, in order to gain some thrust while keeping the same dimension, one way of course is to save some weight but an alternative is to install stronger motors. The Boldclash B-03 was the first to install some 0716 motors into a TinyWhoop chassis then came the Eachine E011. Boldclash is now introducing the Bwhoop B-03 Pro version. Here bye-bye the altitude hold (really incompatible with FPV applications) and hello to some stronger 0716 motors announced to be 64000RPM. The other element remains the same: a flexible EDF/ducted chassis, 32mm quadriblade props, a propriatery FC. Let's discover this bundle.
BOX CONTENT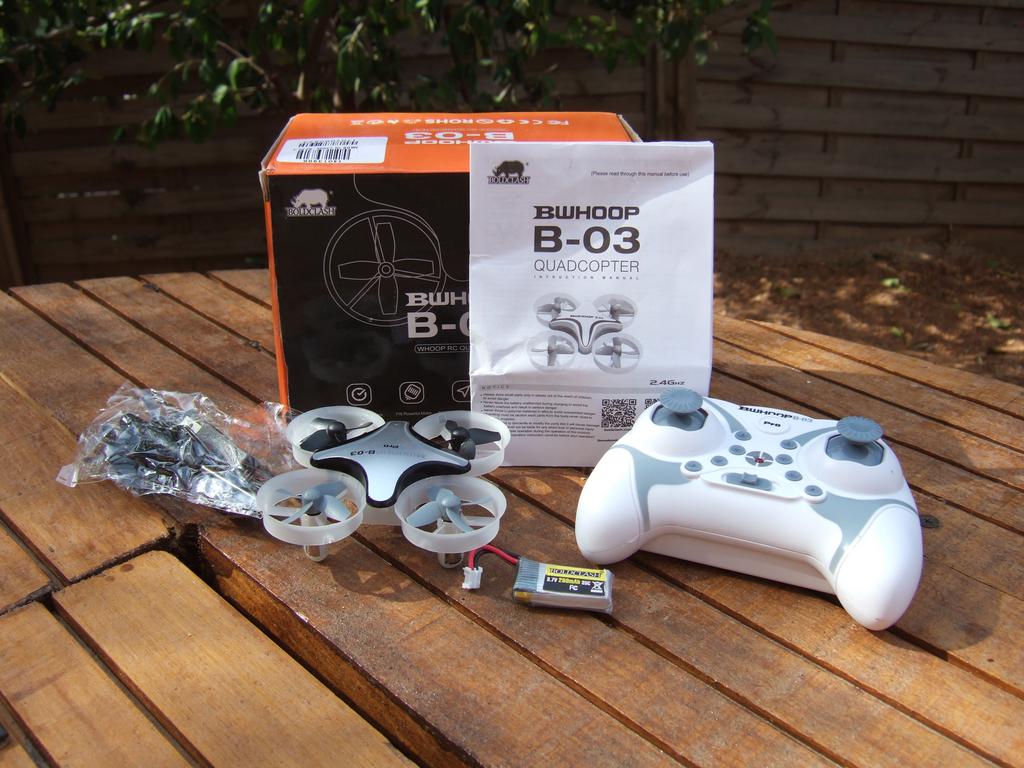 + 1 x Boldclash Bwhoop B-03 Pro
+ 1 x Transmitter (using 3xAAA batteries not included)
+ 1 x 1S 260mAh/35C LiPo with JST-PH connector (2mm of pitch)
+ 1 x USB charging cable
+ 4 x Spare props (2 CW, 2 CCW)
+ 1 x Screwdriver
+ 1 x Instruction manual (English/chinese)
OVERVIEW
The chassis remains the same than the original B-03 with translucide EDF/ducted prop system relatively flexible to absorbe easily crashes.
Installed on top, a relatively flat top canopy element latterally clipsed. You can directly tape a AIO FPV camera on it if you want.
-FRONT VIEW
A good point for LOS flight, front and rear props have different color, gray and black respectively.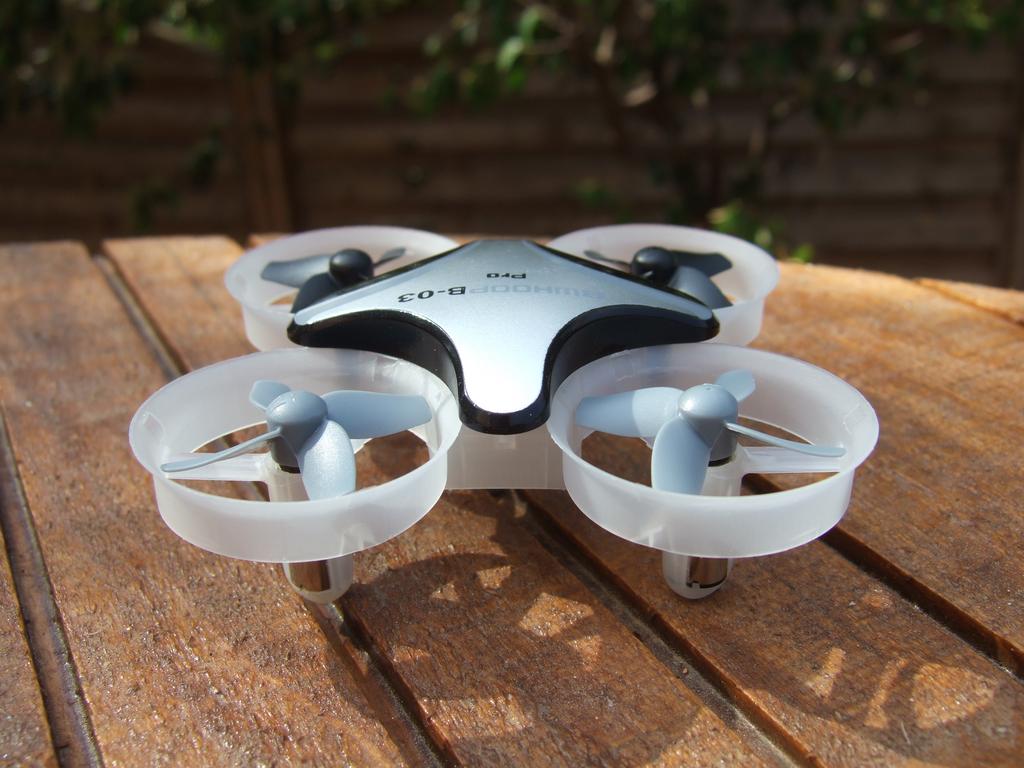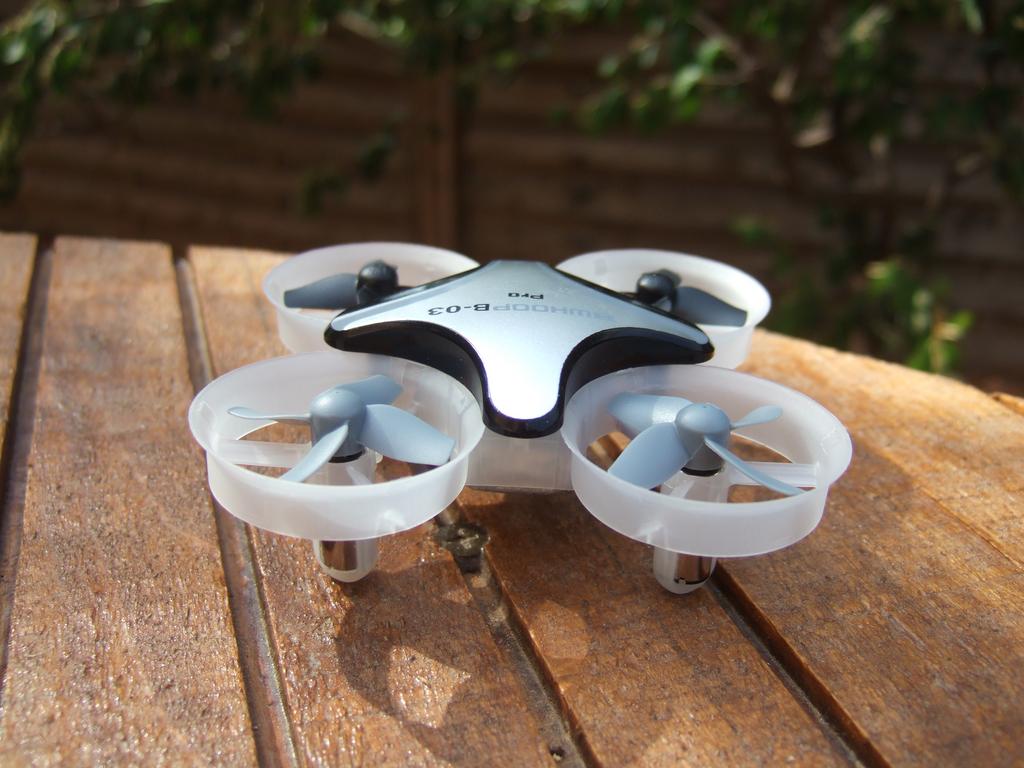 With the battery installed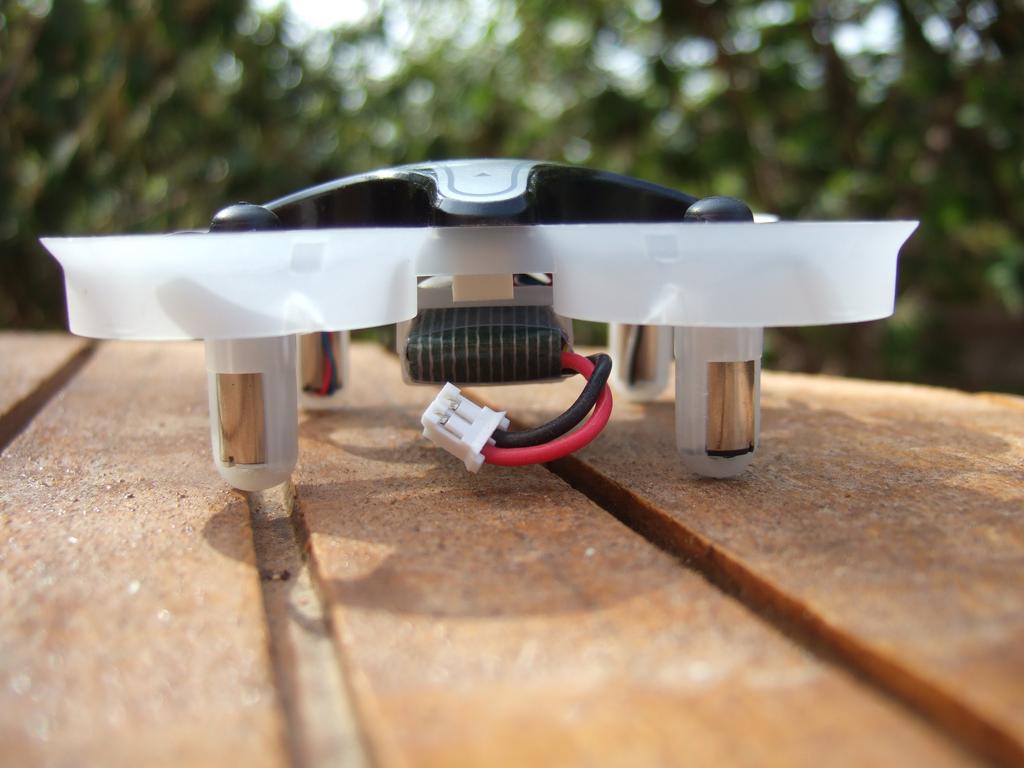 -SIDE VIEW
No visible connectors… just to small clips where you can attach/detach the top canopy structure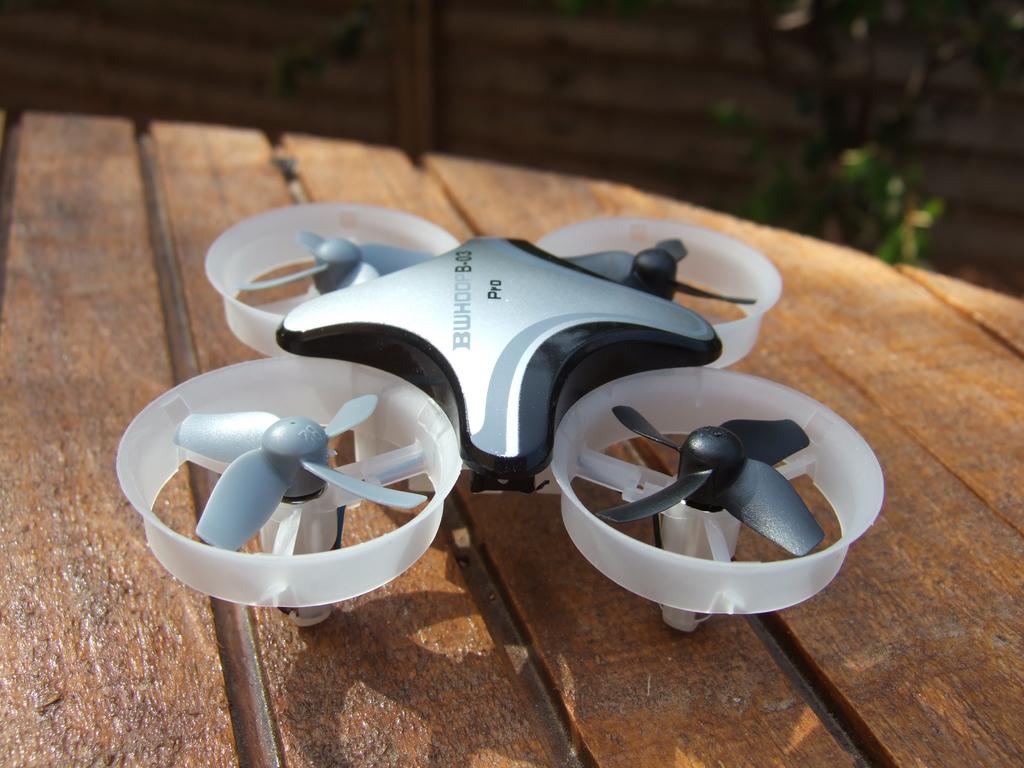 -UPPER VIEW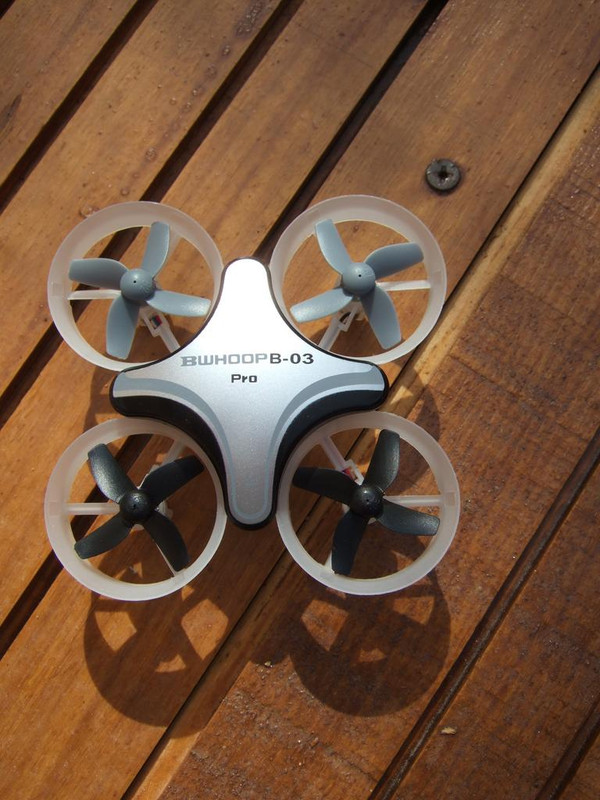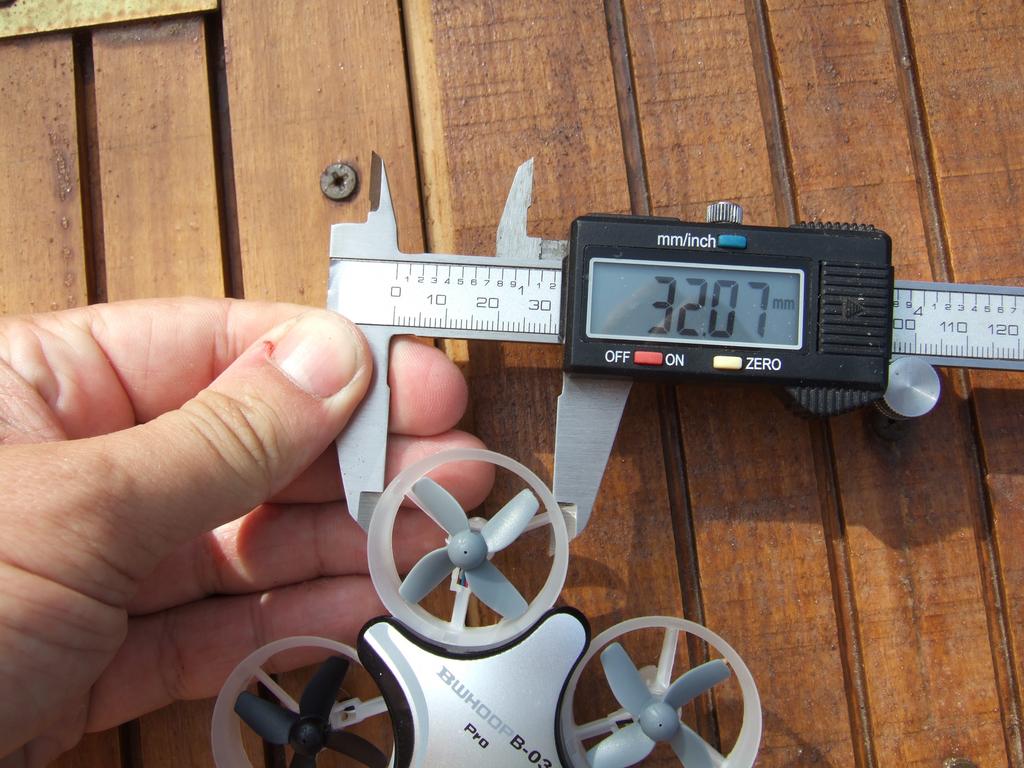 -BOTTOM VIEW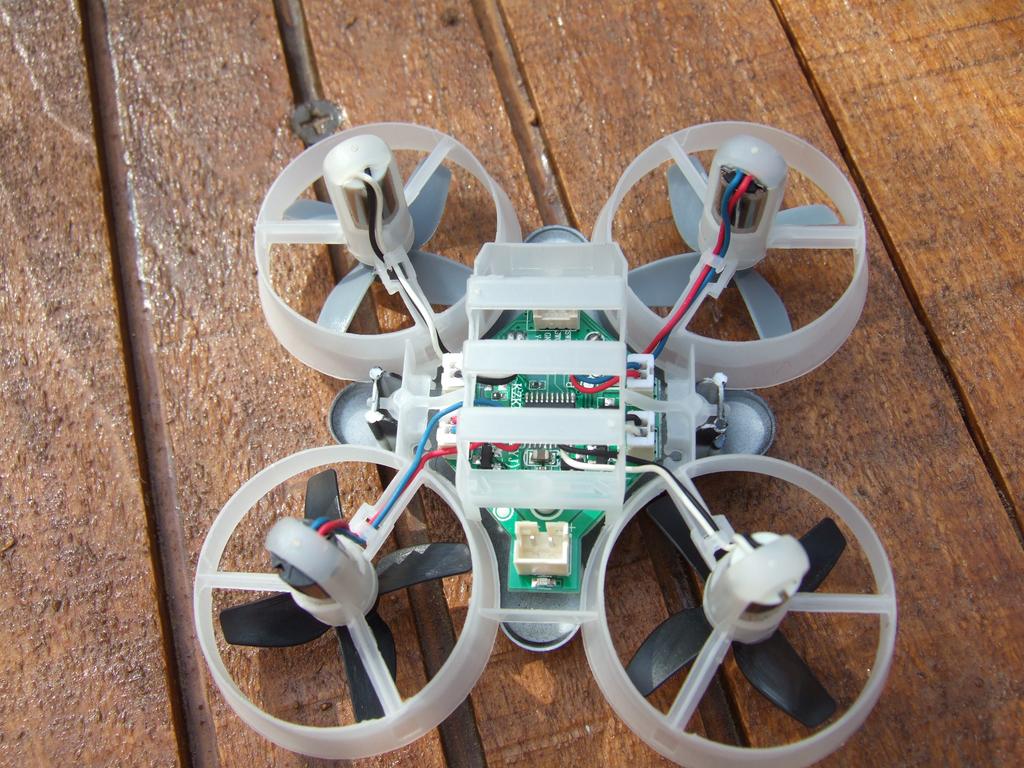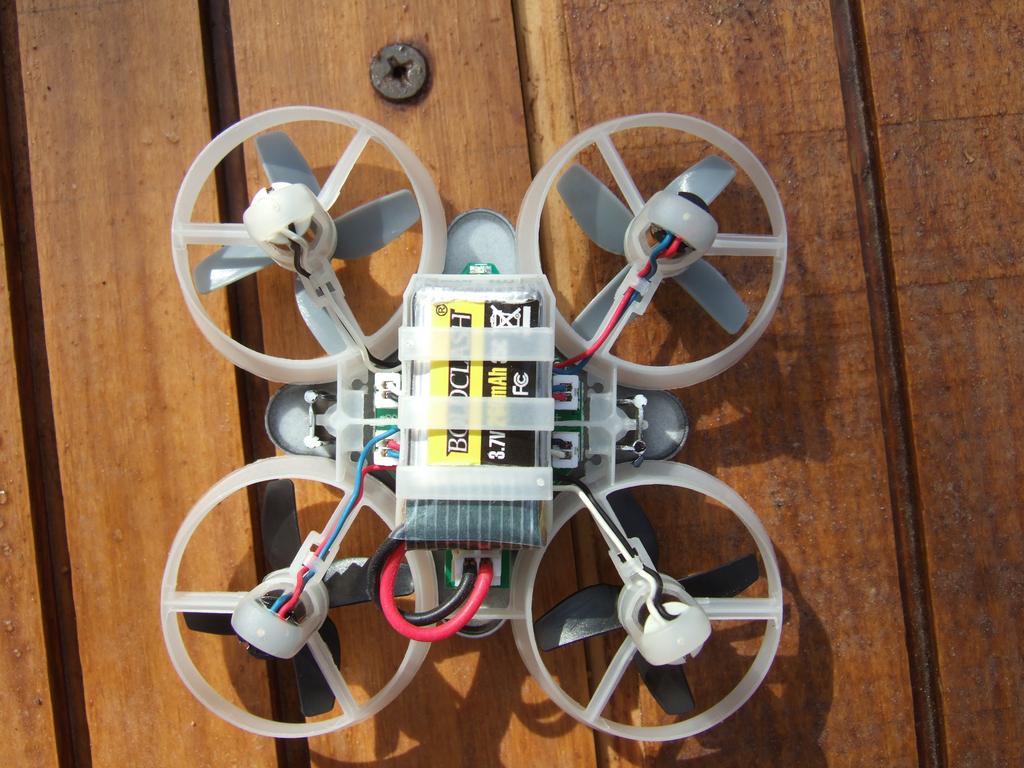 Good news, the SWD port is still here like for the original B-03 machine. Minor change, you don't need anymore a 4 position JST-SH connector but a 3 ways model right now. You can plug directly a ST-link2 programmer via the GND, SWDIO, SWCLK pins.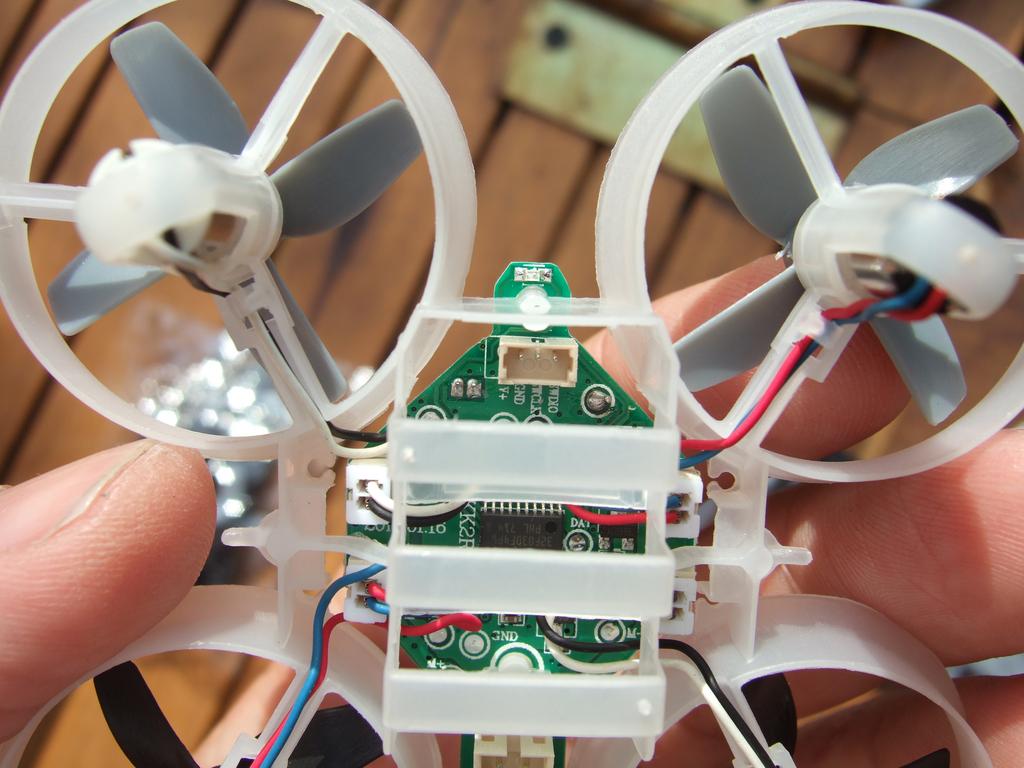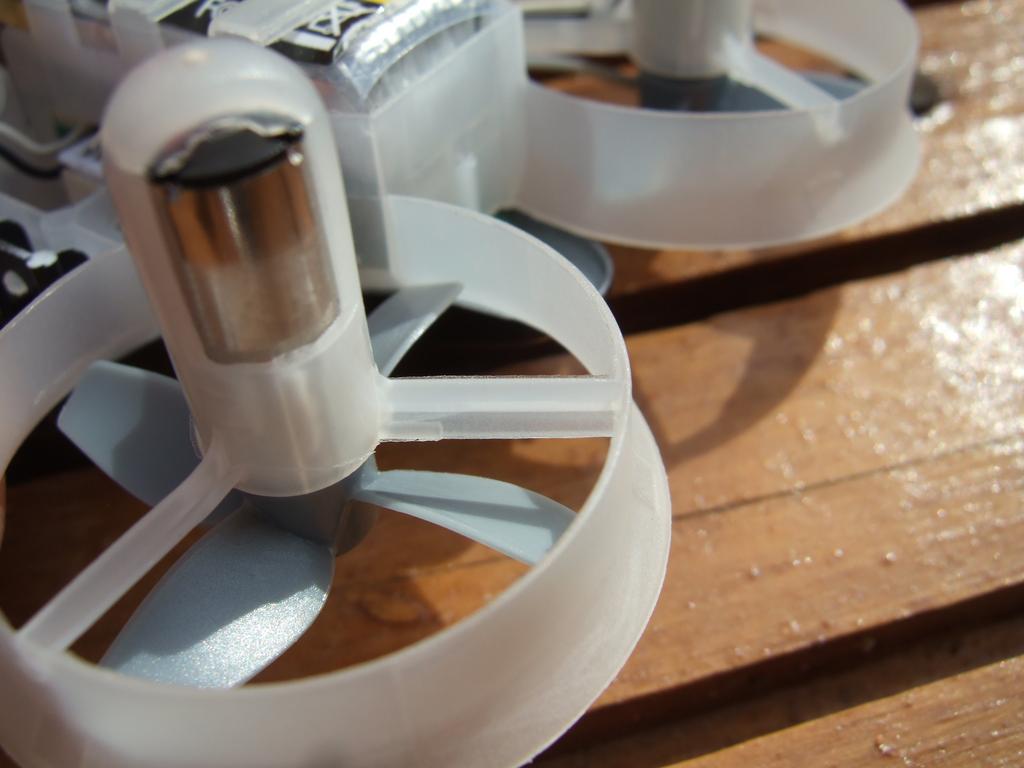 Motors can be easily replaced since connectors are here.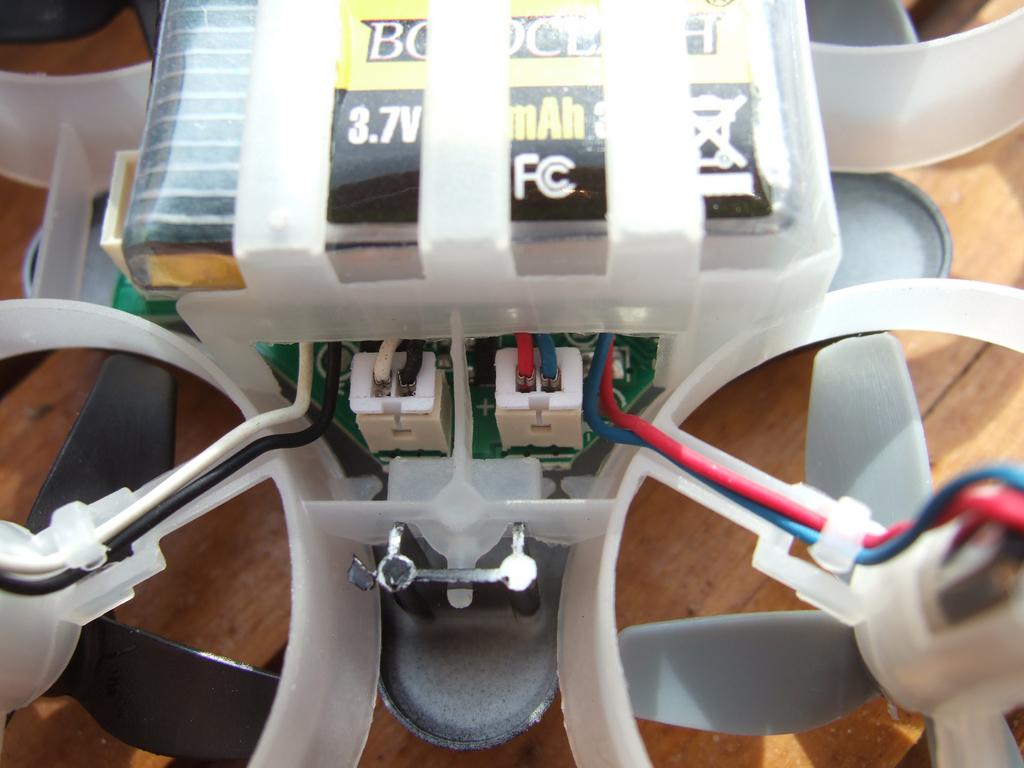 -WEIGHT

30.2g in total… so close to be 30% more heavier than classic TW with 0615 motors.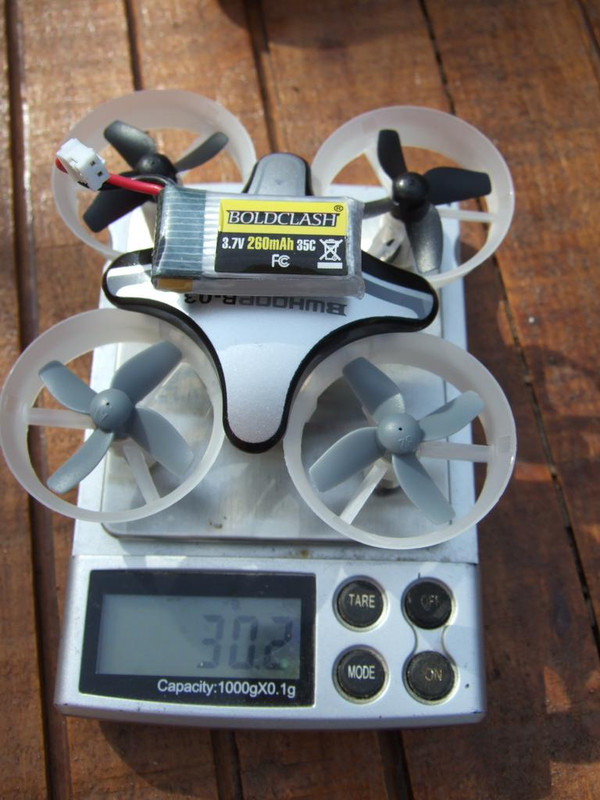 Motors and props
0716 coreless brushed motors boosted to 64000 RPM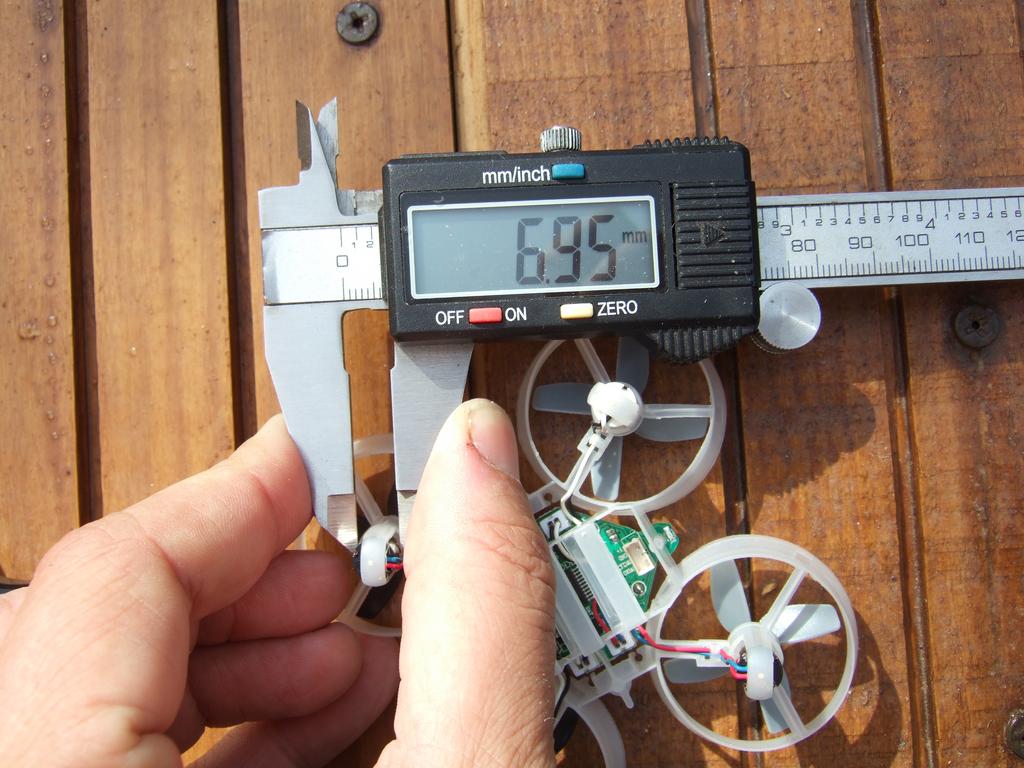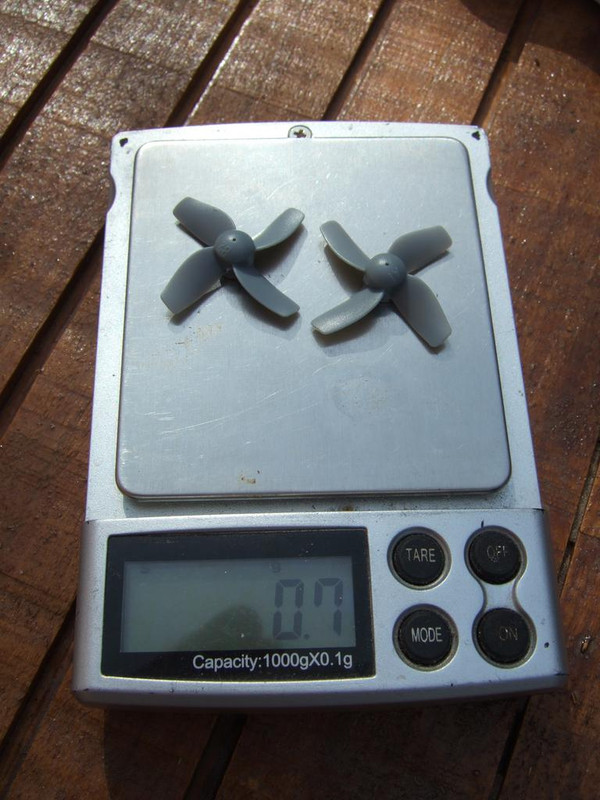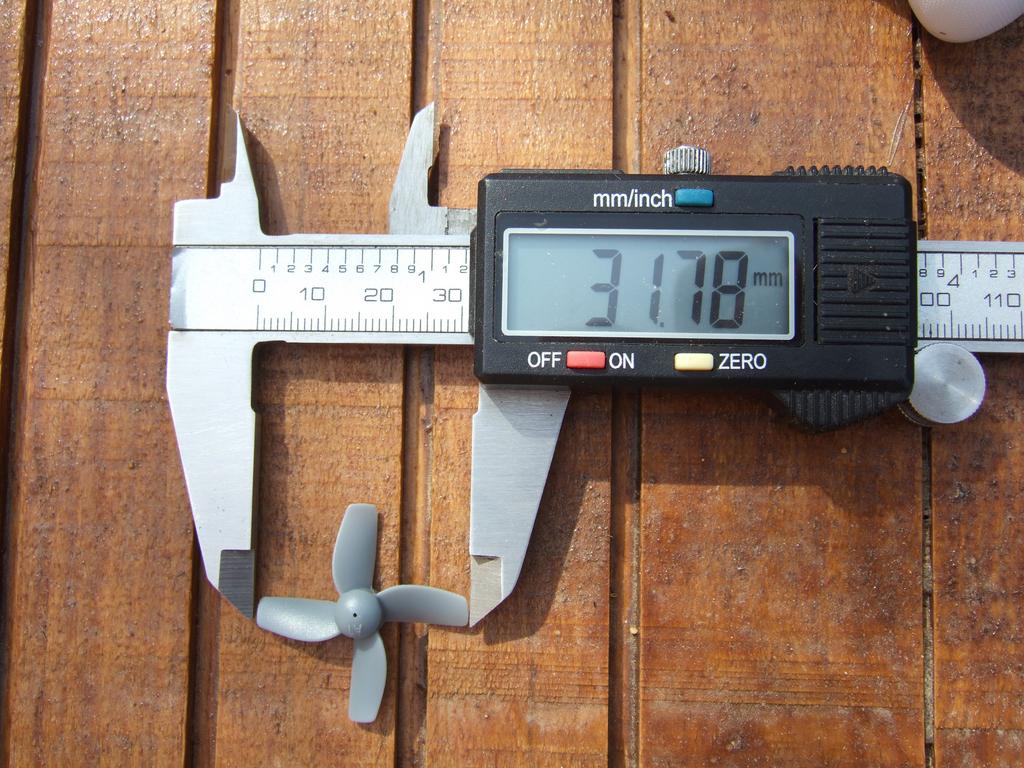 LiPo
A strong 260mAh 1S LiPo 35C!!. Without any FPV camera, you can expect more than 6min of flight time.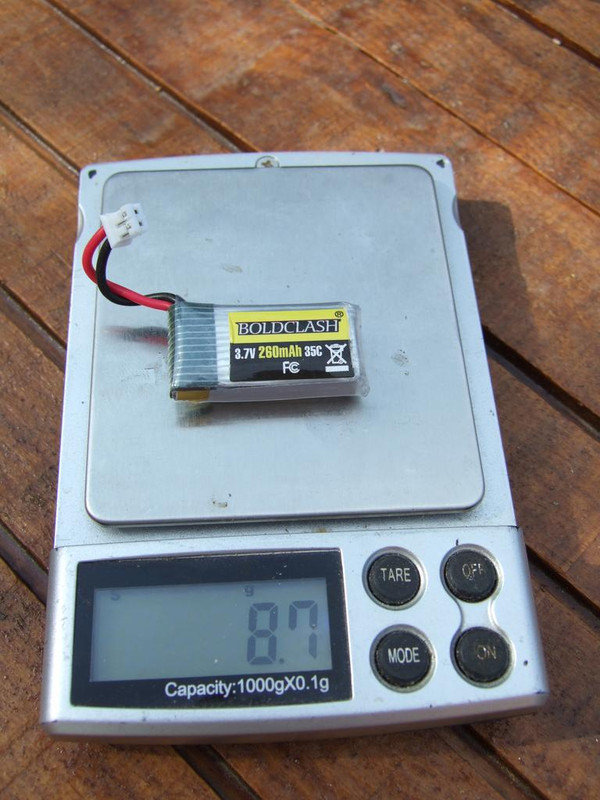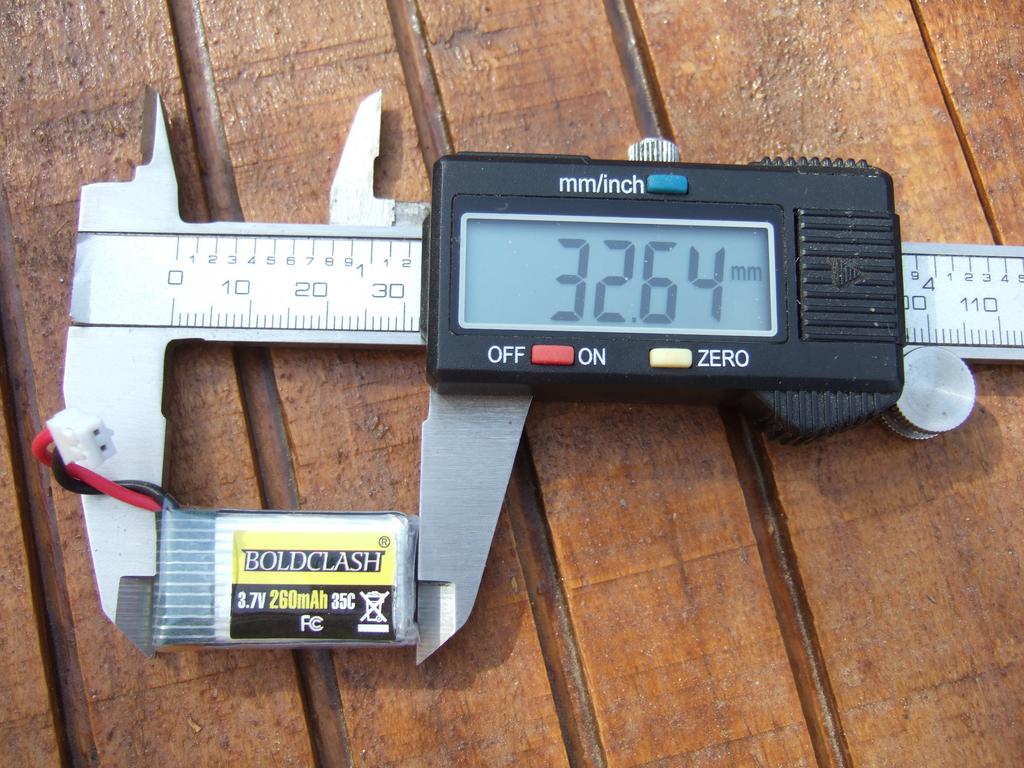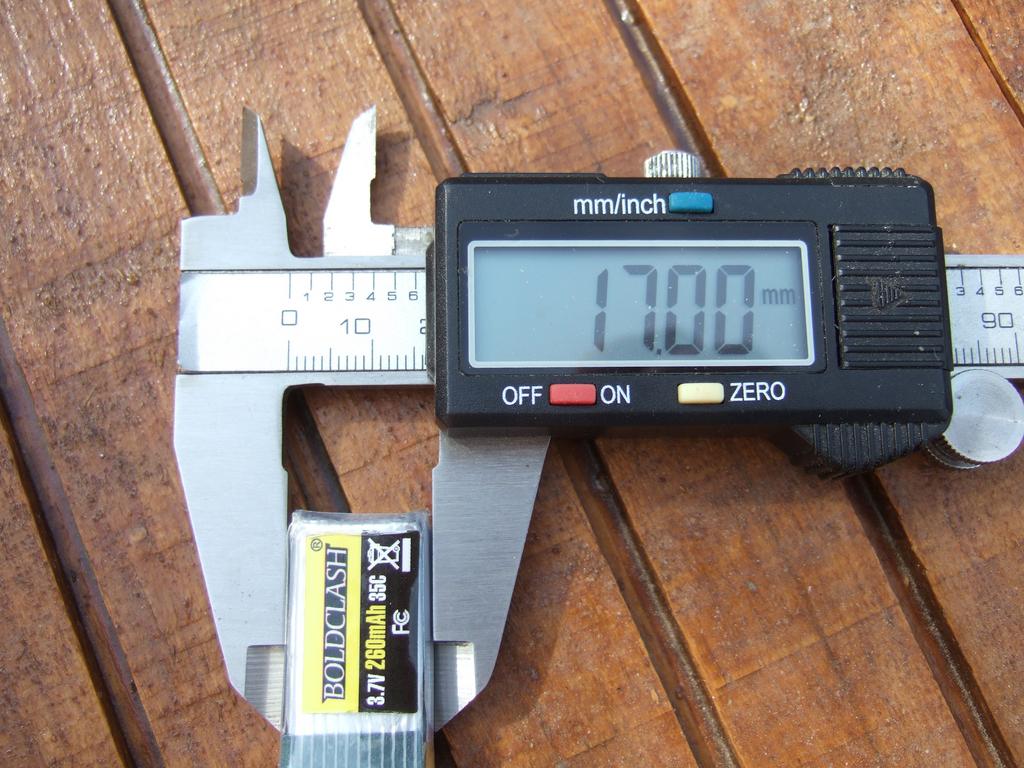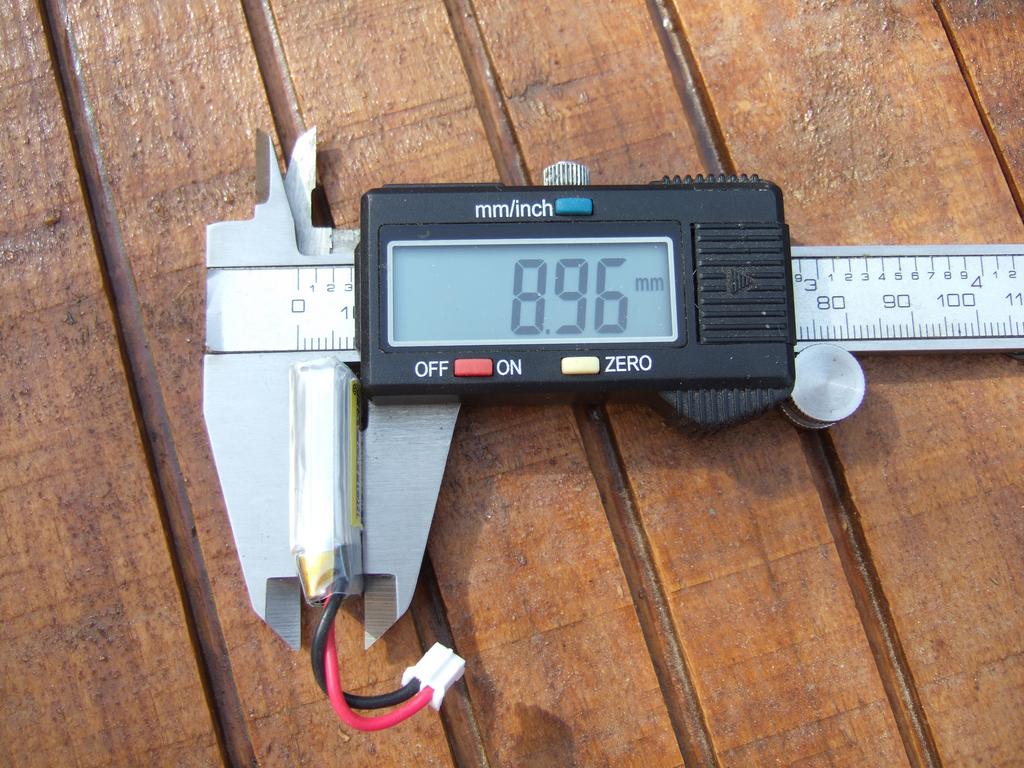 Disassembling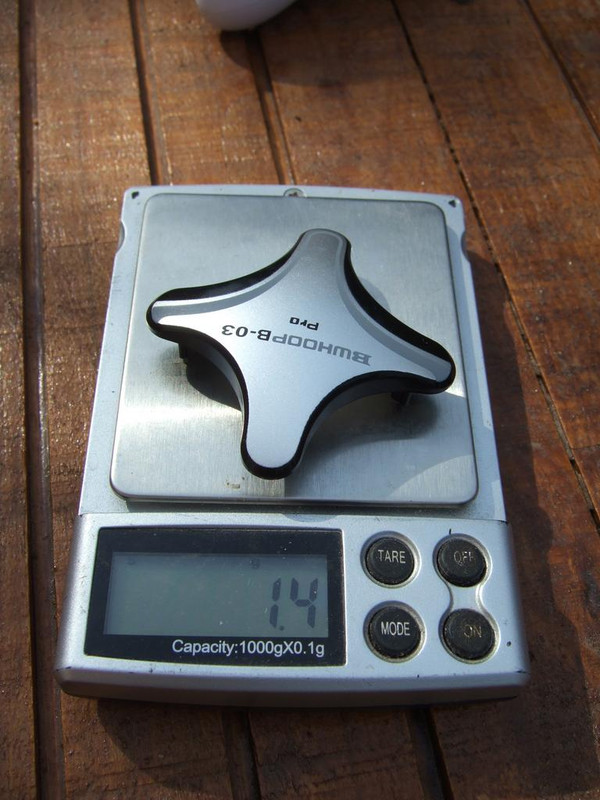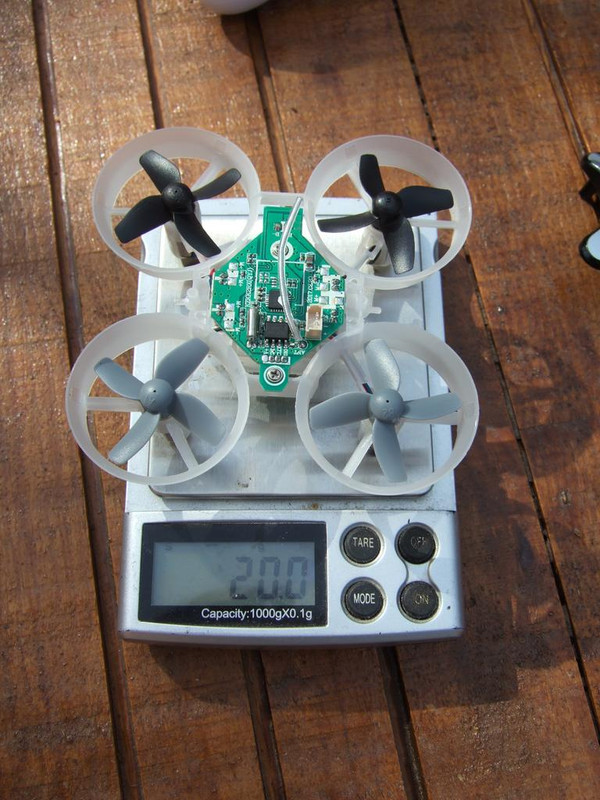 A XN297LBW 2.4G RFchip is installed. Good news, the radio protocol remains the same using the so-called "Bayang" protocol already deviated.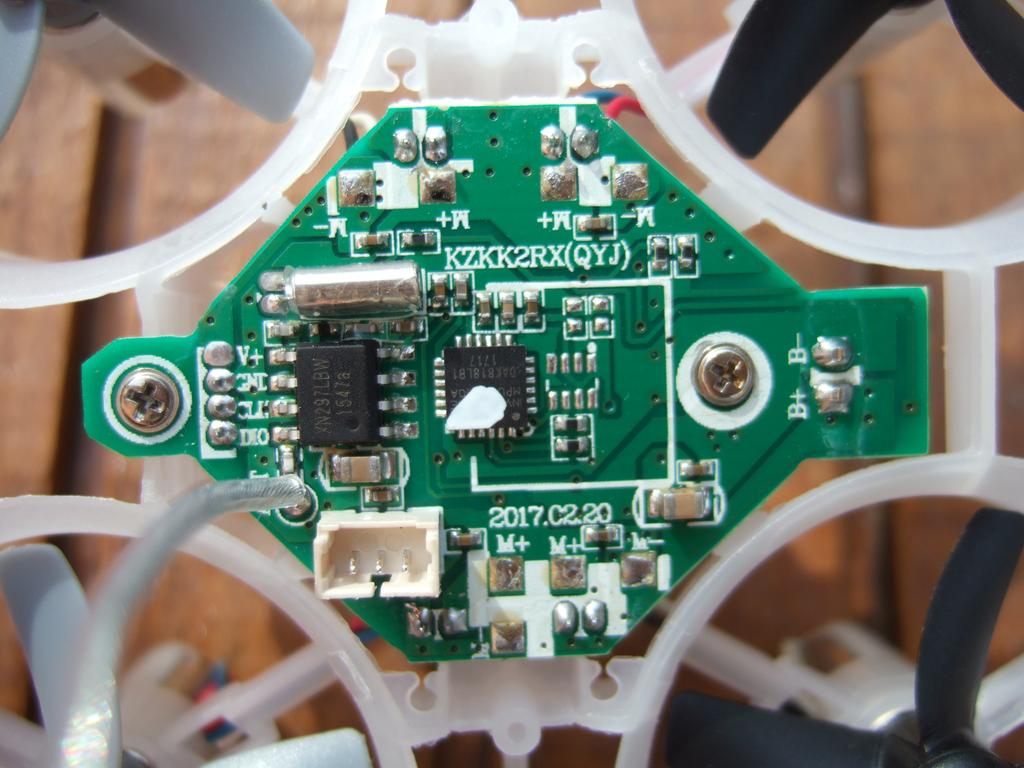 There is a port with a 3 pin connector. The two pins from the left can be used to plug directly the Boldclash F-08 new AIO FPV DVR camera.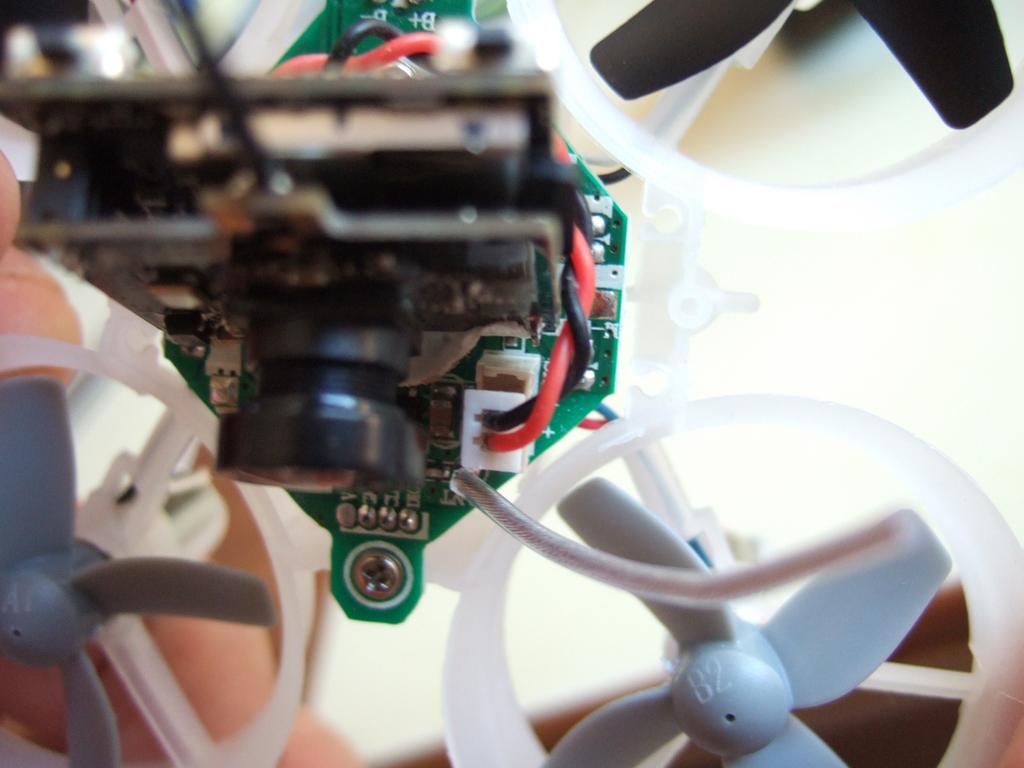 Transmitter
3x AAA bateries are required to feed the transmitter. Ni-Mh AAA batteries are working with the transmitter. A basic compact radio with relatively small sticks but good news, you can have relatively precize controls with this radio to fly in tiny spaces.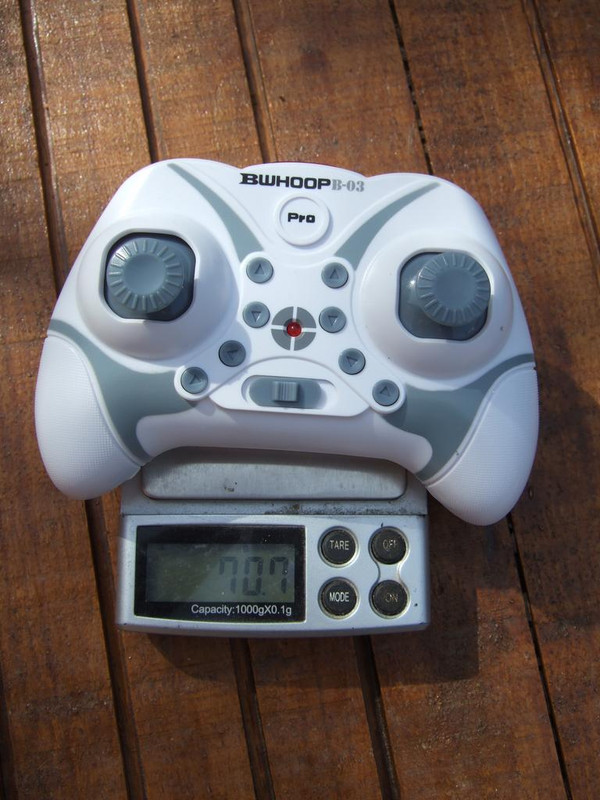 A small originality introduced with the pro version, if you long press the top right shoulder button, you can turn on the "load" mode. in theory, it should boost motors to carry an extra payload associated for example with an AIO FPV camera. In practice, I didn't see a big difference with or without this mode.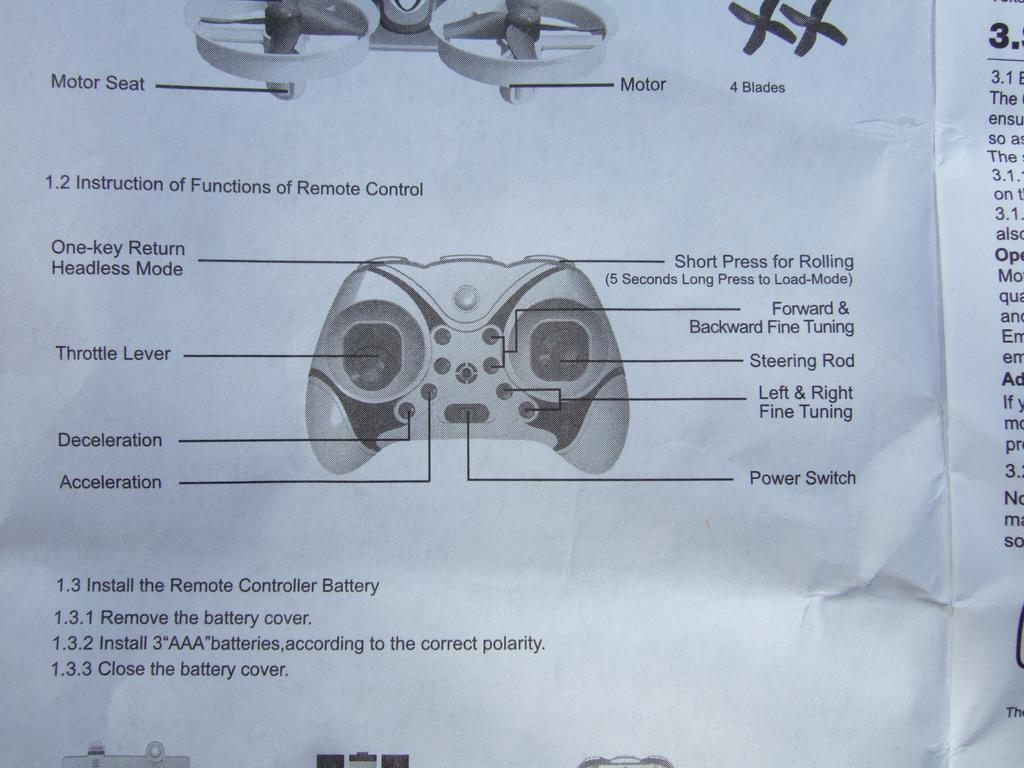 To set the headless reference, push both sticks in lower left (slow red flash). To calibrate gyroscopes, push them in lower right (fast red flash)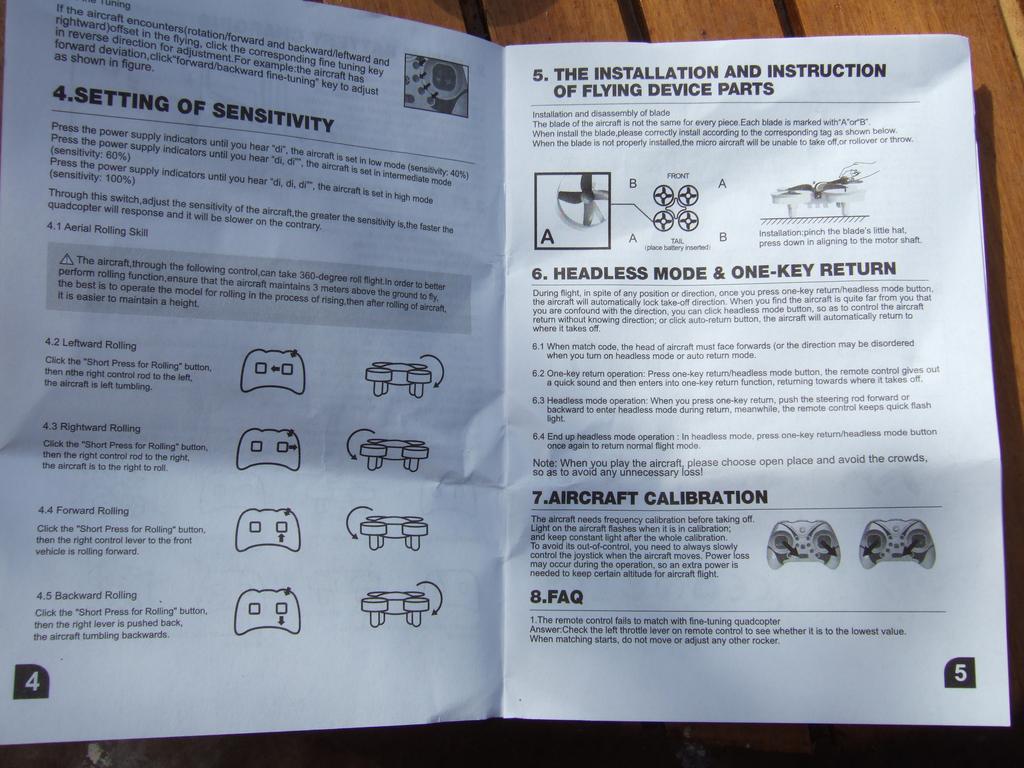 UNBOXING, ANALYSIS AND FPV TESTING
As mentioned earlier, it's direct to plug the the F-08 module via the female 1.25mm microJST connector. The total weight with the camera, the double side tape and microSD card exceed just a bit 34g….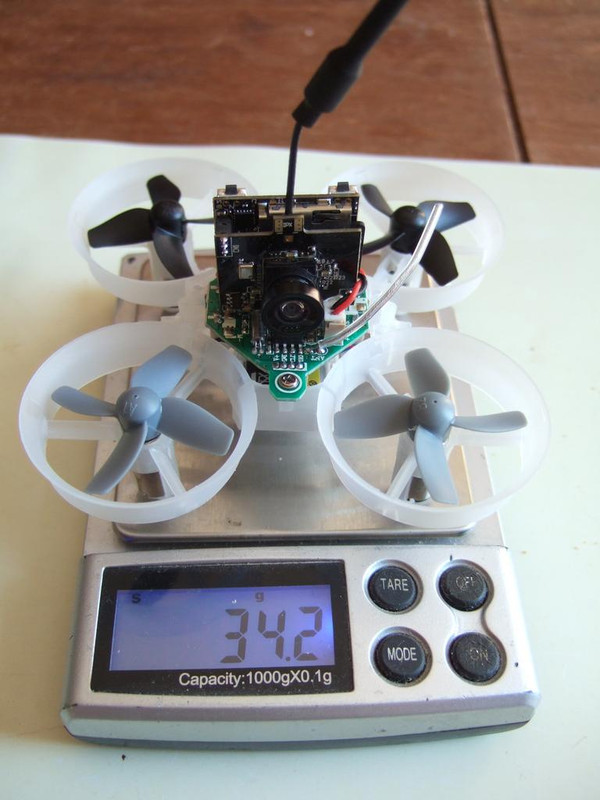 I was worried to take off with the extra load … but in practice no problem. It hovers from 50% of throttle input. When controlled with a DeviationTX compatible radio, it's super precise … . The machine is not fast … so be aware outdoors especially in windy conditions. The control range is good even with the original radio. You can cross easily all the house and a garden. any drop out reported. With the 260mAh LiPo, I was positively surprize to report 4min of flight time in average with the F-08 AIO FPV DVR camera. The FPV signal is also good in term of range… If you need absoluptly the acro flight mode, you can still flash the SilverXX opensource firmware according to this thread: https://www.rcgroups.com/forums/showthread.php?2876797-Boldclash-bwhoop-B-03-opensource-firmware
CONCLUSIONS
The main advantage of the Bwhoop B-03 pro is main probably its capacity to carry easily 5-6 extra grams without sacrifying flight time. The machine is cheap, can be connected with directly with the F-08 camera, DeviationTX ready and can be flashed with an opensource firmware to enjoy acro mode.
PROS
+ 0716/64000 RPM brushed motors
+ Can carry 6g easily
+ Plug & play with the Boldclash F-08 AIO FPV-DVR camera
+ 4min of flight time with the FPV-DVR F-08 camera
+ DeviationTX compatible (Bayang protocol)
+ Compatible with the B-03 opensource Firmware "silverxx"
+ Good radio control range (> 50m)
+ Bicolors props for LOS flights
CONS
– No acro mode
– No CF/BF compatibility
– Not wind resistant
– No fast forward
This quadcopter have been courtesy provided by Boldclash in order to make a fair and not biased review. I would like to thank them for this attitude.
You can find it actually for 17USD at http://www.boldclash.com/boldclash-bwhoop-b03-pro-micro-drone-p92.html