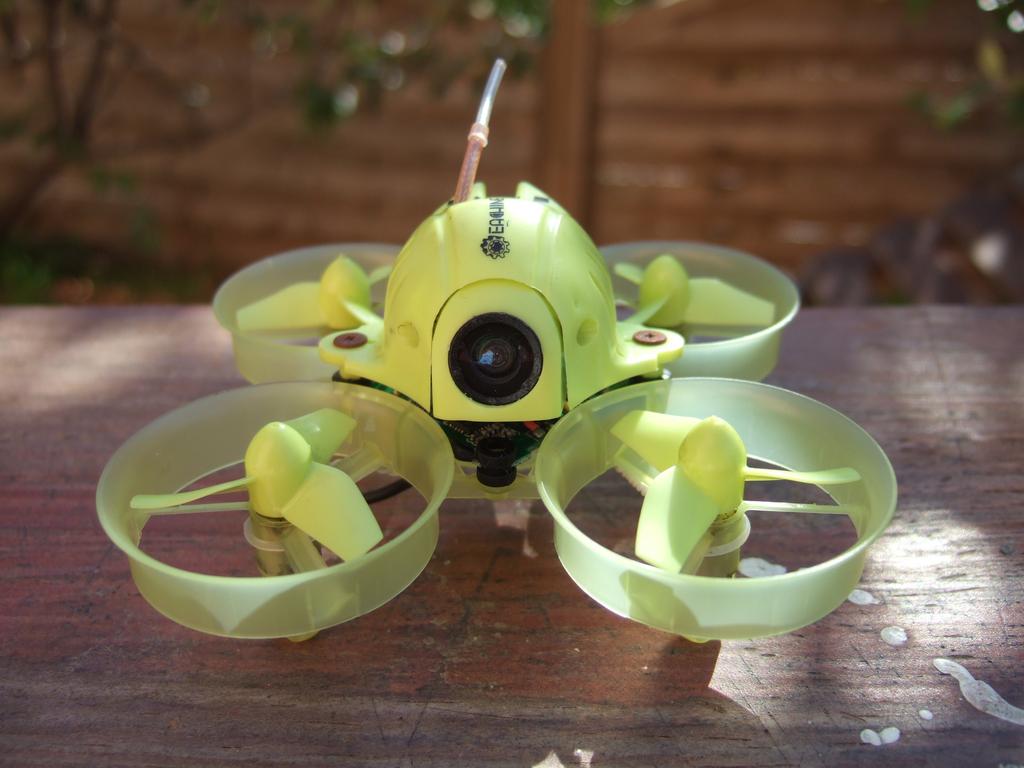 INTRODUCTION
The Eachine QX65 is the new model in the brushed TinyWhoop communauty. The model comes after the Eachine E010S and the Eachine E013. We still have a main frame full plastic based with a ducted system to boost hoveribility. With the QX65, motors are "simple" but boosted 6mmx15mm announced to be 68000 RPM. The main novelty comes from the flight controler. We have the new revision of the Beecore V2 now including a OSD chip is association of the F3 MCU. Three choices of receiver are proposed: a FrSky D8 (with RSSI?), a FlySky AFHDS-2A and a specktrum DSM2/X model. For the FPV, we have obviously a AIO solution with a 700TVL CMOS NTSC camera coupled with a 48CH 25mW 5.8G VTX. There are also three choices of packaging: Basic, Standard and advanced. I will review the advanced bundle with 6 extra batteries, a parallel charger and two complete spare frames. Let's have a look to the new Eachine QX65.
BOX CONTENT
The advanced box offers 6 complete batteries and everything to replace a broken element of the frame structure. We could maybe also expect some spare motors… since they are boosted, they durability is obviously reduced.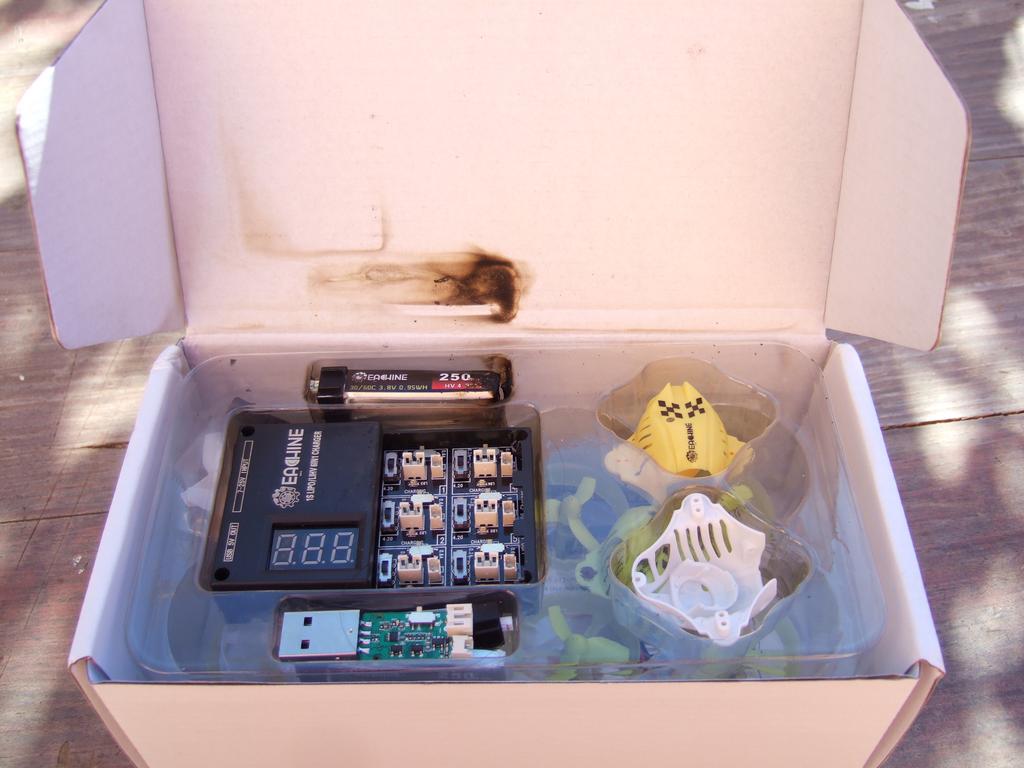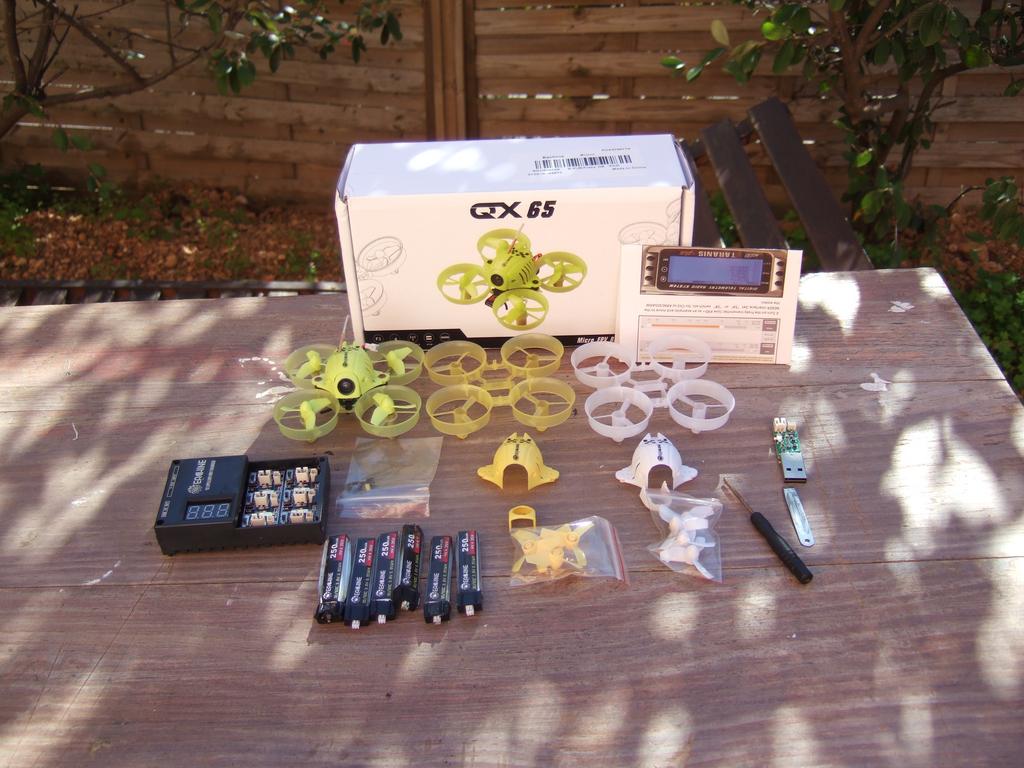 + 1 x Eachine QX65
+ 6 x 250mAh 1S LiHV batteries with JST PH 1.25mm
+ 1 x USB charger (JST PH, SH)
+ 2 x Spare top canopies
+ 2 x Spare frame
+ 1 x Parellel charger (6 in parellel)
+ 8 x Spare props (2 CW, 2 CCW)
+ 1 x Screwdriver
+ 1 x Prop wrench remover
+ 1 x Instruction manual (English)
What a first surprize !!!!! In my bundle, one LiPo took fire during transportation!!!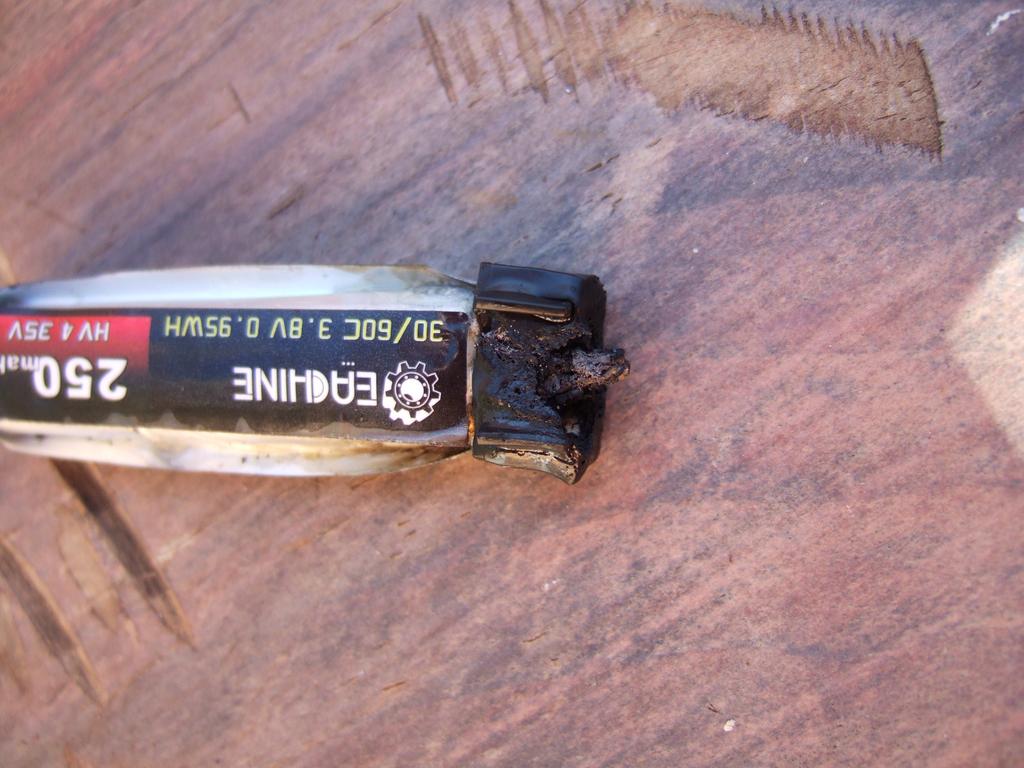 and damaged partially two others…. After checking, some batteries are stored with more than 4V….. With temperature variations, LiHV can be damaged seriously.
OVERVIEW
The machine is a 65mm model full plastic based. The quality of the plastic is good… flexible but very durable as well. The QX65 can handle hundred of crash without problem.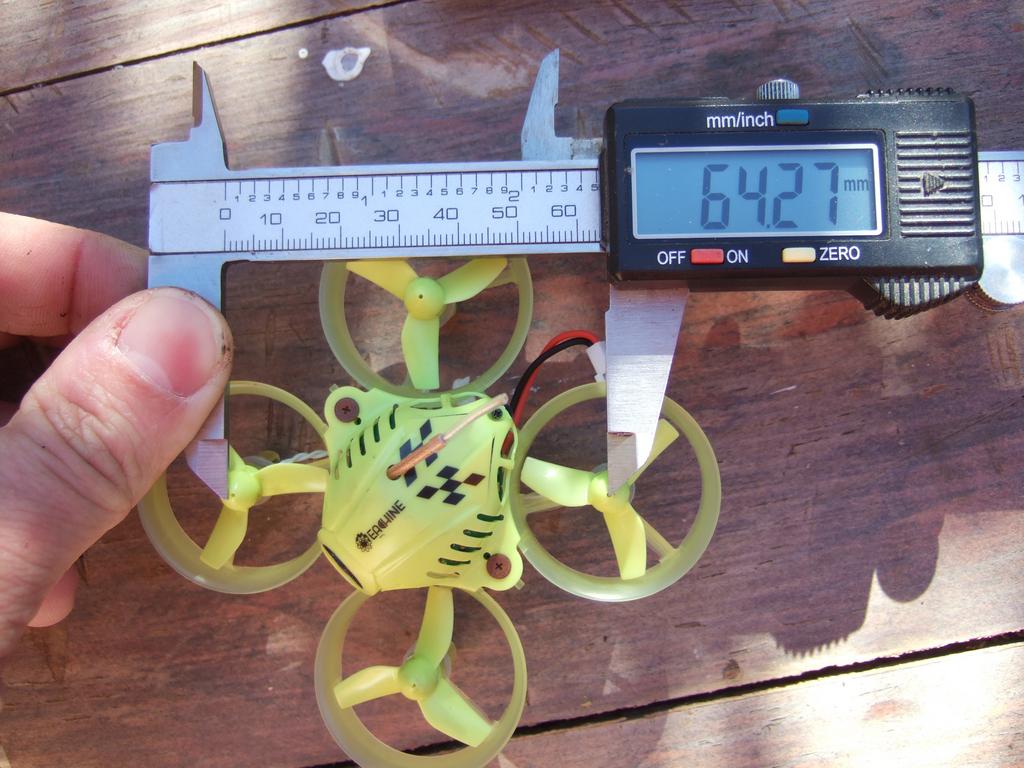 Full caracteristics…..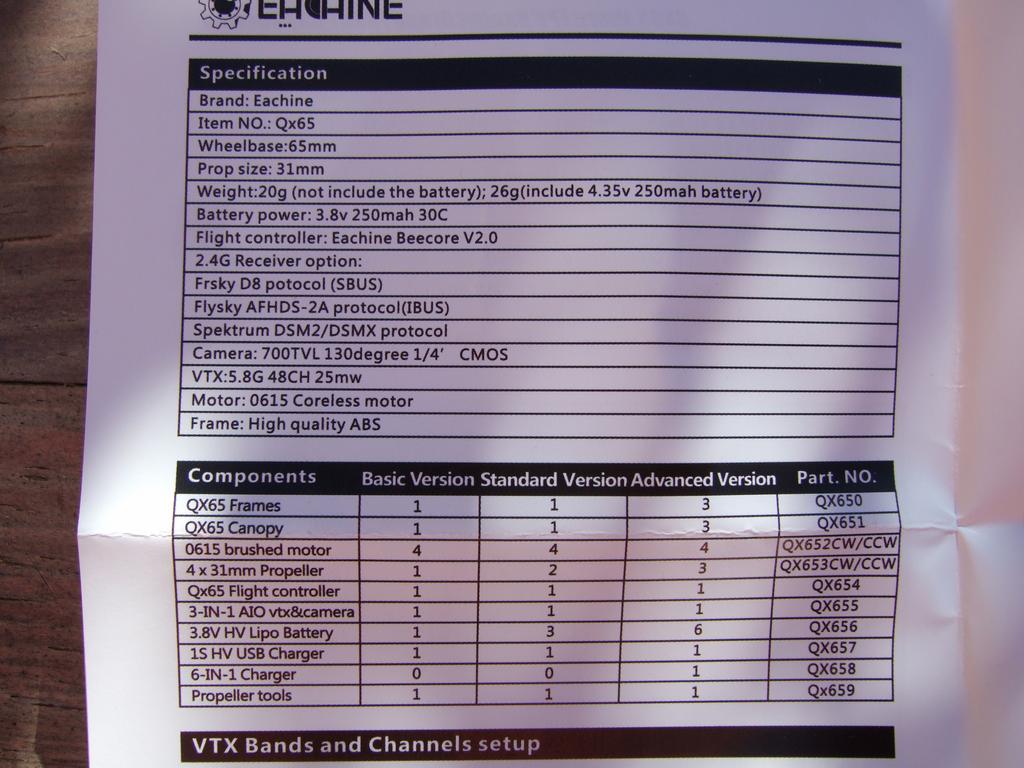 In comparaison with the FrSky APUS MQ80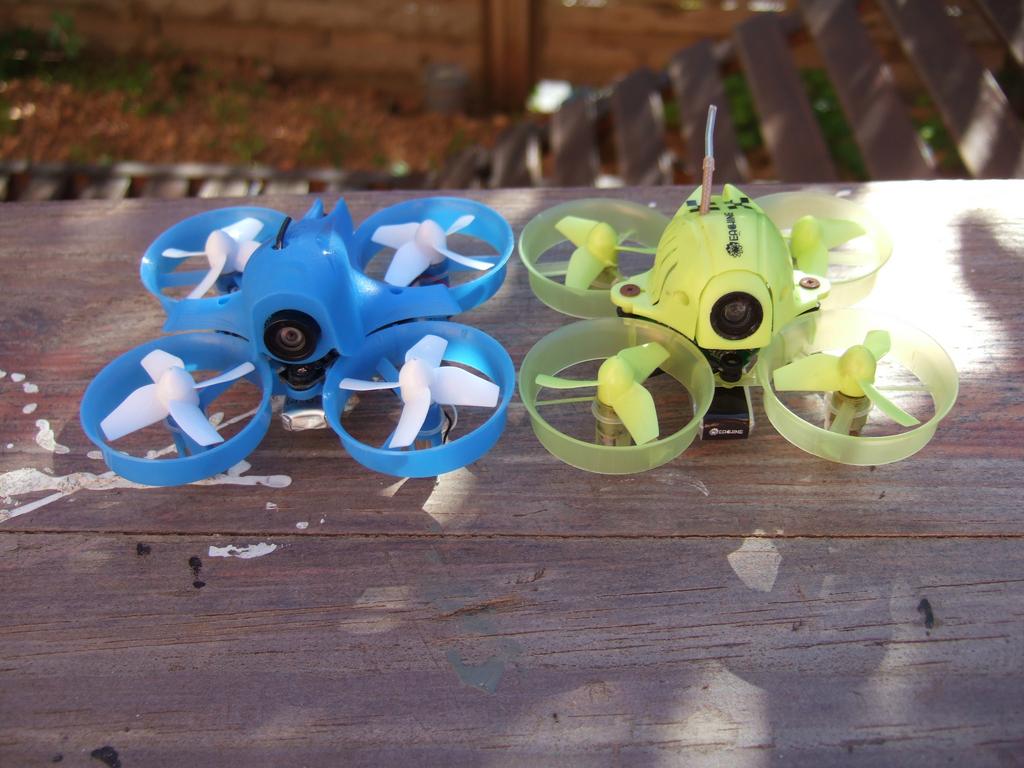 With the deluxe edition, a parallel charger is including charging either at 0.2A or 0.5A mode. You can also select a LiPo (4.2V) or a LiHV(4.35V) charging mode.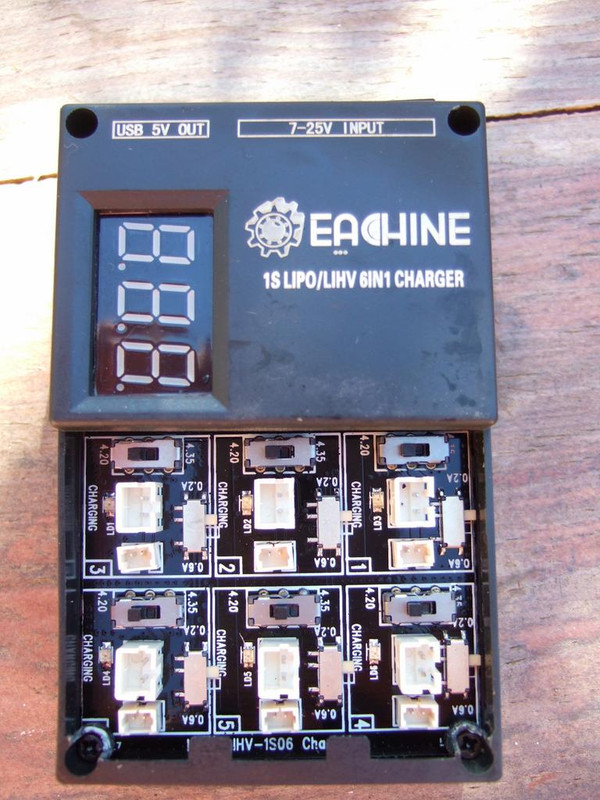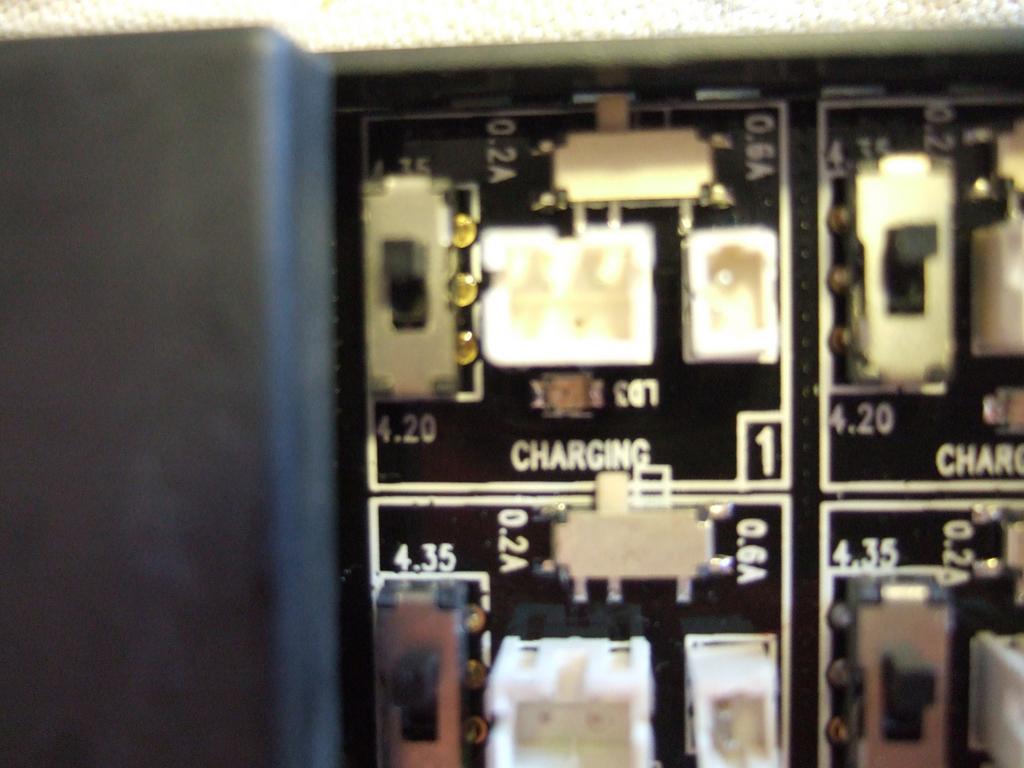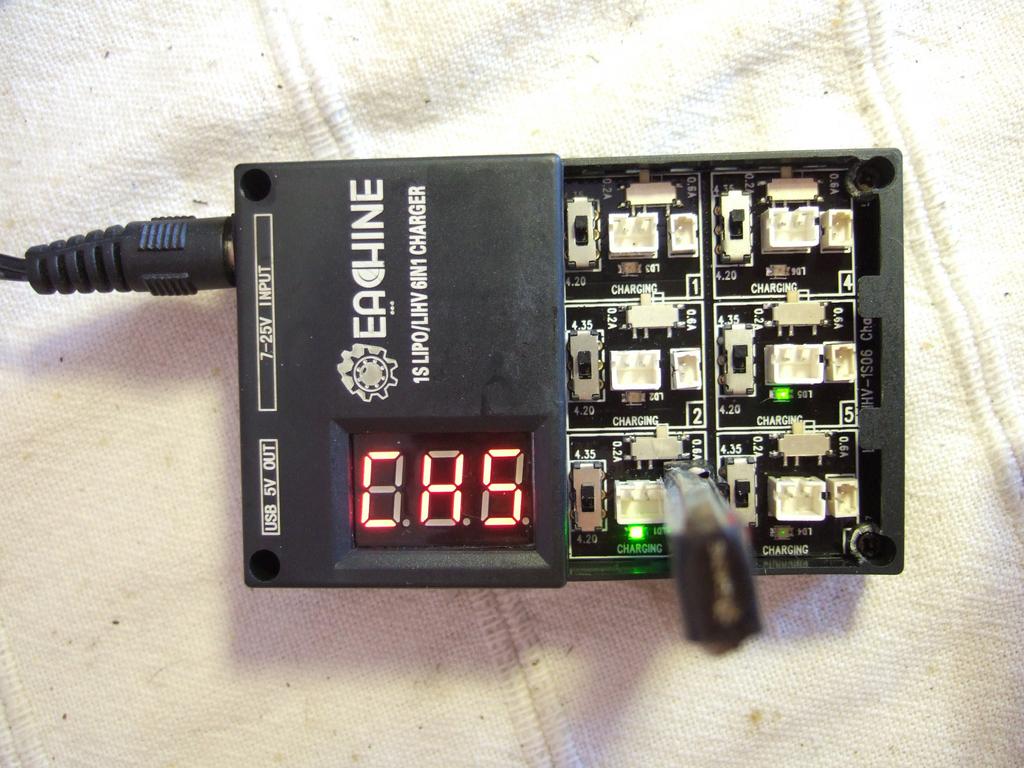 The charger can be connected to a DC power unit or to a 2S-6S LiPo with a an XT60 connector. Ideal to recharge your batteries far from a Wallsocket. More a +5V USB port is also available. The display shows succefully the voltage of the six ports. In practice it's a little bit hard to monitor 6 charging in parallel.
-FRONT VIEW
The general design is cool…. The 5.8G linear antenna is installed vertically. It's a simple coaxial cable but well protected in general.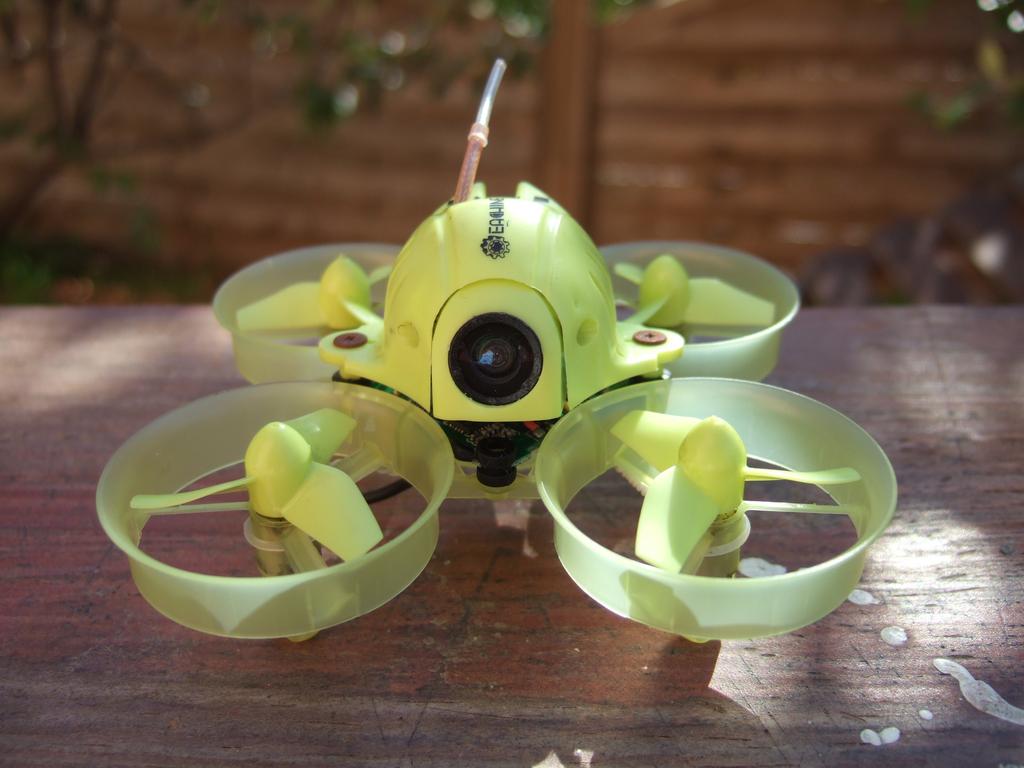 -SIDE VIEW
In order to gain a fraction of gram and make the Binding & VTX selection more easily, the latteral sides are holed.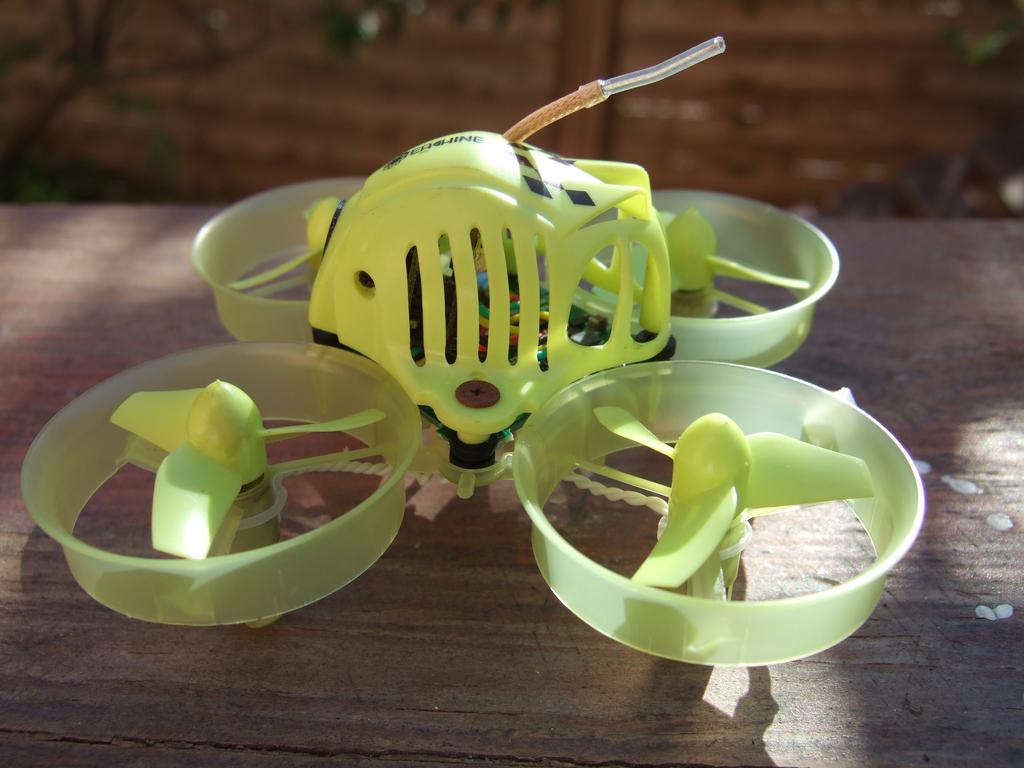 It's possible to pass through a small thin tip of a screwdriver for example. More, the flight controller is installed on four Dampening O-ring. It will remove potential Drift in angle mode.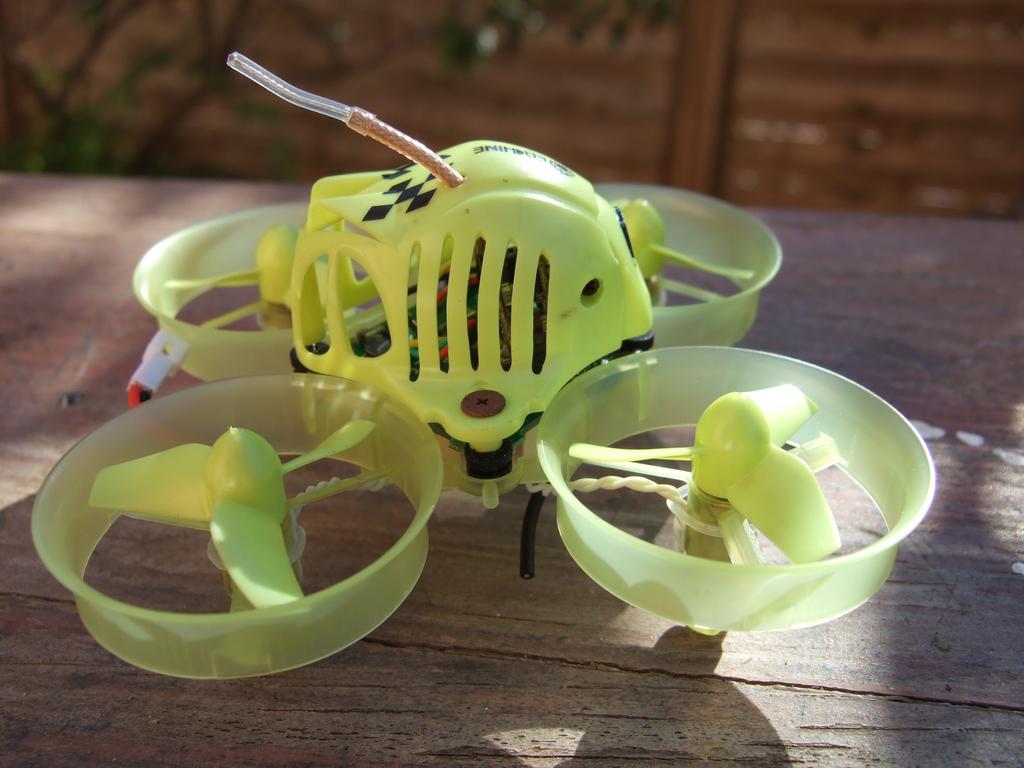 -REAR VIEW
The main battery lead connector is unfortunatly a microJST pH 1.25mm … probably to make the machine the lightest as possible but not the best solution to draw high current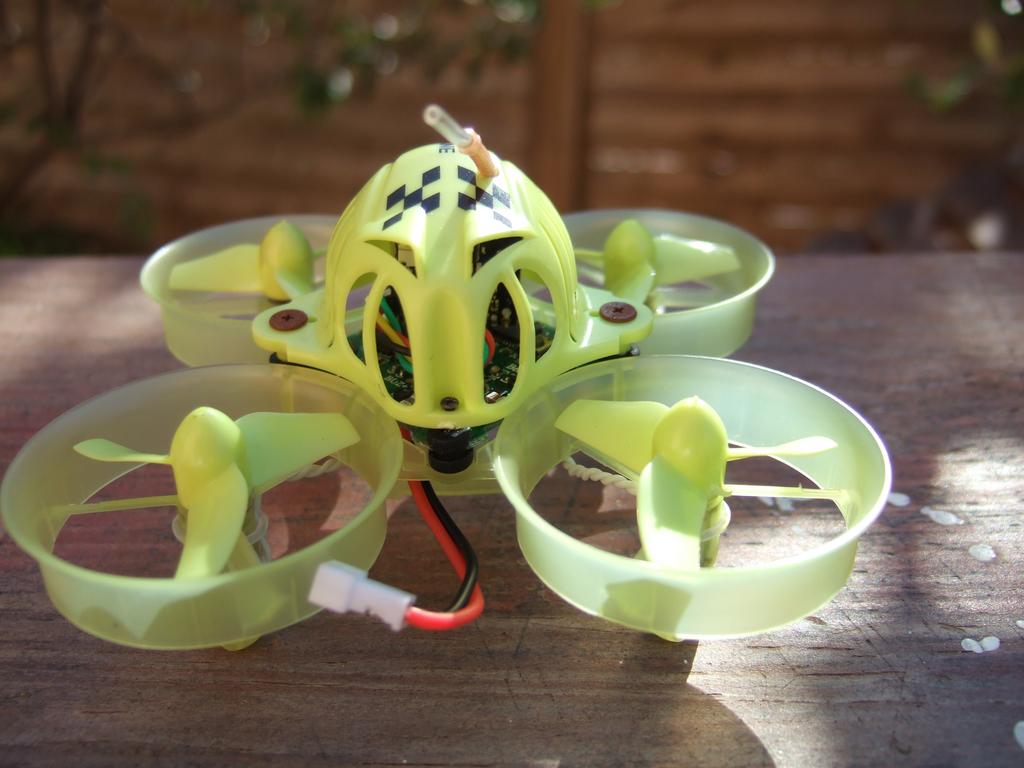 At least, it's possible to read the two VTX's rows… one associated with the Vband selection (upper blue one), the second with the Vband (lower red).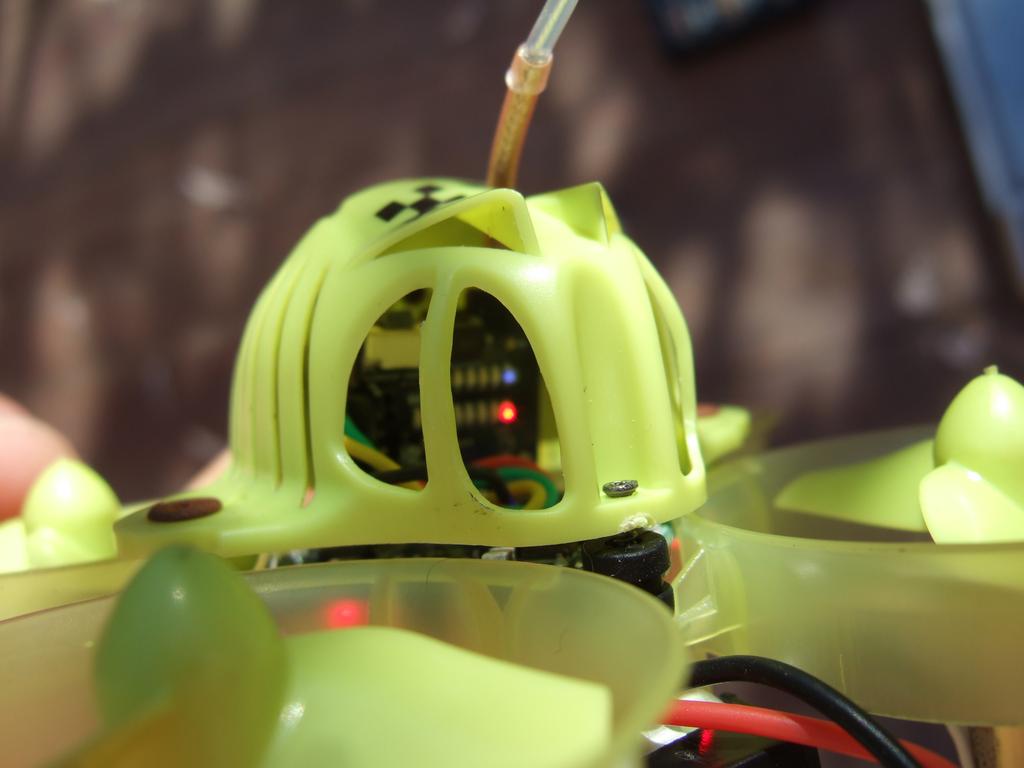 -UPPER VIEW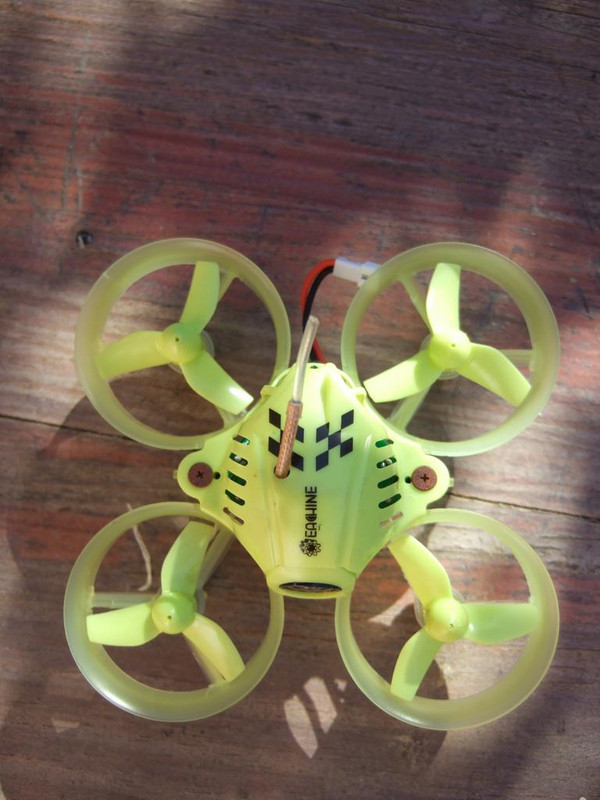 -BOTTOM VIEW
The main incredient …. the Beecore V2 board.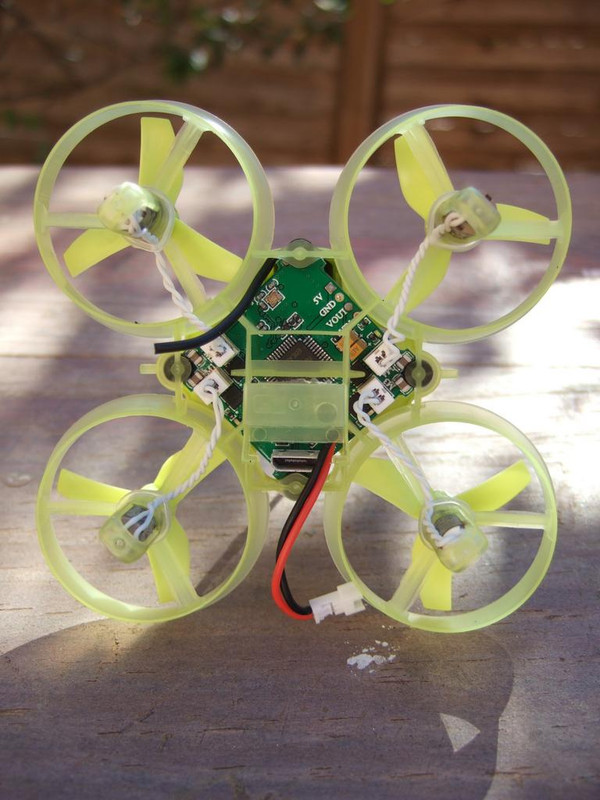 With this frame (dislike the E011's one), the microUSB port is easy to access. The FC is flashed with Betaflight V3.2.2….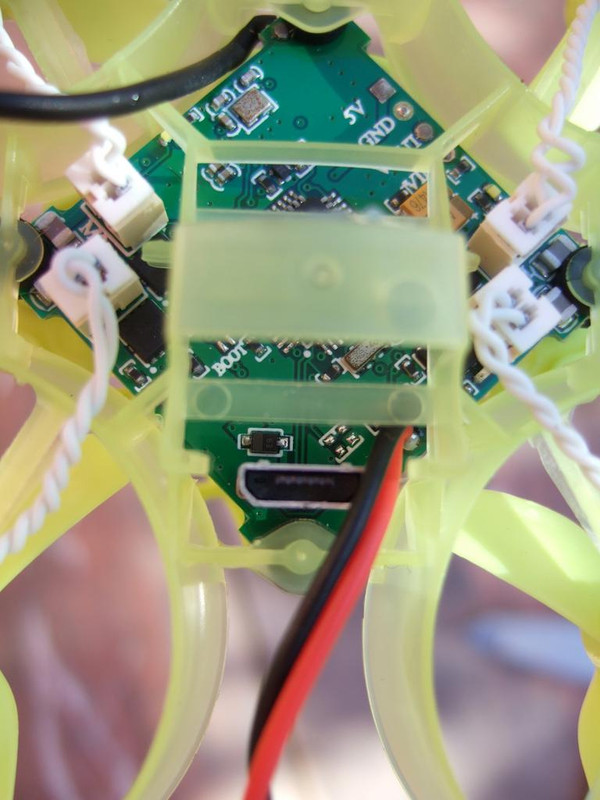 The 2.4G antenna is soldered on the bottom surface. Mist be installed vertically down.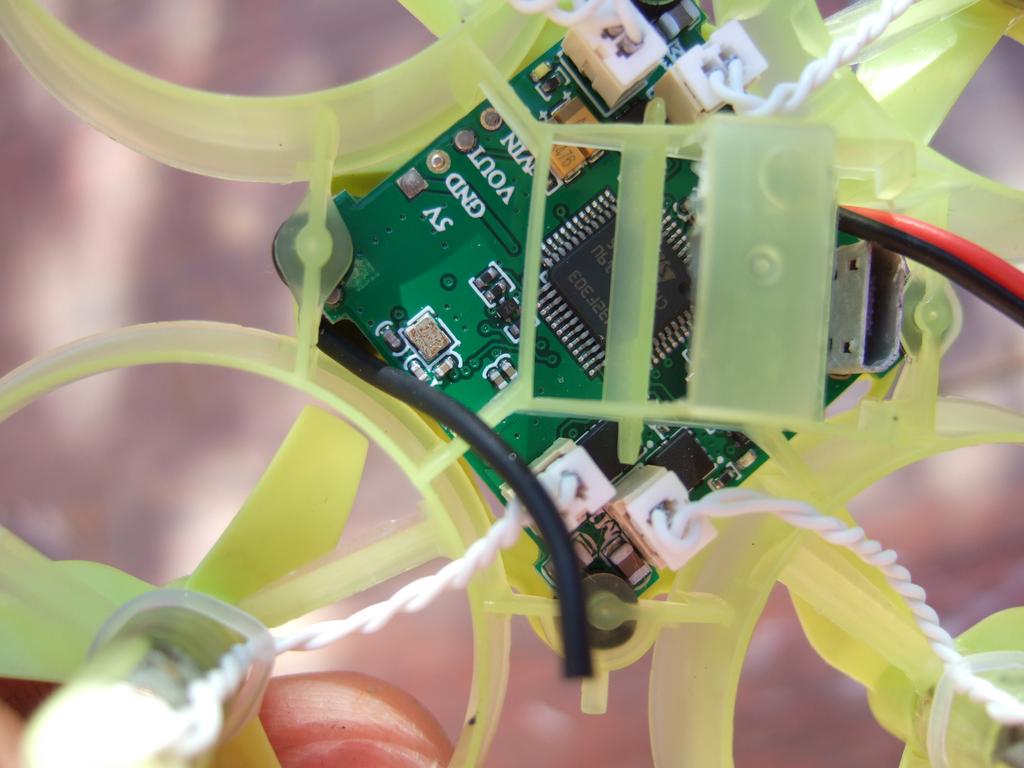 -WEIGHT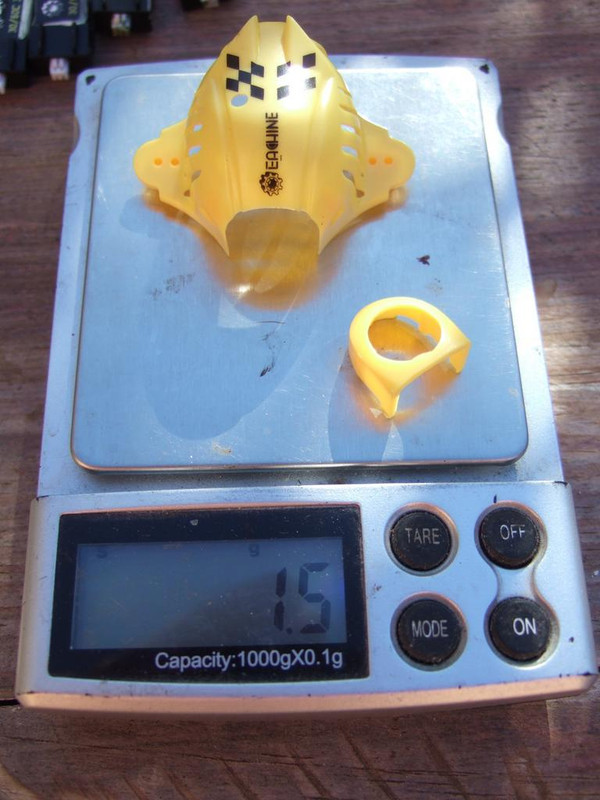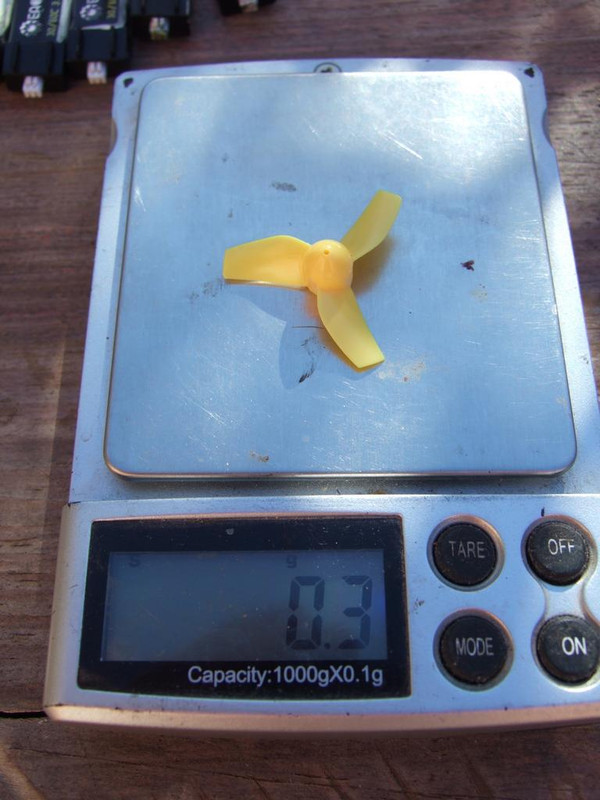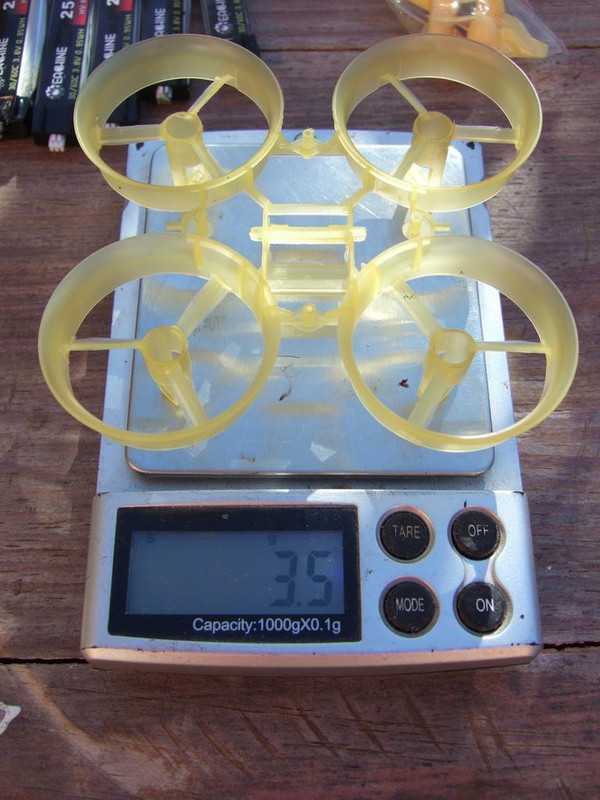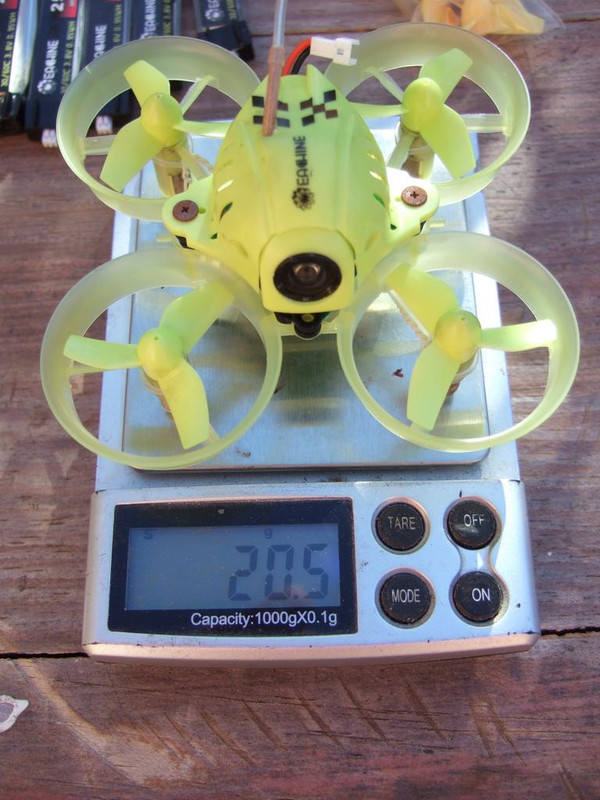 26.8g AUW… Not so bad…. At least 1g more lighter than the FrSky APUS.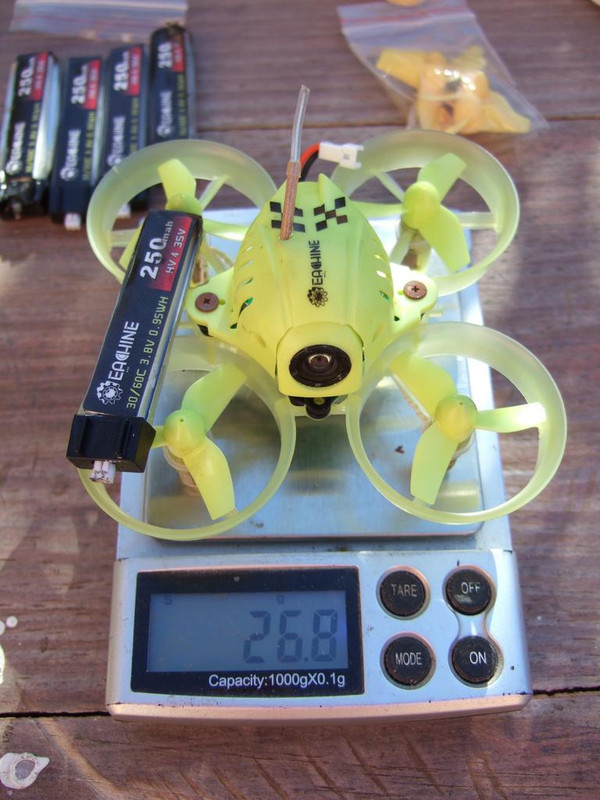 Motors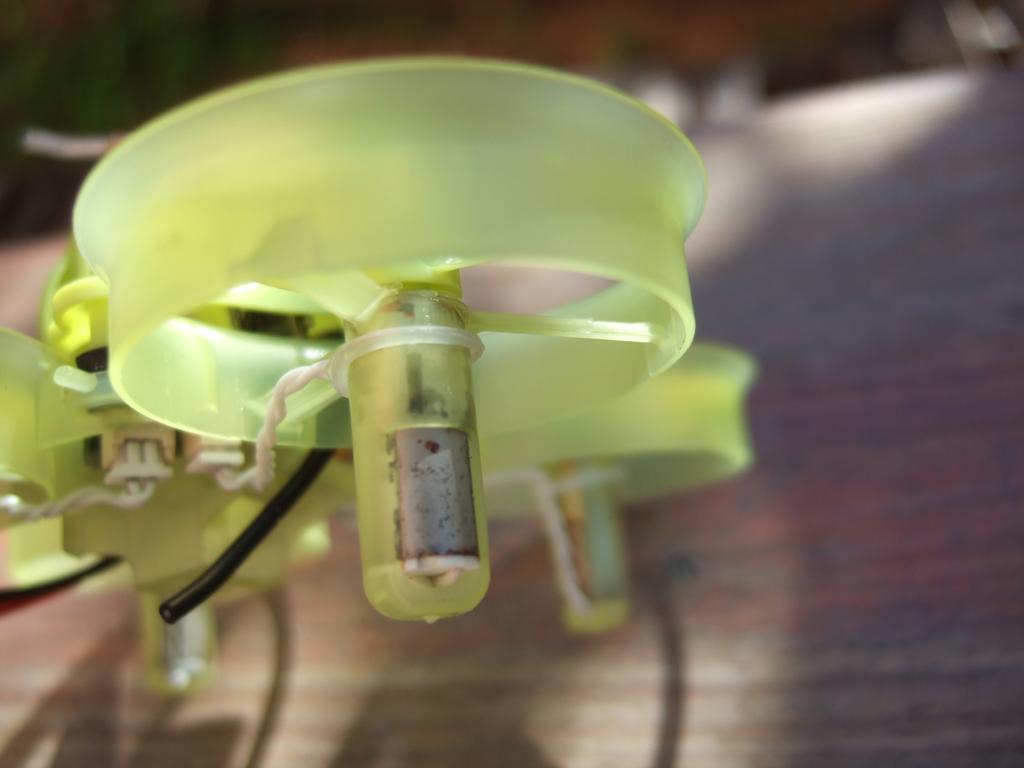 6mmx15mm, probably some racerstar models.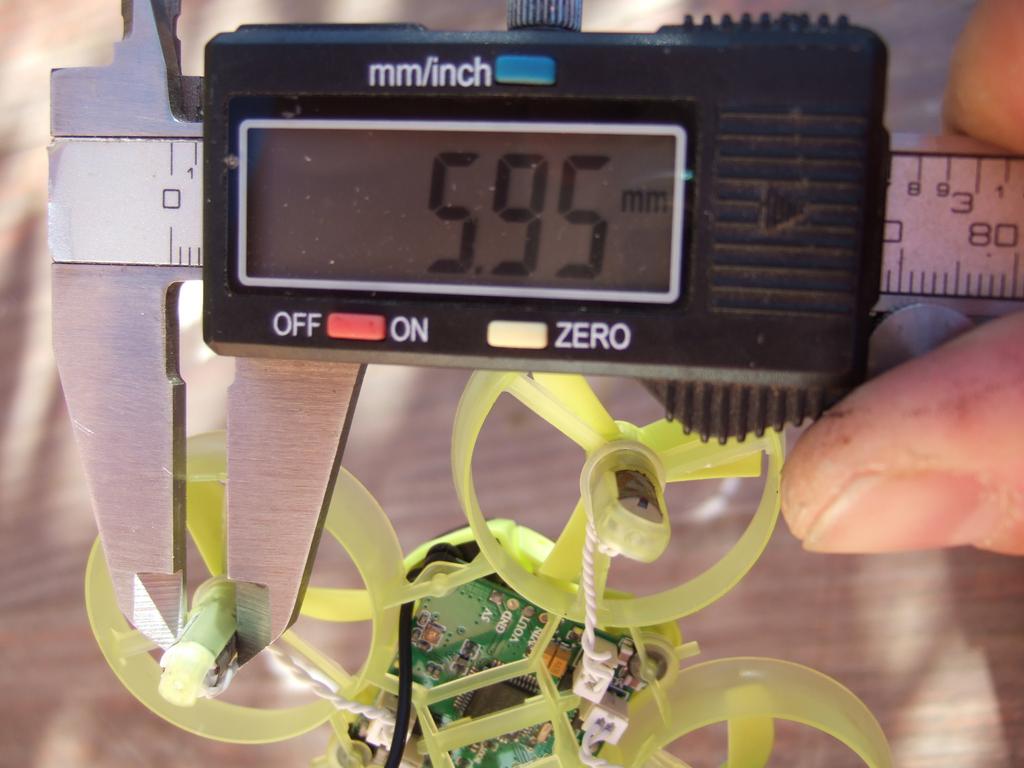 Battery
From late 2017, now all models come with LiHV battery with a max voltage of 4.35V. For the QX65, a 250mAh 1S model is here with a discharge rate of 35C.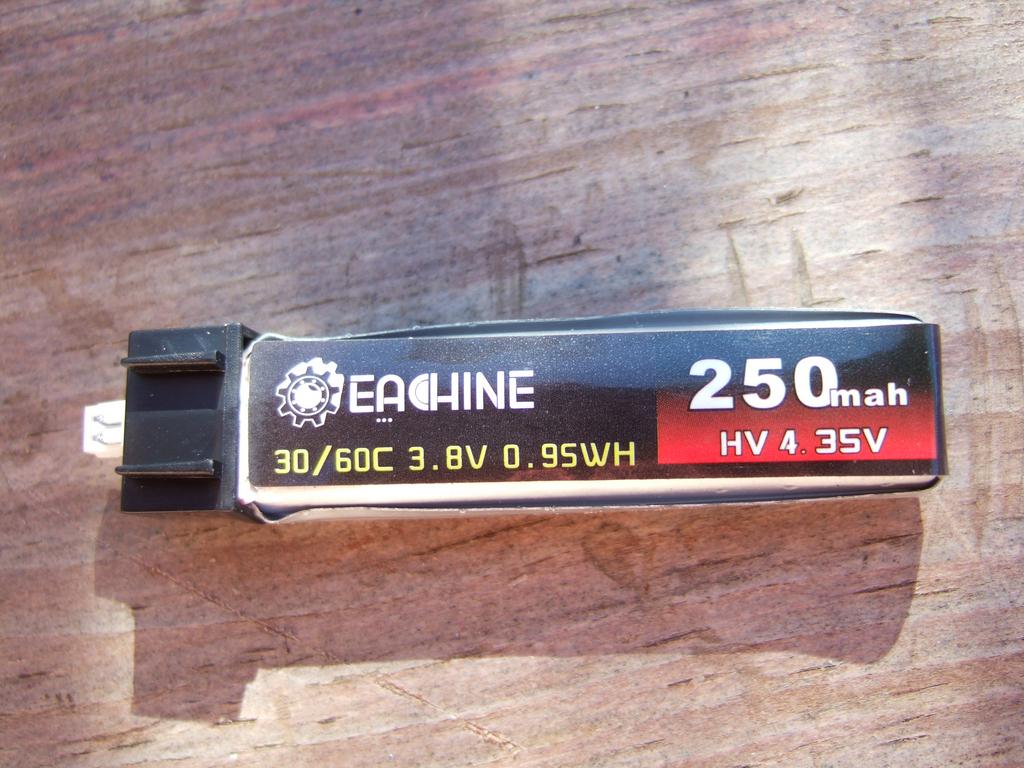 Unfortunaly, the charger plug a small JST PH 1.25MM….. not the best option to deliver high current.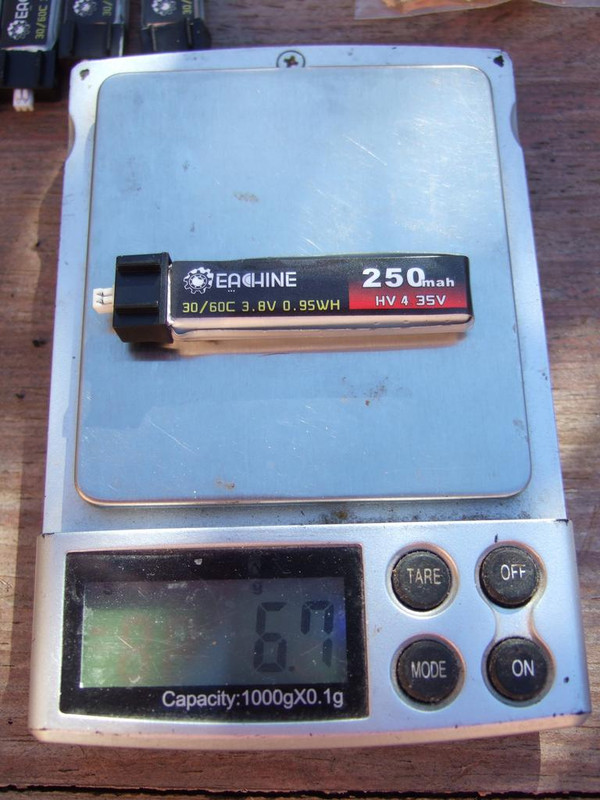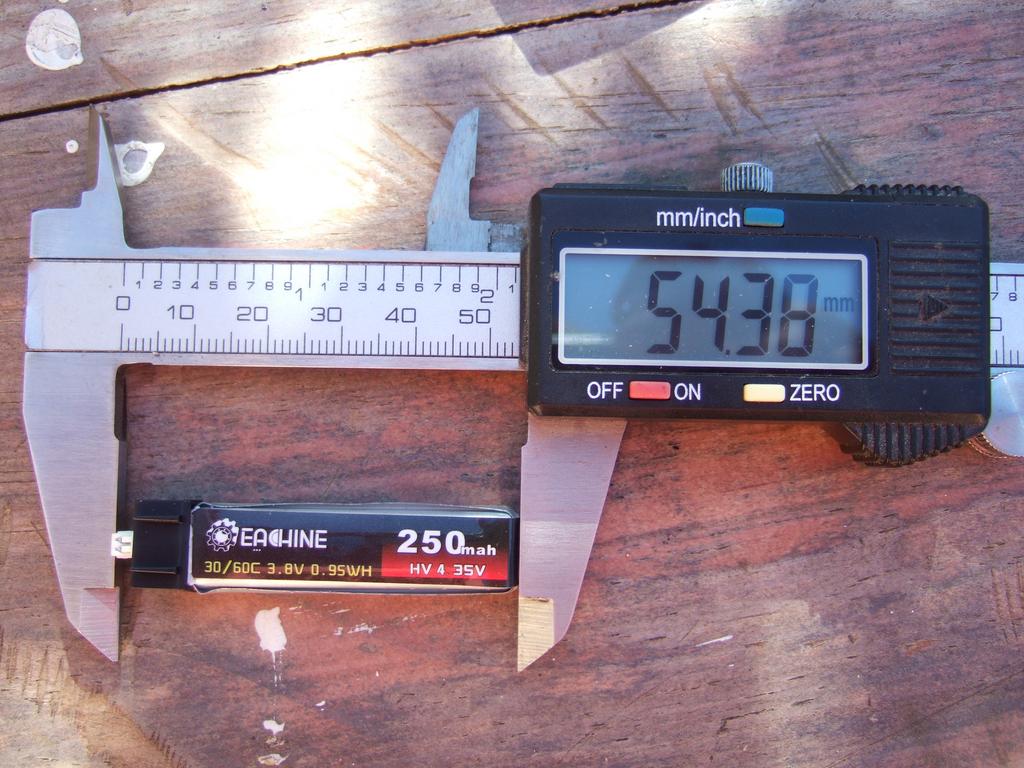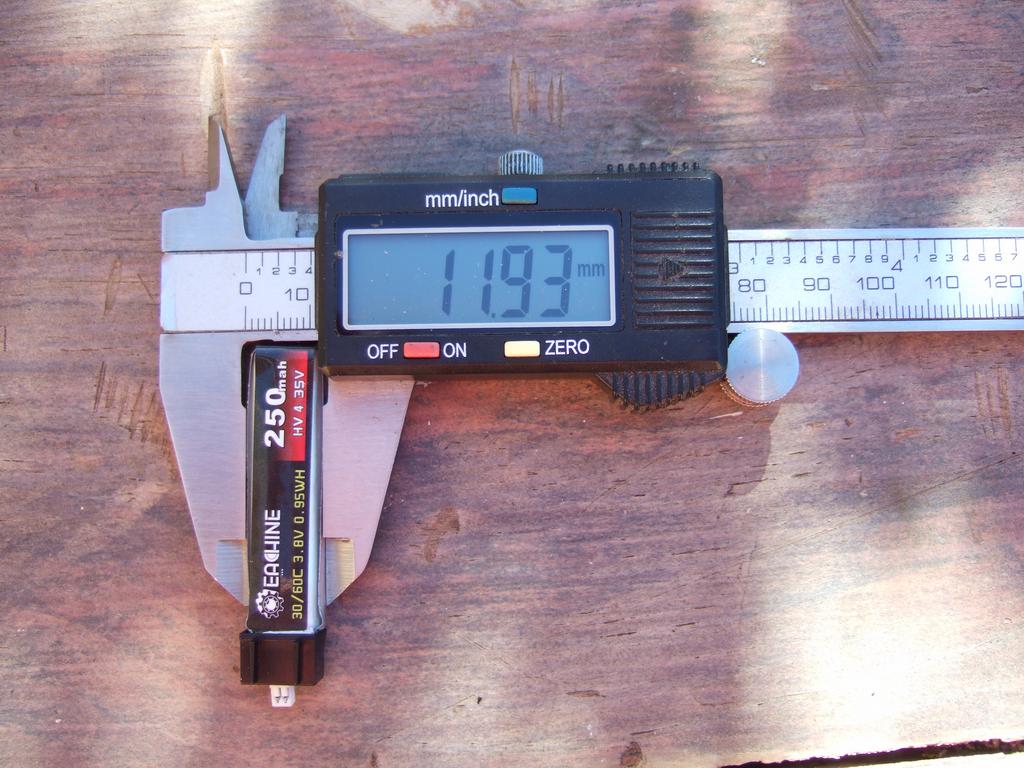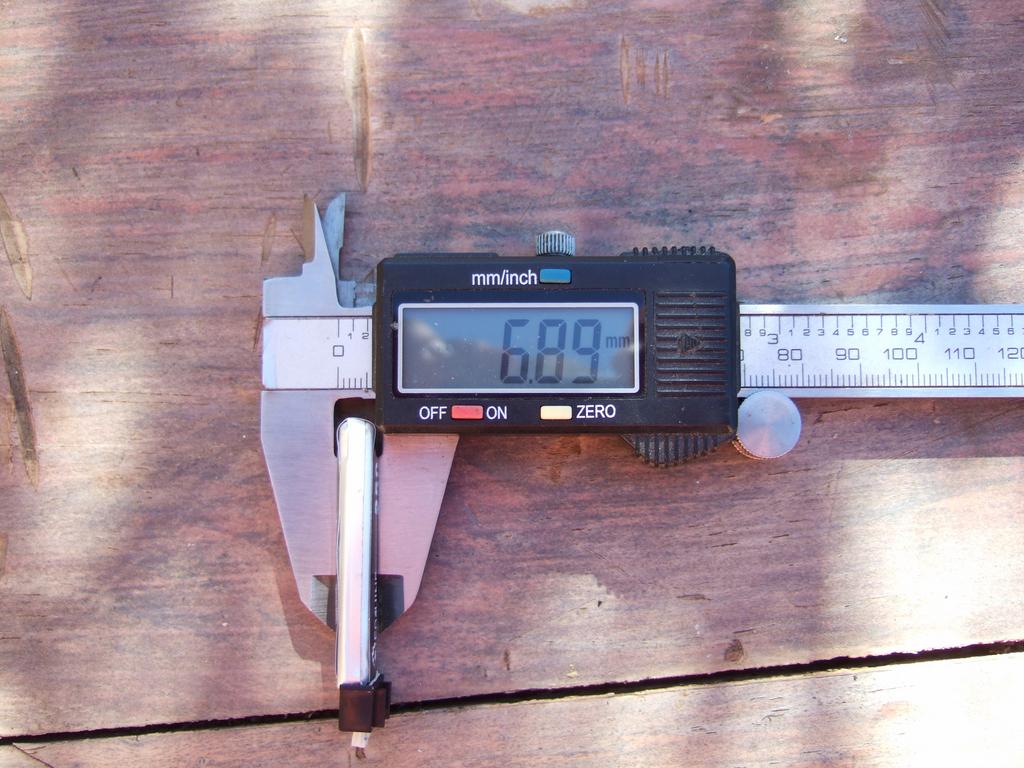 Camera module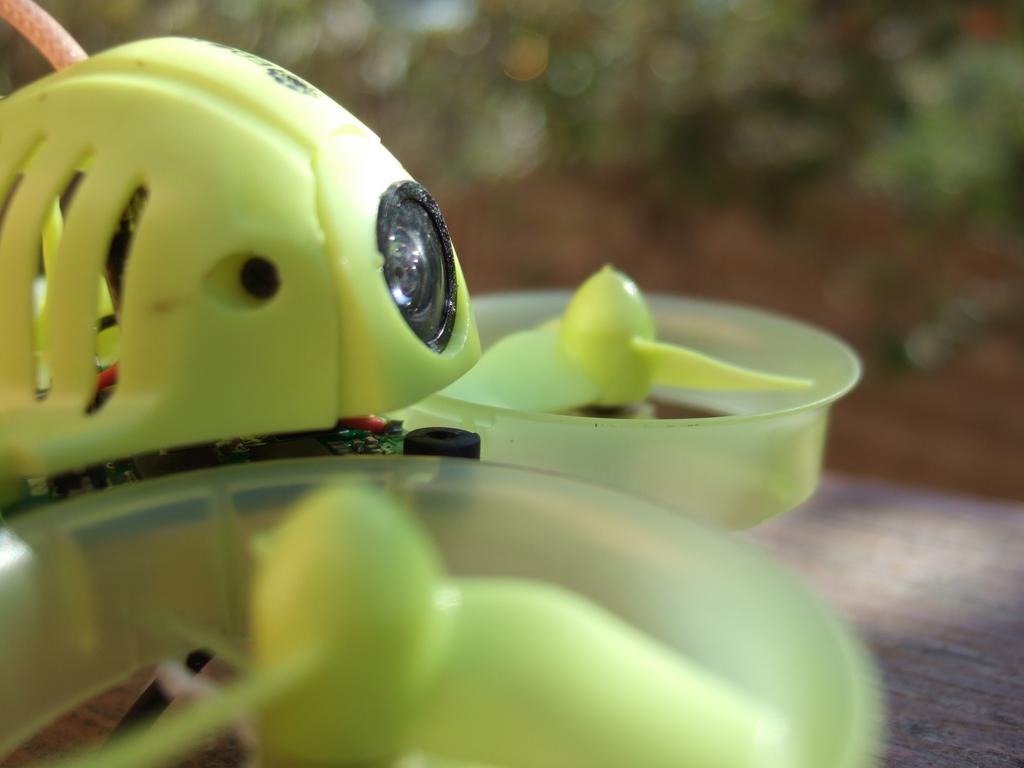 Good news, it's possible to ajust the lens orientation by playing with the two latteral screws. The maximum angle we can obtain is about 25 degrees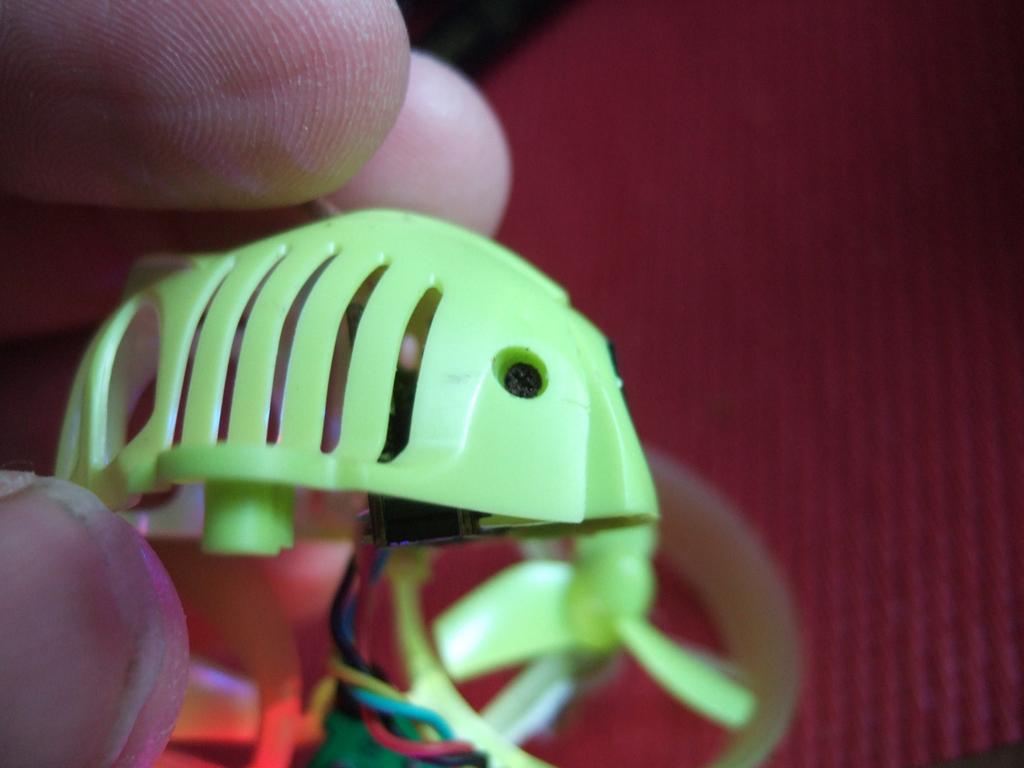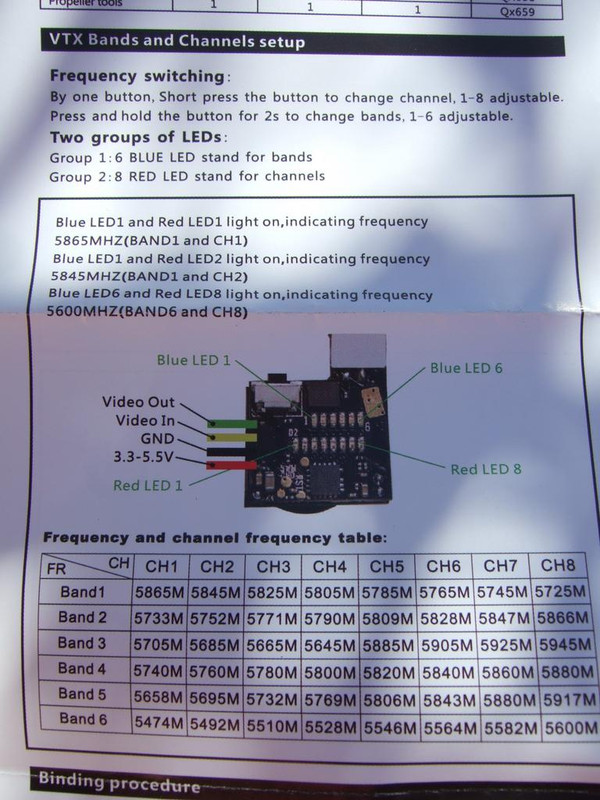 Disassembling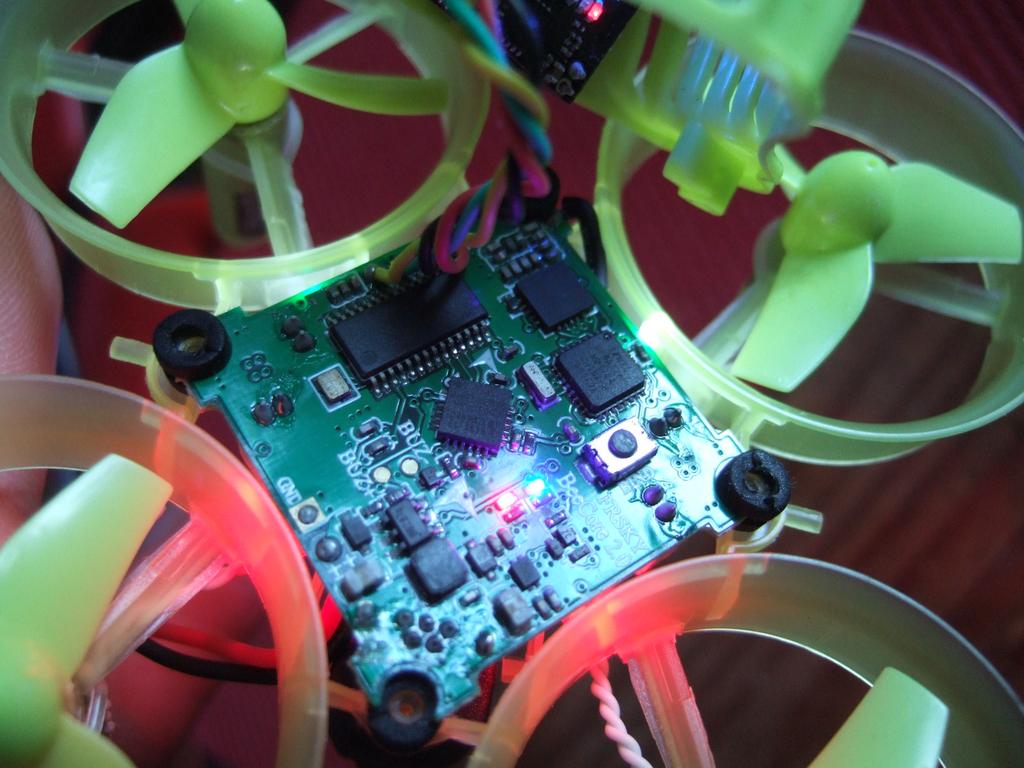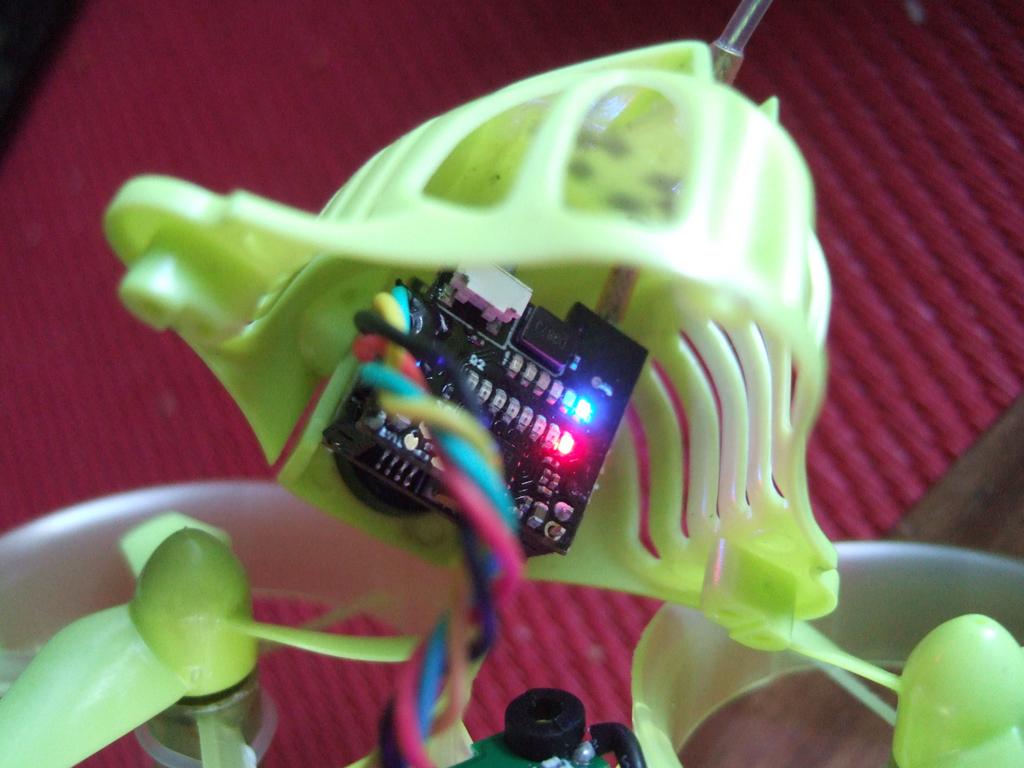 UNBOXING, ANALYSIS, BINDING, CONFIGURATION AND DEMO FLIGHT
The default betaconfiguration is correctly done at least for the radio, flight mode and OSD. For the last part, it's a new good point, since in general, it's never done by producer. The PIDs are the default BF 3.2.0 ones…… If you want to perform flips & rolls, it's advised to increase rates to at least 1000deg/s. In term of flight mode, the AUX switch is assumed to be a 3-way position model. In upper position, it's acro… in middle, angle (6-axis stabilized) and in down position it's one more time acro + airmode. My major concern is about the FrSky receiver. While with the original Beecore V2 board, the RSSI was here (for both AUX5 & Telemetry)…. Here no more RSSI information available at all!!!!. They flashed a new firmware for the receiver part in order to remove the RSSI support. IMHO they did that to avoid the voltage swags reported with the original Beecore V2 (with 7mm motors). Not sending RSSI save some current. Remember, the builtin Vreg delivers only 0.5A … it's not enough for the AIO and the FrSky receiver in 2-way mode.
When armed, the first good surprize is the power of these coreless motors…. You can take off from 40% of throttle…. That's great. Imagine, it was 75% for the FrSky APUS…. What a difference. Vertical punchout are not bad at all…. It means you easily recover from an acro figure with a minimum altitulde fallout. The machine can handle much more easily a moderate breeze…. but don't expect too much in wind conditions….. The machine is so light. More no drift is observed in Angle mode…. That's great too. The FPV link is good in general… not a lot of breakup after crossing 3-4 walls…. The 250mAh LiHV battery offers 4min of flight duration…… The Vbat reading as expected offer a drop under load….
CONCLUSIONS
This machine is a nice little surprize…. Despite being 6mmx15mm based, it's a relative powerfull machine thanks to: light weight, boosted motors, LiHv batteries…. The addition of a OSD is a real plus … at least to monitor the VBat. The QX65 is a great indoors flyer acro capable…. My only concern is the absence of RSSI in OSD for the FrSky edition. The possible damage of the LiHV battery during transportation is also another concern. Except that, it's a recommanded machine…. at least in the basic edition.
PROS
+ Powerfull 6mmx15mm brushed TW FPV machine
+ Great deluxe bundle
+ 250mAh LiHV
+ Good 700TVL CMOS camera
+ Lens orientation can be ajusted
+ Acroflight possible
+ FC dampened
+ No drift in angle mode
+ Charger with LiPo/LiHv mode
CONS
– Beecore V2 builtin FrSky received without RSSI
– MicroJST PH 1.25mm connector
– LiHv shipped full charged: can puff or take fire
This quadcopter have been courtesy provided by Banggood in order to make a fair and not biased review. I would like to thank them for this attitude.
You can find it actually for 83USD at http://www.banggood.com/Cheerson-CX-10C-CX10C-Mini-2_4G-4CH-6-Axis-RC-Quadcopter-with-Camera-RTF-p-989909.html