INTRODUCTION
The Power Genius C610 is a new entry model charger. It's a compact 120mW module, so strong enough to recharge several 4S LiPo in parellel. More, the OS includes some advanced new features: Internal resistance meter, cell balacing mode, servo tester and even programmable DC output generator.
BOX CONTENT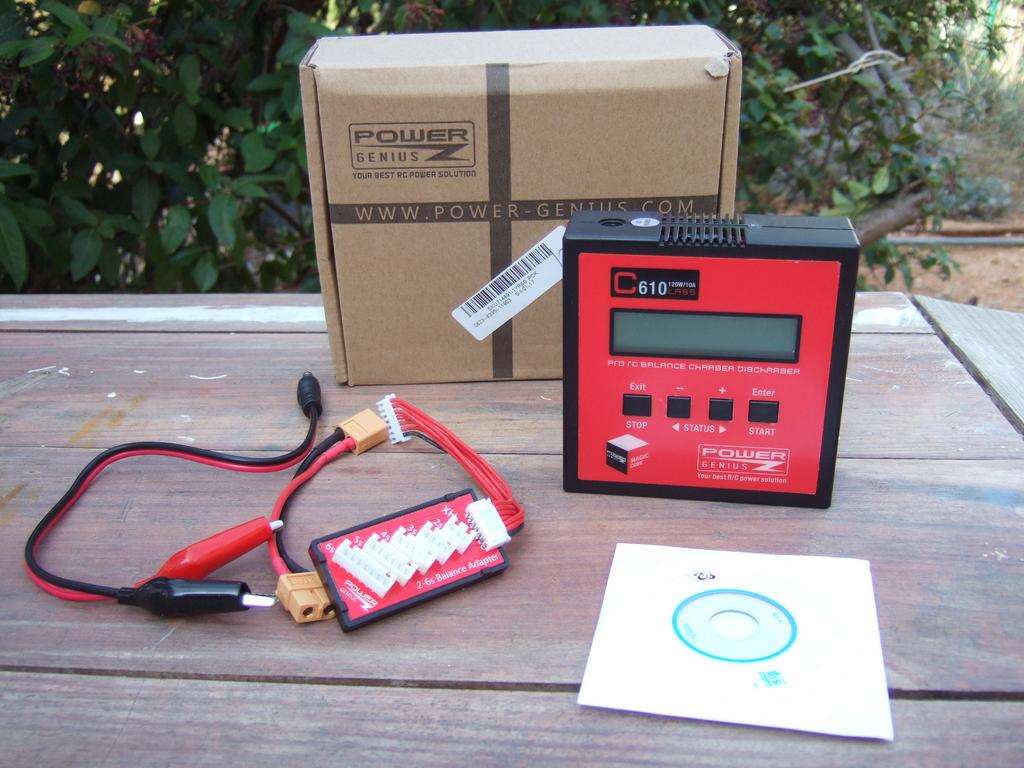 + 1 x Power Genius C610
+ 1 x Balencer board
+ 1 x XT60 Female to XT60 male cable
+ 1 x DCconnector to crocodile connectors
+ 1 x CD-rom
No instruction manual printed…. but can be found online: https://drive.google.com/file/d/0B8fT4WR6E_HdbWZJbzdTTi1icG8/view?usp=sharing
OVERVIEW
The C610 is a compact and square box, relatively light including a two rows white and blue display. As many chargeurs, four buttons are here to control all freatures and the menu navigation.
According the instruction, the max amperage is limited to 10A for charge and up to 15W to discharge. For LiPo, Life and LiHv, batteries up to 6S can be handled.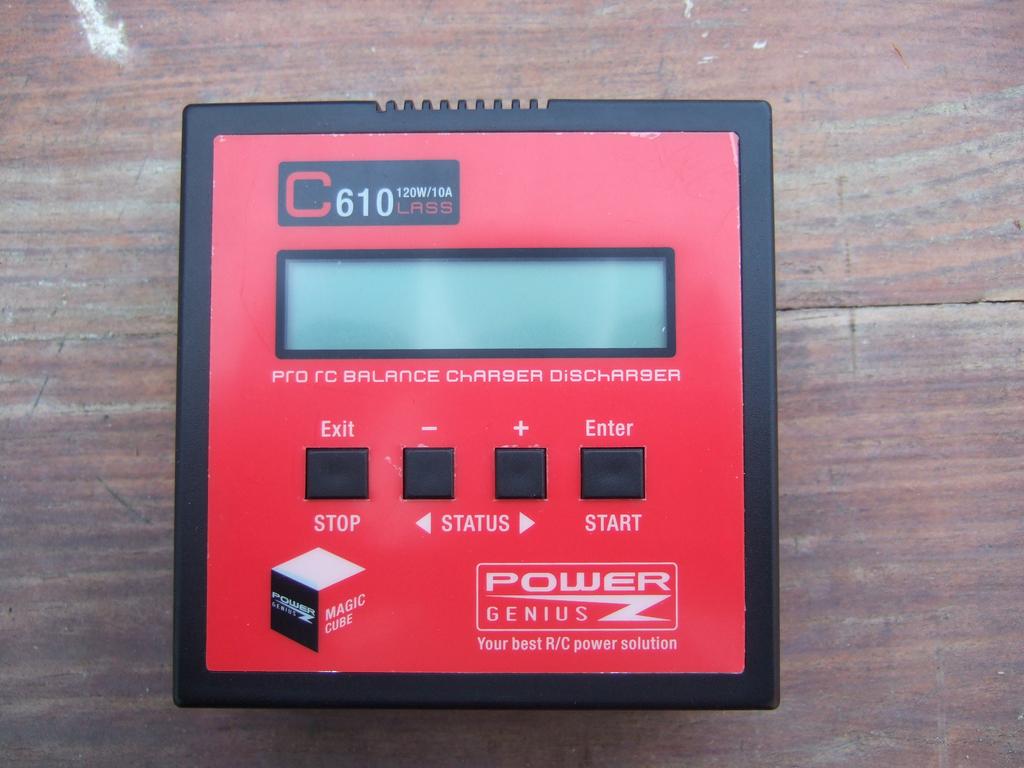 The bundle comes with basic cables.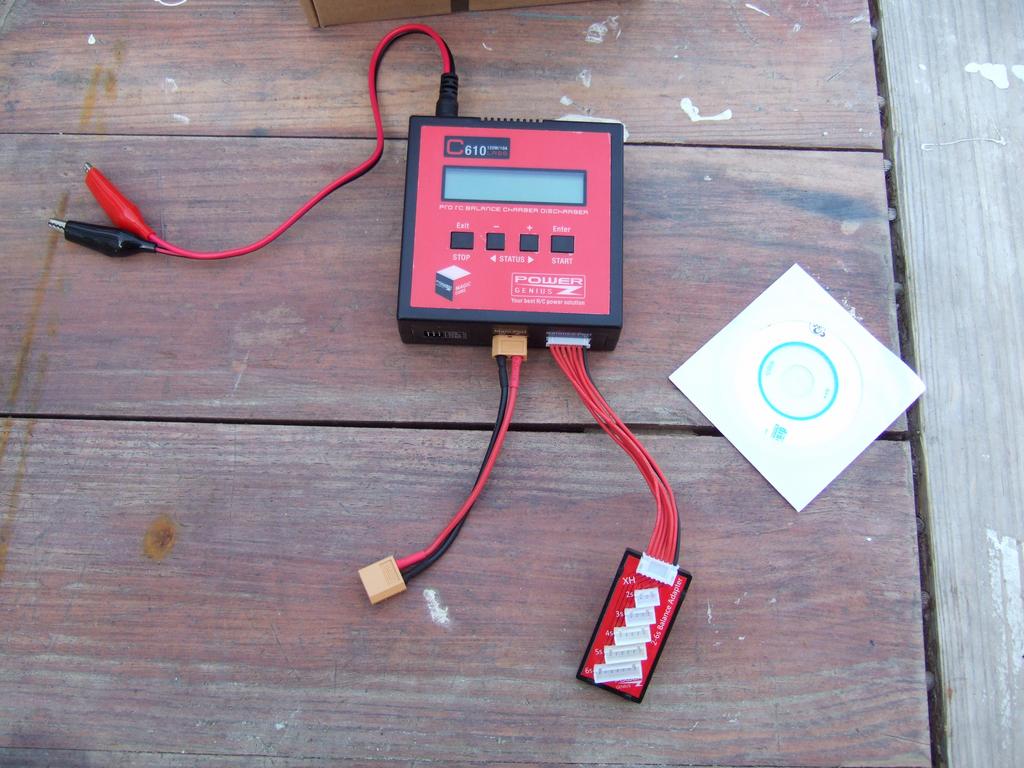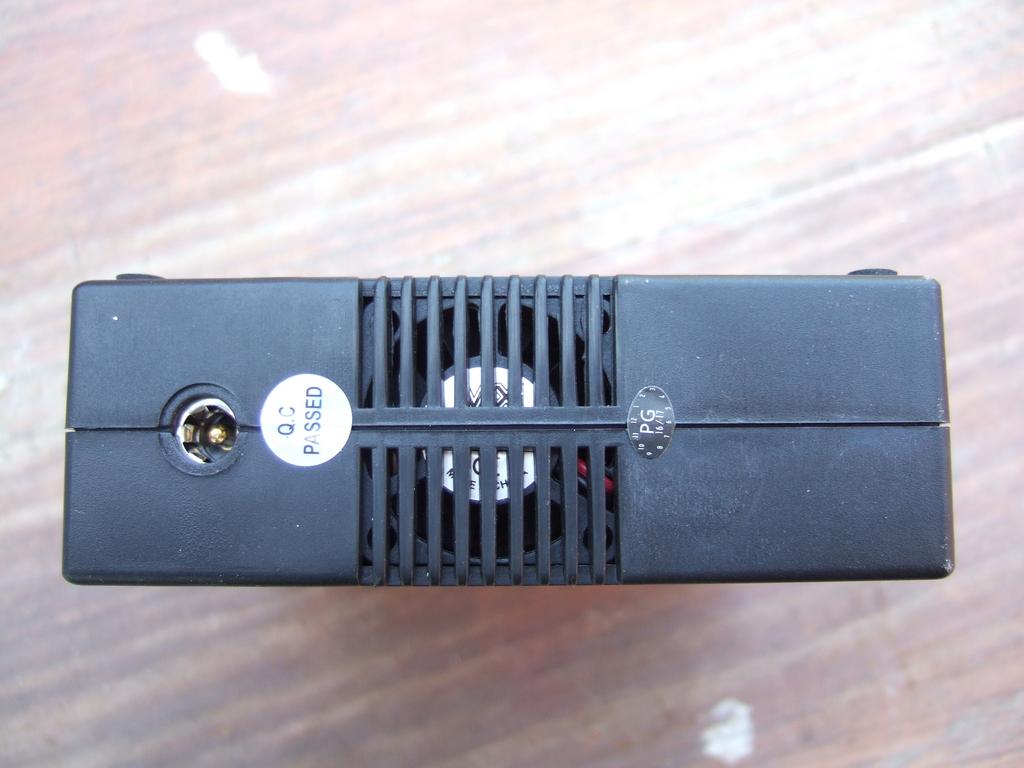 A fan is here to cool the 120W power unit.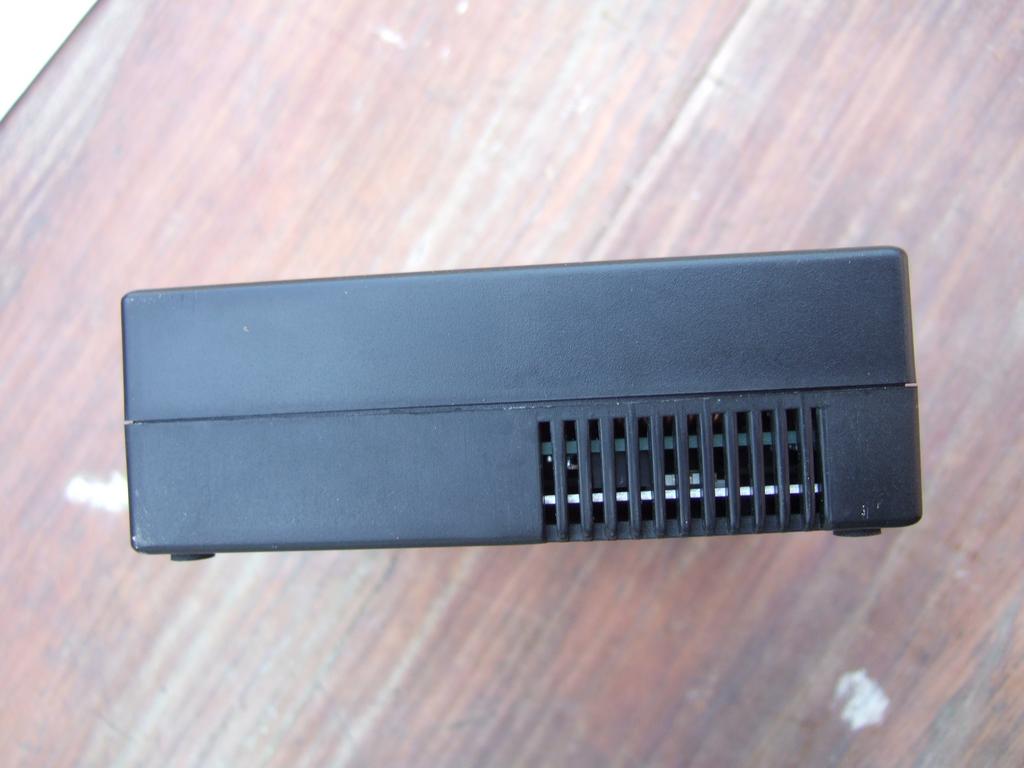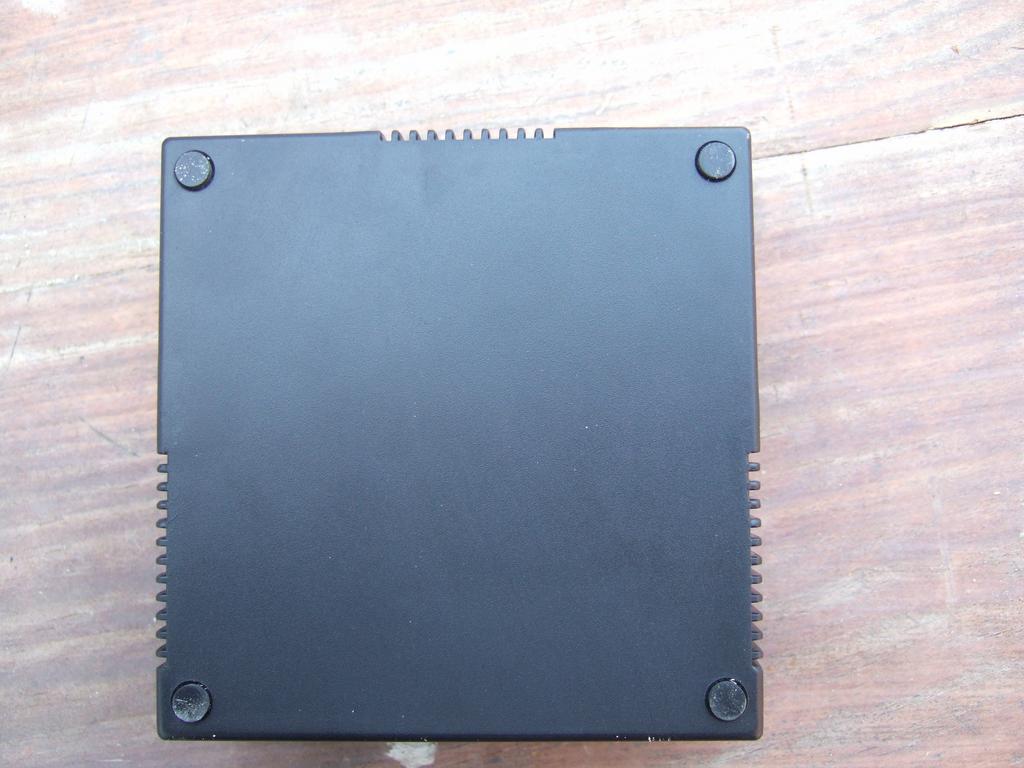 The main lead connector is a XT60 model…. I would prefer more a classic banana plug where a lot of difference Y cable converters are available. More for some 1S LiPo with inverted polarities plugin, it's often useful to invert banana's connexion. With the XT60 connector, this trick is no more possible.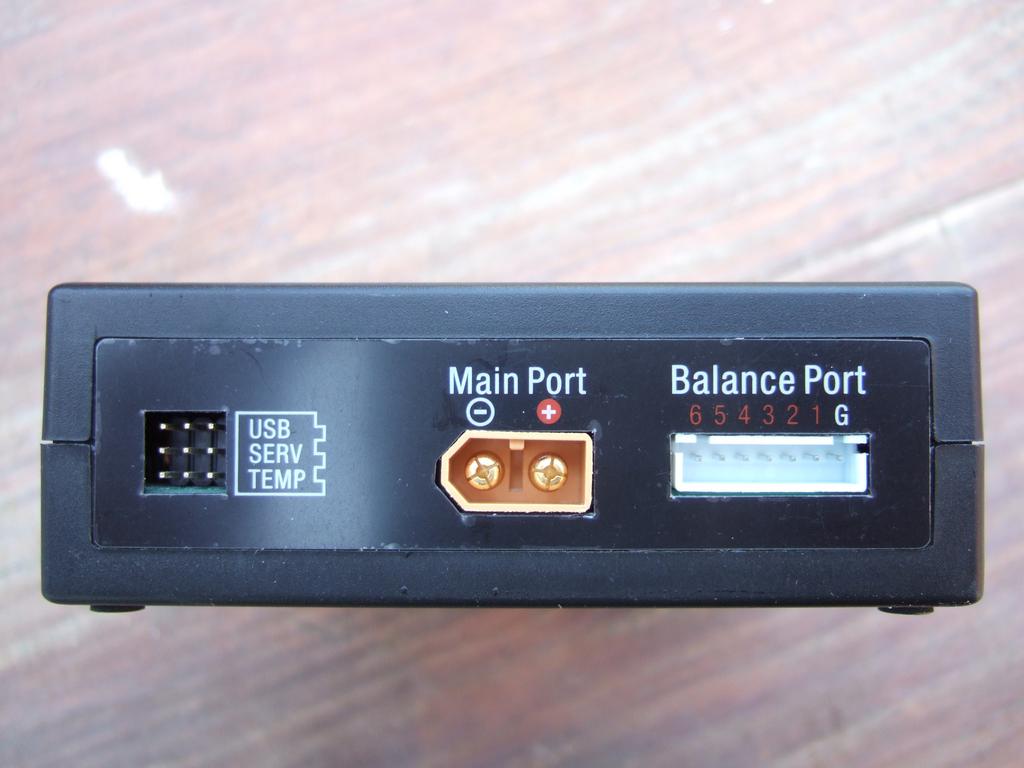 On the left side of the XT60 connector, three plugs are here to connect the charger to the USB for a firmware upgrade or to export data. a temperature strobe and a servo plug.
-WEIGHT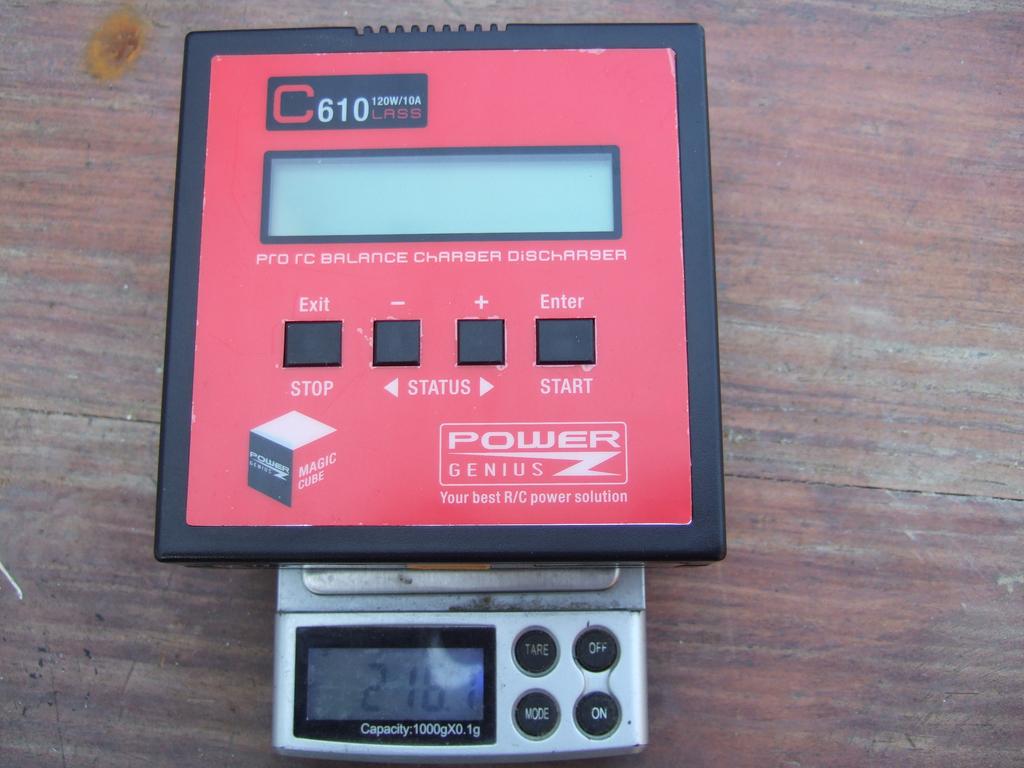 UNBOXING, ANALYSIS AND TESTING
As power unit, I used a simple 15.5V/3A power unit.
Of course we have the classic four modes: Charge, Balance charge, Discharge and storage. If you press on the + button, internal resistance for each cell is displayed. Individual cell voltage also but expressed in mV. Another original option, you can even change to max cell voltage associated with each type of battery. Can be interesting if you don't overcharge a specific battery.I was delighted to find too a servo tester function available as well as the internal resistance meter, an important tool to measure the health of your battery. You have also a specific program to fine tune the balacing of each cells of the battery togather. Finally, the C610 can be used as a DC generator. You generate a power source from 3V up to 24V by 0.1V step !!! great :). Can be very usefull for DIY electronic project. More, you can even calibrate the voltage measurement if you find a small voltage deviation.
CONCLUSIONS
I am really impressed to find so much features …. into a 28 USD charger. Everything is here…. especially new interesting modes: the internal resistance tester and the fine-balancer. With 120W, this compact module is strong enough to charge big batteries. This charger will be probably my new main one from now.
PROS
+ LiHv battery supported
+ Individual cell Internal Resistance measurement
+ Compact and lightweight
+ 120W module
+ Servo tester
+ Cell balancing mode
+ DC output generator [3V-24V] step 0.1V
+ Voltage calibration
+ Cheap
CONS
– XT60 main lead connector
– Few accesories
This Battery charger have been courtesy provided by Banggood in order to make a fair and not biased review. I would like to thank them for this attitude.
You can find it actually for 29USD at https://www.banggood.com/PG-C610-120W-10A-Lipo-Battery-Balance-Charger-Support-4_35-4_40V-LiHV-p-1185535.html